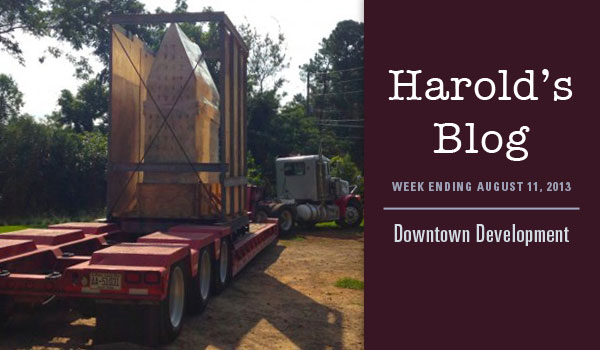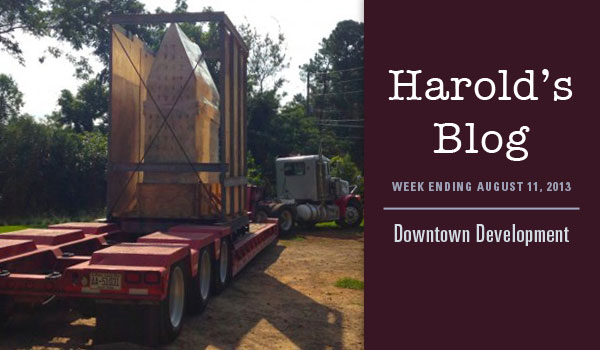 Cary, NC – This week's activities were mostly related to Thursday's regularly scheduled council meeting.
Monday
Monday started with my usual call to council members to find out if they had questions or concerns about the agenda for Thursday's upcoming council meeting. The discussion portion of the agenda only had one major decision point and that was the Herndon Burt annexation and rezoning proposal. Council members who I contacted had a few questions about the traffic impacts.
Later in the day I met with the Mayor Pro-Tem, management, directors, legal, and administration to go over the agenda. In addition to the Herndon Burt proposal it was believed that there may be a significant number of speakers at the Public Speaks Out portion of the meeting to talk about that proposal and downtown items on the consent agenda. Based on that information I predicted the council meeting would last no later than 8:30.
Tuesday
Tuesday I met with the town manager and the assistant town manager and supporting staff to discuss the upcoming mini retreat in September. At the mini retreat the council will be talking about the General Fund Balance, reviewing current priorities, and deciding if priorities need to be shifted. In addition to the mini retreat we also discussed an economic development opportunity.
Wednesday
My calendar for Wednesday was blocked for interviews since I am the liaison to the Economic Development Committee. Since I had completed the interview process last week I had the evening to eat dinner with my family.
Thursday
Thursday's council meeting lasted until about 9 PM with about an hour of public comment at the Public Speaks Out portion of the meeting.
Downtown Development
Three speakers at the Public Speaks Out portion of the meeting, who have consistently criticized most of the downtown efforts, complained about money being spent in downtown. In emails they have complained that our downtown theater is similar to the Roanoke Rapids Theater. In addition, they have made statements like "everything to date has been helter-skelter and poorly planned". They have also said that we are not considering parking and other necessary structures. They insist on a rate of return for the theater and downtown park.
<Editorial>
It is disappointing that these folks disagree with our commitment to downtown. I am sorry they don't understand the impact of amenities. Cary is blessed to have many great amenities which have helped create one of the most desirable places to live. A rate of return is hard to measure on a theater and park. However, we do measure economic development on town amenities. The USA baseball complex, Soccer Park, and tennis center all generated criticism when proposed. Today they generate about $6 million in economic development annually. The downtown theater and park are all part of creating an environment that is desirable and will generate downtown development.
Understanding the history of downtown is important. For decades the town had the position of letting downtown business take care of itself. And for decades nothing happened in downtown. Then structures began falling in disrepair and businesses and residents started leaving. These were the first signs of potential problems with blight and crime. So several years ago the council decided to take a more aggressive approach and created the Town Center plan. This was followed by a $35 million appropriation for streetscape to address the water/sewer lines (approaching their life expectances) and the aesthetics of downtown streets. This appropriation was put on hold due to the recession. It will now be implemented in phases. The first phase is in front of the movie theater being renovated.
During the recession the council hired downtown manager. Through his experience he helped us prioritize downtown projects and initiatives. That included a significant commitment and investment on the town's part and we have begun to implement the priorities and strategies. As a result the business interest in downtown continues to improve. In addition to the Mayton Inn, there are other folks looking at developing downtown and are almost ready to announce projects. What I can assure everyone is that downtown redevelopment is NOT helter-skelter but is strategic. The theater and downtown park are the first pieces of what will be a downtown that will draw business and residents. And yes parking has been a big topic of conversation. Unfortunately, downtown redevelopment will not happen overnight. It will take time and we are just beginning.
<end Editorial>
The remainder of the Public Speaks Out portion of the meeting included about two dozen speakers that criticized the rezoning proposal that would allow multi-family at the corner of Highway 55 and Turner Creek Road. They mainly complained about traffic, safety, and the density of the project. Council later tabled the proposal after the developer agreed to work with the residents on modifying the proposal.
The council also heard from several citizens about a proposed vehicle repair shop at the corner of Ten-Ten and Holly Springs Road. This proposal will next go to the Planning and Zoning Board for their recommendation.
Sunday
Sunday morning I drove by downtown to see that the fire sculpture was moved to its permanent home in one piece. Hopefully it will stay together as it is unpacked.
Emails from Staff
Immigration and Customs Enforcement Facility Expansion
Emails from staff this week included updated information on the ICE (Immigration and Customs Enforcement) facility improvements. The ICE officials have indicated that the expansion of the building is intended to house additional investigative staff and would not alter the current use of the facility. The facility is currently used as office space for the investigative branch of ICE.
In addition to standard office space, there are currently two holding cells and two rooms used for questioning persons-of-interest. The facility is not set up for holding anyone overnight, let alone for long-term detention. Persons-of-interest are transported to facilities designed for detention (e.g., local jails or county detention centers) if such facilities are needed. Any expansion proposed in the holding cells or investigation rooms would be proportionate to the expansion in the size of the investigative staff at the site.
The development team has indicated that the facility currently has a sally port of sorts. An overhead, roll-up door at the rear of the building allows a van to pull into the facility to transfer personnel or cargo inside the secure garage. However, ICE has requested a larger sally port to allow vehicles to pull through the secure area without having to back out of the building. In addition, the new sally port would likely be larger to accommodate more than one vehicle at a time (when necessary).
Other Plans in Review
Staff also provided current plans in review. Plans added since the first of July include:
A 2,128 square foot mobile classroom for the Triangle Math and Science Academy on Gregson Drive.
A 28,476 square foot day care on the northeast corner of O'Kelly Chapel Road and Alston Avenue.
A Town of Cary trailhead park at the American Tobacco Trail at the southwest corner of New Hope Church Road and Yates Store Road.
A 4,196 square foot addition to Hyundai Subaru of Cary Showroom.
85 single family lots for Stonewater at the northwest corner of O'Kelly Chapel Road and Yates Store Road.
Two 447,000 square foot office buildings and two parking decks at Weston Lake Front on Weston Parkway east of Evans Road.
Imagine Cary – Feedback Online
Staff announced that online input will now be taken for the Imagine Cary planning process. With assistance from MindMixer, the Town of Cary has created www.caryhaveyoursay.com, an online engagement tool to allow citizens to virtually exchange feedback on defined topics.
For the month of August, the website will focus on asking you to give important feedback about specific places in Cary.  We'd like you to tell us what you think are the Town's strengths, opportunities, and characteristics based on geography.
This forum format will be done via mapping exercises that allow users to pinpoint specific locations, make comments, and upload photos to help illustrate their insights.
In addition to adding personal feedback, users can "like" and comment on other people's opinions. As topics change on the website after August, updates and alerts will be posted to www.imaginecary.org and the Imagine Cary Facebook page, www.facebook.com/imaginecary.
Imagine Cary is the Town's unprecedented approach to updating the Comprehensive Plan.  Cary is collecting feedback from citizens, businesses, and others with a connection to the Town of Cary on a wide range of topics and issues related to the Town's future such as land use, community development, transportation, housing, environment, economic development, and related topics.  At the end of this multi-year project, these diverse planning efforts will be crafted into a single overarching community vision to be known as the Cary Community Plan, which will help guide the Town for the next 20 – 30 years.
For more information, visit www.imaginecary.org, search "Cary Community Plan" at www.townofcary.org, or call (919) 469-4082.
Veterans Monument
This week I also heard unofficial information that the veterans monument and spire will be accepting bids this week. This is good news and means the project will move forward soon (after about nine years of discussion and planning).
Emails from Citizens
Emails from citizens this week included many complaints about the proposed rezoning on Highway 55 near the Harmony subdivision, a complaint about downtown parking, a complaint about the fire sculpture, a complaint about not celebrating the fire sculpture and its artist, a complaint about electricity outages in a neighborhood, a complaint about construction mess left by a developer, a complaint about a cell tower, a complaint about the proposed fee increases for CTran, and a complaint that we turned deaf ears to criticism about downtown.
Get in Touch
This week will be a slow week for me and will include meetings, events, a leadership dinner, and a ribbon cutting.
Well that is all for this week. My next post will be on Sunday August 18th. Although I have Facebook and Twitter accounts those are not the best means of communications with me. Please send all Town of Cary questions or comments to Harold.Weinbrecht@townofcary.org and email personal comments to augustanat@mindspring.com.
—————————————————————————————-
From the blog of Cary Mayor Harold Weinbrecht. Photo by Lindsey Chester.
https://carycitizenarchive.com/wp-content/uploads/2013/08/harolds-blog-downtown-development.jpg
350
600
Harold Weinbrecht
https://carycitizenarchive.com/wp-content/uploads/2020/03/cc-archive-logo-450-v3.png
Harold Weinbrecht
2013-08-12 16:15:23
2019-12-08 10:10:23
Harold's Blog: Downtown Development