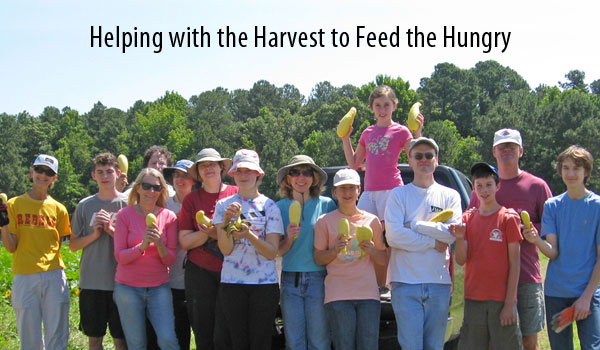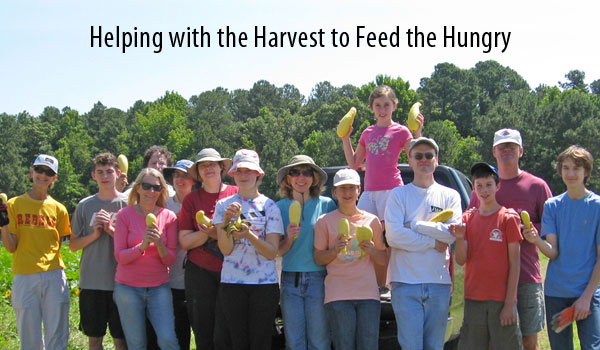 Cary, NC — For this month's post, First United Methodist Church in Cary sent in a story about "gleaning" – harvesting food left in the fields by farmers.
Who's Hungry?
In the US, more than 14% of households or 48 million Americans struggle to put enough food on the table, this includes about 2.3 million people in North and South Carolina. At the same time, the USDA estimates that 27% of all food grown in the US is wasted at the farm, retail, or consumer level.
Gleaning Network
The Society of St. Andrew (SoSA) is an ecumenical, non-profit, charitable organization with a mission to introduce people to God's grace through meeting their hungers: food for the body, God's word for the spirit, community of love for the heart, and opportunity for those who desire action.
As part of that mission, the Society operates a volunteer-driven Gleaning Network that coordinates local farmers, volunteer harvesters, and food distribution agencies to salvage fresh fruits and vegetables that would otherwise be left in the fields to rot or be plowed under.
Harvesting Food with First United
FUMCC has supported the Gleaning Network for more than ten years by sending a team of volunteers to harvest crops on the third Saturday of each month during the peak growing season.
Recently, volunteers helped pick 180 pounds of blueberries in Oxford, and in June, a team of ten youth and adults harvested a field of yellow summer squash at the Stallings Farm in Louisburg which were donated to four food pantries/distribution centers in Wake Forest, Knightdale, Raleigh, and Apex.
While heading home in the church van Nina Bartlett explained why she gleans, "God has blessed us with an abundance of food and I don't like to see food go to waste. My depression-era parents taught us to use everything."
Why Food is Left in the Fields
The word 'gleaning' often implies leftovers, but often farmers leave top quality produce in the field because market prices are too low to cover the cost of harvest and transport, the produce does not meet market size standards, there's not enough time to harvest before it goes bad, or it's a small trial field of a new variety.
According to gleaner Troy Page, "I am consistently stunned by the high quality of the produce that farmers are giving us. It looks like the first fruits, not leftovers."
The Importance of Fresh Food
Rebecca Page, the Society of St. Andrew's Triangle Gleaning Coordinator, explained that food-insecure people who rely on food pantry programs typically get non-perishable, canned food items. For these folks, fresh vegetables and fruits are not only more nutritious, but a real treat.
Rebecca continued, "Sometimes when folks are gleaning they can feel removed from the people they are serving, but please know that people really need the fresh produce and appreciate it. When I deliver to subsidized elder care facilities, the pure delight I see in the residents' faces inspires me to continue gleaning. The Society of St. Andrew depends on volunteers like those from FUMCC to harvest the produce. The more volunteers we get, the more produce we can save, and the more people we can feed."
7.1 Million Pounds in the Carolinas
Last year, SoSA-Carolinas sponsored nearly 2,000 gleaning events and saved and distributed 7.1 million pounds of produce across the Carolinas. To put that in perspective, that averages to 19,500 pounds of produce (or nearly 80,000 servings) per day.
Gleaning is a great way for individuals, families, Sunday School classes, and small groups to serve God and our local community while getting to know one another. It's also a good way to introduce friends to the church's mission projects.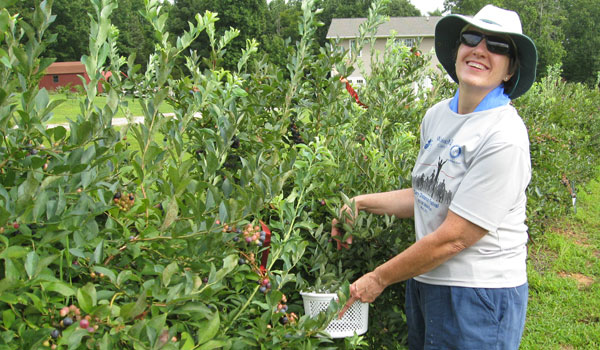 Why People Like Gleaning
The Hendleys, a family of five, have been regular gleaners since their children were in elementary school. When asked how they manage to get all three of their children, now high school and college-aged to glean, Cindy replied, "We glean because it is so easy to participate. We are outside, getting exercise and working with others. It is very satisfying. I heard that sometimes the farmer has crops that go to waste because of not needing to or not having time to harvest what is left. I know that there are hungry people in our society and that the food would be greatly appreciated. There is a Bible story about Ruth gleaning, I have a greater appreciation for that story having participating in gleaning."
Their daughters Elise and Madeline enjoy picking fruits and vegetables and being outdoors in the countryside and son Luke likes to glean because it's fun and "sometimes you get to ride in a truck."
­­Registration Information
Simply sign-up using the Registration button on the FUMCC homepage www.fumc-cary.org.
The remaining 2013 gleanings are scheduled for September 21, and October 19 Yam Jam. A few days before the event you will receive an email with details about the crop and location of the gleaning.
On the day of gleaning, volunteers meet in the church parking lot at 8:00 a.m., vanpool to the designated farm, glean for about two to three hours, and then return to the church about noon.
All ages are welcome and you don't need to know anything about gardening or farming. The on-site field supervisor will explain exactly what to do. Most gleaning does require some bending and light lifting.
For additional information about gleaning with FUMCC, contact Kim Adkison at adkisonp@mindspring.com. For more information about the Society of Saint Andrew visit www.endhunger.org.
—————————————————————————————————–
Story and pictures by Kim Adkison of First United Methodist Church in Cary.
https://carycitizenarchive.com/wp-content/uploads/2013/09/fumcc-gleaning.jpg
350
600
Community Contributor
https://carycitizenarchive.com/wp-content/uploads/2020/03/cc-archive-logo-450-v3.png
Community Contributor
2013-09-10 15:07:48
2013-09-10 15:08:23
Gleaning: Helping with the Harvest to Feed the Hungry