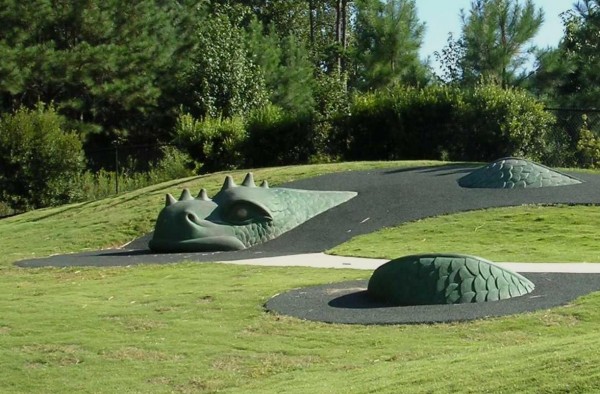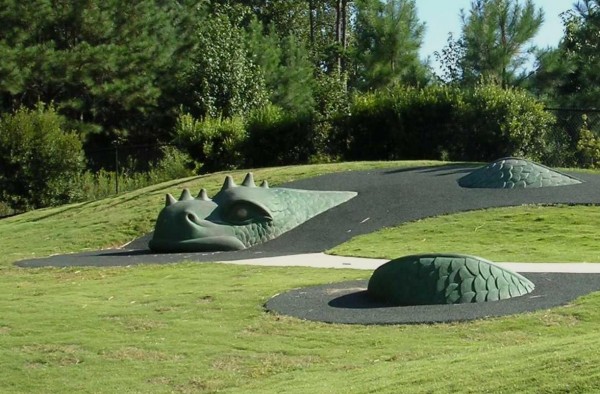 Cary, NC- It's been ten years since Marla Dorrel helped open Kids Together Playground at a park that would later bear her name. She helped two children accomplish their dream for a place where all children would have a chance to play regardless of ability or disability.
On Saturday, September 21, 2013, the non-profit Kids Together will host a celebration newly named "Walk Run or Roll for Inclusiveness". The day will include a race/walk for children and families that will span a 1.4 mile (round-trip) segment of the Hinshaw greenway, starting at KTP and connecting with MacDonald Woods Park via the pedestrian bridge over US 1 & 64. The race will finish with awards, refreshments, games and a silent auction at the playground.
The playground was designed around the central theme of "inclusiveness".  The founders wanted to make sure that children with mobility issues could have a fun place to play. But even more importantly:  that all children would come to enjoy the many special features, not that is would only be viewed as a "handicapped accessible".
Kids Together: Universal Design
Dorrel made sure that "Cary's Kids Together Playground uses Universal Design Principles to create an accessible place to play for everyone, regardless of their level of physical or mental ability."
Here are 7 ways the designers created one of the most popular parks in Cary that everyone can enjoy.
1. Everyone can enjoy the playground in the same way.
The array of swings includes two contoured swings that are designed for those with special needs. They are included with the standard swings – not set apart from the others. Also, you frequently find able-bodied children using them
2. Accommodate a wide range of individual preferences and abilities.
There are multiple ways to enter the central School Age Discovery Zone – stone steps, concrete steps with stone paver insets that alert someone with visual impairments that a change in grade is coming, and a gently sloping, winding path that is wheelchair accessible.
3. Easy to understand
You can find your way on the playground and know what to do, even if it is difficult for you to read, or if you speak a different language, or if you have trouble concentrating because the layout is a series of interlocking loops. (See attached map)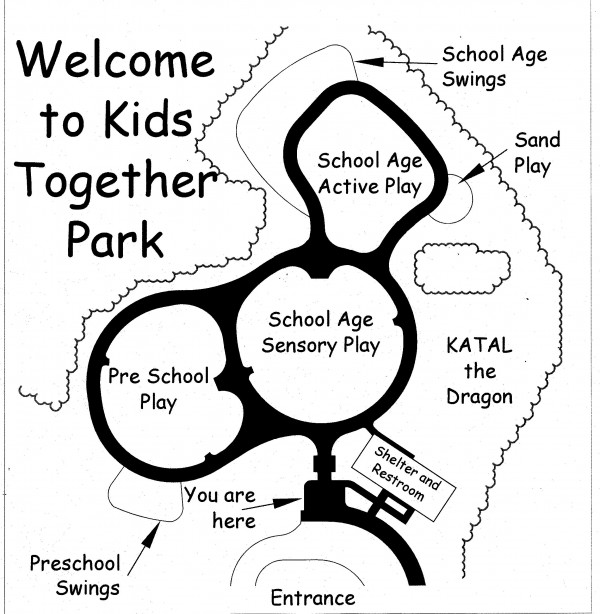 4. Variety of senses can be experienced and explored
Sight – colors and forms of equipment, including arches.
Touch – smooth and rough surfaces in paving and landscaping (the peeling bark on certain trees, fuzzy catkins on pussy willows); texture of leaves and flowers); sand & water.
Hearing – chimes to ring, talk tubes, Oracle bench (which is wheelchair accessible).
Smell – flowers, shrubs & grasses.
5.  The playground protects those who play there 
Safety surfacing is used in multiple areas; toddler swings are set in an area less traveled, to avoid collisions; a separately fenced toddler area reduces opportunities for wandering away; the large School Age Climb & Slide structure is designed to self-sort – activities are progressively more demanding, so the younger children tend to play at one end, while the older kids are active at the other end.
6.  Easy to move around 
Lots of gentle paths bring children and their attending caregivers into the action. Ramps in the School Age Climb & Slide structure lead to a central gazebo, where play steering wheels are offered for imaginative play.
 7.  Enough space for the use of assistive devices (such as wheelchairs)

Wide paths, including the path to KATAL the dragon sculpture, provide plenty of space. In the restrooms, large changing tables and an extra-roomy stall accommodate older children, as well as comfortable changing space for busy parents with multiple children.
Enjoy It For Yourself
If you haven't been to Kids Together Playground, it is located in the Marla Dorrel Park off Southwest Cary Parkway, near the intersection with Tryon Road. The actual address is 111 Thurston Drive.
The 16 acre parcel has many diverse features. There are  3 playground areas, including a pre-school area that is fenced in. A  walking trail connects with plenty of shade provided by plentiful landscaping, and lots of benches, some of which are public art. There is a picnic shelter that groups can rent that has a 40 person capacity. The signature piece is KATAL  the dragon. This piece of public art seems to grow up from the ground and is a favorite for all children to climb on.
Anniversary Event
The anniversary event, Walk Run or Roll celebrates all that the park continue to accomplish to encourage play regardless of ability.
Register in advance to race, but all are welcome to come and enjoy the festivities
Walk, Run Roll For Inclusiveness
10th Anniversary of Kids Together Playground
Saturday, September 21, 2013
Registration: 9:30 AM
Kids Together Playground
Marla Dorrel Park
111 Thurston Drive
Cary, NC
Registration starts at 9:30am, walk begins at 10am, the fun continues until noon. $15 per family; $5 per individual.
Wheelchairs and strollers are welcome, of course! Decorate your wheels or wear a funny hat and you might just win a prize!. Presented by Kids Together and the Town of Cary.
More info: http://www.kidstogethercary.org/
https://carycitizenarchive.com/wp-content/uploads/2013/09/marla-dorrel-park-kids-together-playground-dragon-e1378905241296.jpg
394
600
Lindsey Chester
https://carycitizenarchive.com/wp-content/uploads/2020/03/cc-archive-logo-450-v3.png
Lindsey Chester
2013-09-12 16:32:19
2013-09-12 16:32:19
Kids Together Playground - 10 Years of Universal Play