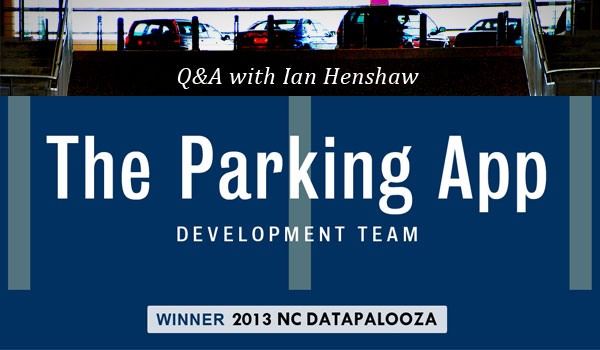 Cary, NC — Tech Tank Managing Partner Ian Henshaw was part of the winning team at NC Datapalooza last week in Raleigh. Hal Goodtree fired a few questions at Ian about the winning app, open data and the start-up ecosystem in the Triangle.
Hal Goodtree: Congratulations, Ian. I heard that you were part of the team that won the NC Datapalooza competition on Thursday.
Ian Henshaw: Why thanks, Hal. It was great that the efforts of our team paid off. We worked really hard and it was an honor to win.
HG: What is Datapalooza?
IH: Datapalooza is an event created by the White House. The basic idea is that the government opens data to citizens and entrepreneurs to see if people can come up with novel uses and build companies using the data.
Up until now, the Datapaloozas have been run at the White House focused on things like health care. In April, several Triangle leaders basically brought the White House to Raleigh for the first ever regional Datapalooza. This is a really big deal! We had a day-long meeting titled DataJam to talk about the data that is available to us and we came up with many ideas that could use that data to solve different problems. At the end of the day, something like 10 ideas were voted for continued work.
HG: So is this part of the Open Data movement that I have been hearing about in the Triangle?
IH: Yes. Open Data is information that is machine readable, that is easy to find, is accessible, and usable by the general public. Our government collects huge amounts of data and it belongs to us citizens.
By making the data open, the thought is that the power of many people looking at it in many different ways will generate new solutions and new economic development. In fact we just heard on Thursday from Ian Kalin of Socrata, that the economic impact of opening the Federal GPS and Weather data was $100 Billion last year alone… That is Billion with a B!
You can think of Open Data as the fuel for Datapalooza.
HG: What made you want to get involved with Datapalooza?
IH: Last year, I was part of the Technology Task Force for the Town of Cary and we looked in depth at how the Town used Technology to interact with its citizens.
As part of the Task Force evaluation and recommendations, I became aware of the Open Data movement and the potential of citizens and entrepreneurs working with the data that the government collects and which belongs to us. I was fortunate to be invited to the DataJam meeting and wanted to participate as much as I could to find out more about the process and the impact of the program.
HG: Tell me about your idea and team.
IH: The idea was not mine, but was an something important to a group of civically active people from Raleigh: Parking. More specifically, where to find it.
Raleigh had some parking data available on their Open Data Portal which qualified the project for the competition. This problem interested me and so I joined the group. I was quite happy to find out that the team has a great diversity of backgrounds and skills which has really helped as we developed and vetted a solution to the parking problem.
We came to see the problem as not just a Raleigh issue, but as a problem common to downtowns and urbanized commercial areas.
HG: What happened during the competition?
IH: We spent a lot of time quantifying and vetting a solution. One of our team members, Eric Majewicz, came up with a prototype mobile application for downtown Raleigh. The team discussed this solution with the Downtown Raleigh Alliance and even with North Hills and both these organizations are very favorable to our proposed solution.
A month ago, we had a pitch session with the Blackstone Entrepreneurs Network, and we were one of 3 teams to pass on to the final stage of the Datapalooza contest. We were then given a business mentor, and access to the HQ Raleigh accelerator and to the Blackstone Fellows. I think that we were fortunate to get Scott Moody as our business mentor; you might have heard that he was the co-founder of AuthenTec, the company that Apple purchased to get the fingerprint reader for the new iPhone 5S [news].
If we thought we were doing a lot of work before, the last month kicked it to a much higher level as Scott challenged us seemly daily to go talk to people and verify that there really was a market, and to develop a solid business model. The last week we also spent lots of time working on our final pitch.
On Thursday at the NC Datapalooza event, we pitched in front of an impressive panel and a large group of the whos-who of the Triangle Technology ecosystem and the National Open Data community. Our preparation paid off and we won against 2 other really good ideas and pitches.
HG: Is your mobile app available for download now? I always have problems finding parking in Raleigh and Durham.
IH: We are still at a prototype stage, but we expect that as we finalize our early adopters, the app will be available to help you within a few months!
HG: What's next?
By winning Datapalooza, we were given the opportunity of pitching at the CED Tech Venture Conference in Raleigh starting on Tuesday. Immediately after our celebration at the Raleigh Times Bar, we were hard at work getting information together to make the publication cutoff for the conference and prepping for the the booth we have to staff and the pitch we have to make on Tuesday.
The good news is that we believe we have a significant solution to a real problem and we have a well balanced and capable team. We are actively discussing the next steps of spinning up a company to provide a superior mobile application for parking.
IH: Ian, thank you for you time and again, congratulations!
—————————————————————————————————-
Story by Hal Goodtree, first published on TechnologyTank.org.
https://carycitizenarchive.com/wp-content/uploads/2013/09/parking-app.jpg
350
600
Hal Goodtree
https://carycitizenarchive.com/wp-content/uploads/2020/03/cc-archive-logo-450-v3.png
Hal Goodtree
2013-09-17 16:05:37
2019-12-08 10:10:32
Winning NC Datapalooza: Q&A with Ian Henshaw