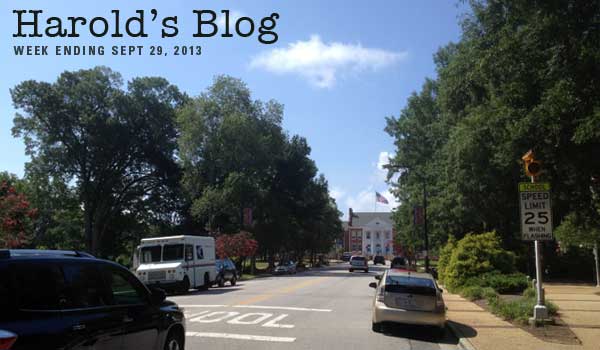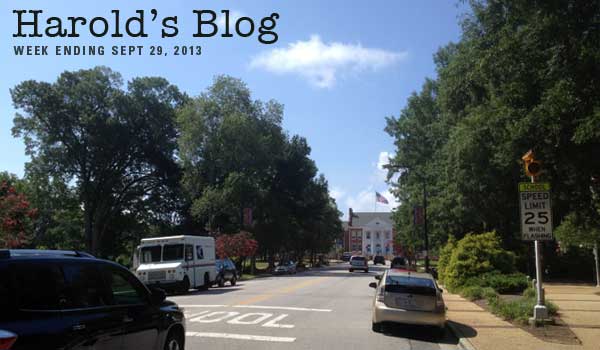 Cary, NC — This week was a regularly scheduled council meeting week. Other than activities related to the council meeting there wasn't a lot going on.
Monday
Monday's of council meeting weeks I usually call council members and this Monday was no exception. I was able to contact all but two council members about issues, concerns, or questions they had about Thursday's council meeting.
The only concern was about a resolution related to a school board grant and a couple of council members asked that the item be pulled from the consent agenda.
Later in the day I met with management, directors, legal, and administration to go over the agenda. While this agenda didn't seem to have a lot of controversial issues it did seem like it would take a long time due to the public hearings. Therefore my prediction was that the meeting would end around 10:30.
Tuesday
Tuesday I received a call from a county commissioner about another sports economic development opportunity that may be interested in Cary. We seem to be consistently generating interest from all around the nation. I believe the interest is due to a committed, dedicated council, a strong partnership with the chamber, and support from citizens and businesses to create a great business environment and quality of life.
Later in the day I had my weekly meeting with the town manager. We discussed the Imagine Cary process, a North Carolina railroad issues, and new economic development opportunities.
Wednesday
Wednesday I taped the October episode of Cary Matters with council member Don Frantz. Don is a natural for TV and it is easy to do an episode with him. We did the entire show in one take or about 20 minutes. The episode's main topic will be on the mini-retreat we had earlier in September.
Thursday
Lexis Nexus Leaving Cary
Thursday started with some sad news for Cary. I received a phone call from a Lexis Nexis executive informing me of their decision to move their operations to Centennial Campus. He wanted me to know that they greatly appreciated the partnership with the town and the chamber.
He said the reason for their move was purely logistics. That is, they are growing so fast and they needed more space quickly. He pointed out that many of their employees live in Cary and will continue to do so. He also committed to staying involved with the Cary Chamber.
Cary Gateways
Thursday afternoon I met with a gentleman that was interested in several things relating to gateways into Cary. He believed there should be more lighting, maps, and signage so people could find their way around Cary once exiting I40. He proposed that these gateway kiosks be at the I40 exits at Harrison and Cary Town Boulevard.
Town Council Meeting
Thursday night's council meeting was much shorter than I anticipated ending around 9:40.
In the Public Speaks Out portion of our meeting there were complaints about our street light policy. That policy requires 70% of a neighborhood to agree on a streetlight before it is installed. These residents wanted to give veto power to adjacent homes.
There were five public hearings which didn't have very many speakers. Those public hearings included annexations, a rezoning request at the Ferrell property at Copperleaf, a rezoning request to allow a new State Employment Credit Union on Walnut Street near Macedonia Road, a rezoning request on Carpenter Fire Station Road, and a code amendment to allow an additional alternate on the Zoning Board of Adjustment.
The biggest council discussion centered on the round 25 amendments to the Land Development Ordinance. Council approved a Champion Tree replacement amendment but wanted strong language in the ordinance that Champion tree removal should be a last resort and not allowed for convenience.
Council also approved a beekeeping ordinance amendment allowing it in community gardens but not in the proposed homeowner association common areas. In addition, Council gave direction on several amendments to the sign ordinance but rejected ground signs for outparcels and more flexible neon sign guidelines. The sign ordinance amendments will be voted on at our next meeting.
Mailbag
Emails from citizens this week included a request to let everyone know that St. Paul's Episcopal Church's is holding their annual Lobster Fest on Saturday, October 5th.  Last year they brought down 1,000 live lobsters from Maine, along with fresh lobster meat for an additional 650 "Lobsta" Rolls (served on a grilled La Farm Bakery brioche roll). The purpose of this event is to offer folks an opportunity to donate to the NC Food Bank. Also, if someone brings in a cash or food donation we hand them a Pepsi product. The event also supports the Shriners' Children's Hospitals, the church's Appalachian Service Project, and other outreach and church projects.
In other emails from citizens there was a complaint about the new policy regarding street light installation, an opinion about affordable housing and transit, a complaint about O'Kelly Chapel Road, an opinion that reserves in the General Fund should be given to citizens, a concern about a sidewalk being too big in a rezoning proposal, and a concern about the downtown hotel.
This Week
This week will be a light week with a few events and an interview.
Well that is all for now. My next post will be on Sunday October 6th. Although I have Facebook and Twitter accounts those are not the best means of communications with me. Please send all Town of Cary questions or comments to Harold.Weinbrecht@townofcary.org and email personal comments to augustanat@mindspring.com.
https://carycitizenarchive.com/wp-content/uploads/2013/09/harold-0930.jpg
350
600
Harold Weinbrecht
https://carycitizenarchive.com/wp-content/uploads/2020/03/cc-archive-logo-450-v3.png
Harold Weinbrecht
2013-09-30 16:15:43
2016-01-09 11:59:48
Harold's Blog: Lexus Nexus and Beekeeping