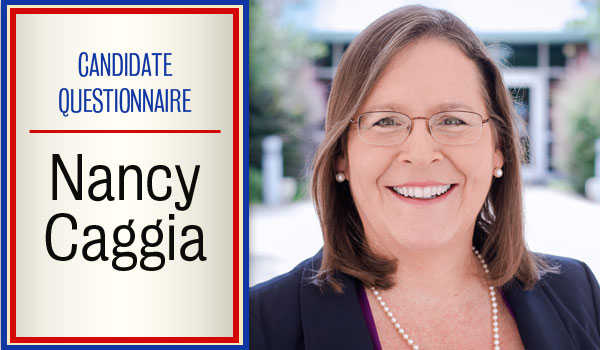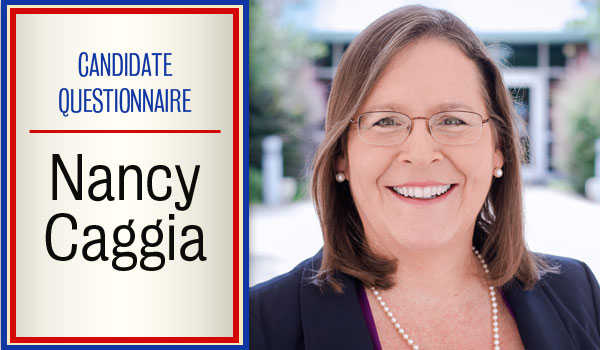 Cary, NC — Continuing our Candidate Questionnaire series, we hear from Nancy Caggia who is running as the challenger for Wake County School Board, District 9. 
Candidate Questionnaire
As we have done in previous election cycles, we sent a list of three short questions to all the candidates for office in Cary. We do not edit the answers but provide a forum for the candidates to speak to our readers in their own words.
Earlier this week, we heard from Ed Yerha and Bill Fletcher. We'll hear from Jack Smith and Deborah Pugh in subsequent days. Other candidates have not yet sent us their answers, but we'll publish anything additional we receive on Monday, October 7.
We will not endorse candidates or tell you how to vote. However, we encourage all citizens to go to the polls in Cary on Tuesday, October 8, 2013.
Nancy Caggia
Q1 – Why are you running?
Over the last 14 consecutive years, I have been a proven leader dedicated to improving safety and academic achievement.  My husband and I have children in the Wake County Public School System and I am tired of the political volume.  We need inspiring leadership and good schools to attract and retain businesses which all protect our real estate values.  I want the Board focused on all students becoming marketable graduates and each child achieving to their highest potential.
With support from friends and family and community encouragement, and my non-stop dedication to student learning, I decided to take the leap to become elected so I could serve as the bridge of many stakeholders to focus on student achievement.  This is Cary's opportunity to put their candidate on the WCPSS Board.   Our school system needs to move forward.
Q2 – What are your top 3 priorities and how will you get it done?
1. Academic growth for all students. We need to celebrate the student whose grades improve from 45% to 70%, but we also need to enable the average and top proficient learner to show growth from year to year. I support the "Read to Achieve" law requiring our 3rd graders must read at or above grade level; however, we must ensure ALL students show academic growth throughout ALL of their educational years.
My flower logo illustrates "Growth for all children" where a child's strengths and weaknesses can be on any one of those petals that need nurturing. We cannot label a child in ONE category; instead we must look at the data in each area, or petal, and see what is working to achieve growth — and not fall back on ineffective programs or practices. I support the best practice of Response to Instruction/(RtI) which starts with the teacher-student relationship in the classroom and determines if additional tiers of services must be added to help the child show mastery, at a minimum, and hopefully growth to his or her full potential.
We also must reward the teacher with more pay and respect for the teaching profession to also nurture this student-teacher relationship from both sides!
2. Results driven goals and accountability:
Some facts:
Our WCPSS total operating budget is $1.3 billion dollars per year.
Our Superintendent's Budget book is 1.25 inches deep with 304 pages.
At the September 26 Finance Subcommittee meeting, the Chief Business Officer, David Neter, said this WCPSS budget is the most complex financials he's ever seen in his illustrious career. So no wonder we don't get it!
My goal is ensure our taxpayer money is spent effectively on clearly defined and measurable "SMART" goals with results of student outcomes and financial variances explained in understandable communications. In that Finance meeting, a newspaper pullout from about a 2007 timeframe was brought as an example of public communication that was simple and clear. That is one example of something that might have worked and WCPSS should possibly do it again.
Also, we need to have that "equality/equity" discussion from the Curriculum Audit within our Board and community. Through thoughtful and consistent policy, we must enable the Principal and each school while maintaining a balance of equity across the county in course and program options, funding, and many other factors and formulas.
3. "Classrooms without walls": Innovative opportunities
To increase student learning, we must expand opportunities inside and outside the classroom. There is a plethora of online courses and opportunities that should be brought into our students' lives as remediation or enrichment to the curriculum to engage them in life-long learning and marketable skill sets. North Carolina has 3 graduation endorsement options: UNC, College (as in technical or community) and Career. A child can learn to be a dental assistant and pay for their advanced education becoming a dentist. WCPSS is starting to work with our local community colleges increasing options in the near future! Our school board must be leading the way with policies that use technology wisely, not blocking innovation with antiquated policy. Our county's work force needs healthy, responsible and marketable graduates.
Q3 – Give us a brief bio and tell us about your relevant experience.
October 8 is Cary's opportunity to put their candidate on the WCPSS Board by voting for Nancy Caggia. This is like hiring someone who is the best candidate based on knowledge, commitment, and collaborative skills.
Not only do I have in depth knowledge from the classroom to educational state boards, I also have 32 years of accounting and business experience,from Price Waterhouse to owning my own business with my husband of 25 years, and now recently passing the real estate broker exam. My QR code on yardsigns and all campaign information is consistent of "walking the talk" of using technology as our children relate to the ever changing world and how they gain knowledge.
I have never left our children in schools and I have no higher political aspirations: I've never run for an office before and I am dedicated to our local schools. I have proven in my commitment over the last straight 14 years in education and Cary as you can see on my resume on website www.nancycaggia.com.
My endorsements are testimony of my collaborative skills. Since 1999, I have created and led initiatives that produced programs and events designed to increase student achievement and overall health and safety of schools. Working with many others, I have helped include Kids Voting ballots in schools, and spearheaded both the the Wake County Spelling Bee and Safe School Task forces, for example. I have earned the Wake GOP endorsement and other key local support. I still have plenty of new ideas that I hope to accomplish with my public endorsements from most of the individuals on the Town Of Cary Council, including the Mayor. Our schools need respected leaders who have the right "soft skills" and team building experience to get things done.
I hope District 9 voters will vote for Nancy Caggia on October 8, with my proven knowledge, commitment and collaborations skills– so our school system can move forward.
Candidate Information
Nancy Caggia
Wake County School Board
District 9
Website:  NancyCaggia.com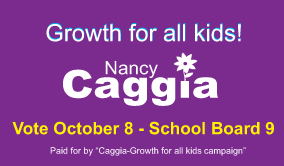 https://carycitizenarchive.com/wp-content/uploads/2013/10/candidate-caggia.jpg
350
600
Community Contributor
https://carycitizenarchive.com/wp-content/uploads/2020/03/cc-archive-logo-450-v3.png
Community Contributor
2013-10-03 16:08:43
2013-10-07 13:32:31
Candidate Questionnaire: Nancy Caggia