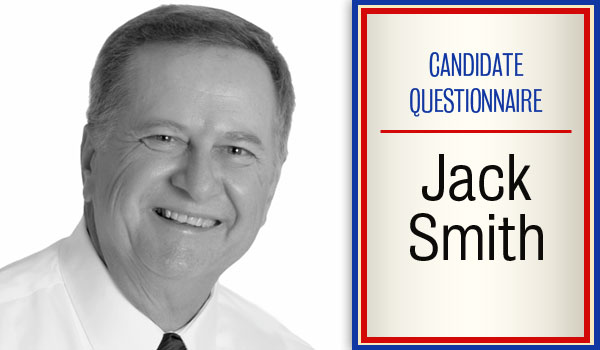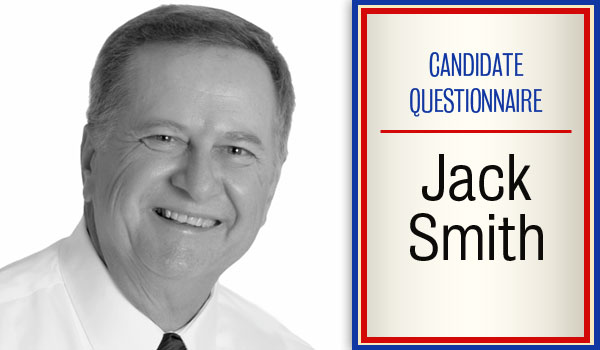 Cary, NC — Continuing our Candidate Questionnaire series, we hear from Jack Smith who is running as the incumbent for Cary Town Council, District C. 
Candidate Questionnaire
As we have done in previous election cycles, we sent a list of three short questions to all the candidates for office in Cary. We do not edit the answers but provide a forum for the candidates to speak to our readers in their own words.
Last week, we heard from Ed Yerha, Bill Fletcher and Nancy Caggia. In this post, we'll hear from Jack Smith.
We encourage all citizens to go to the polls in Cary on Tuesday, October 8, 2013.
Jack Smith
Q1 – Why are you running?
I want to make a difference and keep Cary that special and authentic place we've all come to love. I first ran for office because I felt that the Council at that time was not addressing neighborhood concerns and that they forgot who they worked for.   And they forgot how to listen.  My time on Council has been dedicated to listening and addressing your concerns… and acting to preserve Cary's neighborhoods and quality of life.    I am proud of my problem solving record and the progress Cary has achieved under my watch.
Q2 – What are your top 3 priorities and how will you get it done?
My 3 priorities remain as they have always been:   1.) Manage 'where and how' Cary grows, so we never lose our small town charm or do harm to the environment.  2.) Protect our quality of life by keeping our neighborhoods, parks and greenways safe.  3.) Maintain a town budget that lives within our means.
To accomplish these priorities I've protected property rights through good planning and common sense zoning.  To date this has resulted in Cary home values far exceeding any other municipality in the County and resale values remain exceptional.  Cary is now nationally recognized as one of the most livable and safest cities in the U.S.  Fiscally, my approach has been to provide conservative leadership people can trust.  I successfully led efforts to lower Cary taxes – unheard of in municipal government.  This year's tax rate once again remains the lowest in Wake County.  In 2003 I voted against the entire budget in protest of an increase to our debt balance to over 18%.  Since then I have worked to lower our debt which now is 11%.  On five occasions, I successfully presented to the bond rating agencies on Cary's financial health.  After each presentation, Cary's rating improved and now stands at AAA in all categories and with all rating agencies.  And last, is to have an aggressive economic development strategy for our town. My efforts led to the creation of our Economic Development Commission, including having a dedicated professional focus entirely on bringing businesses to Cary.  This investment has provided exceptional results to include an unemployment rate well below the State and National average and a 36% job growth over the past 10 years.  We continue to attract domestic and international companies resulting in over 1200 high paying jobs this year alone.  (Local companies that built and expanded during the recession include: ABB, Lord Corp., Deutsche Bank, John Deere, Kellogg, Siemens and SAS.)
Q3 – Give us a brief bio and tell us about your relevant experience.
I have held Vice President Level positions at Fortune 25 companies.  In 2001 I founded Organizational Capability Services, LLC, a leader in competency management practices and executive recruitment.    I am active in the community having served on several not-for-profit Boards.  In 2006, in Washington D.C., I was inducted into the Sister Cities International Government Leadership Circle.  Locally, in 2010 was recognized as the Cary Chamber 'Citizen of the Year' and in 2012 received the Cary 'Citizen Diplomacy Award'.  I graduated from the University of Oklahoma and served in the US Army as a Cavalry Troop Commander, attaining the rank of Captain. I completed both the Leadership Triangle and Institute of Political Leadership programs and am a Certified Compensation Professional (CCP).
Candidate Information
Jack Smith
Cary Town Council
District C
Website:  JackSmith.org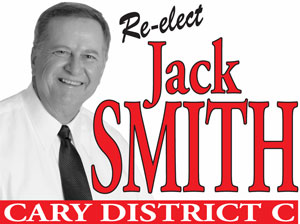 https://carycitizenarchive.com/wp-content/uploads/2013/10/candidate-jack-smith.jpg
350
600
Community Contributor
https://carycitizenarchive.com/wp-content/uploads/2020/03/cc-archive-logo-450-v3.png
Community Contributor
2013-10-06 14:07:14
2013-10-07 13:32:31
Candidate Questionnaire: Jack Smith