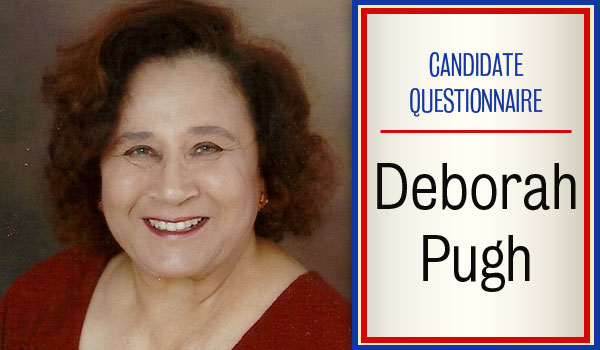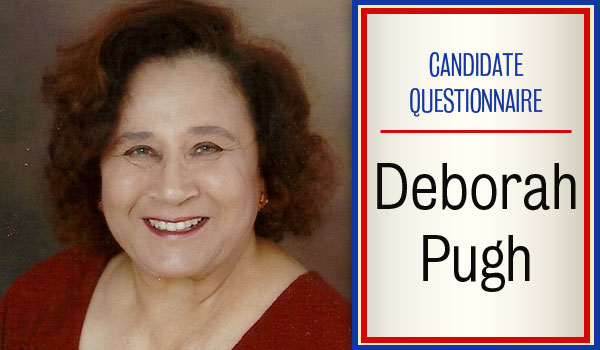 Cary, NC — Continuing our Candidate Questionnaire series, we hear from Deborah Pugh who is running as the challenger for Cary Town Council, District C. 
Candidate Questionnaire
As we have done in previous election cycles, we sent a list of three short questions to all the candidates for office in Cary. We do not edit the answers but provide a forum for the candidates to speak to our readers in their own words.
Read all the candidate answers to our questionnaire under Elections.
We encourage all citizens to go to the polls in Cary on Tuesday, October 8, 2013.
Deborah Pugh
Q1 – Why are you running?
I don't believe the Cary Town Council is listening to the Cary Citizens. They have proposed a plan to bring high rise high density apartments buildings and a light rail system to downtown Cary. They have not published their plans or given the citizens and opportunity to share their ideas or give feedback on these plans. They are quietly moving to implement the urbanization of Cary. We love our town and we are not in favor of the changes the Council is proposing to make. The zoning regulation was changed to allow high rise high density apartments at the corner of Tryon and Cary Parkway in the middle of a stable single home neighborhood. I am angry about this decision. This is just the tip of the iceberg, more is coming. I am doing my best to alert Cary Citizens. We do not want high rise 9 story apartments taking the place of small businesses and single family homes.
Q2 – What are your top 3 priorities and how will you get it done?
Priority 1. Open, truthful communication with Cary citizens and genuine representation.
Priority 2. To oppose forces pushing for urbanized reconstruction of downtown Cary.
Priority 3.  To protect personal property rights, oppose over regulation and support sensible town growth.
I propose to implement my top three priorities by:
Voting against all projects and proposals that do not support these priorities.
By publishing an information letter which keeps citizens informed of Cary Councils deliberations and decisions.
By pushing for the retentions of zoning regulations which have helped Cary become a place with the charm and character that we love.
By insisting that the millions of dollars spent by the Council be discussed in an open forum and if necessary be offered as  a bond referendum voted on by Cary citizens.
Q3 – Give us a brief bio and tell us about your relevant experience.
I am a retired educator who has served as a teacher, school administrator, education consultant, and adjunct university instructor. I have lived in the Cary community for 14 years and retired from the Wake County Schools in 2010. I have three children and six grandchildren.
As Director of Educational Services and Director of Staff Development for the Detroit Public School System; Adjunct Professor and Teacher Evaluator and Supervisor for Wayne State University, and Technical Consultant for the RK Kellogg Foundation. I have collaborated on initiatives to improve classroom management, teaching methods, curriculum, and assessment tools in The Detroit Public Schools, and served as the Regional Administrator of Program Planning for 34 Detroit Public Schools and 100 staff members as well as Citywide Administrator for the Detroit Management Academy. I have extensive experience in budget management, negotiations, hiring staff, conflict resolution, problem solving and on the spot decision making.
As a taxpayer and Cary resident, I am well qualified to help make decisions that are in the best interests of the citizens of Cary.
Candidate Information
Deborah Pugh
Cary Town Council
District C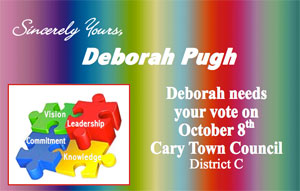 https://carycitizenarchive.com/wp-content/uploads/2013/10/candidate-pugh.jpg
350
600
Community Contributor
https://carycitizenarchive.com/wp-content/uploads/2020/03/cc-archive-logo-450-v3.png
Community Contributor
2013-10-06 14:32:24
2016-01-01 19:06:56
Candidate Questionnaire: Deborah Pugh