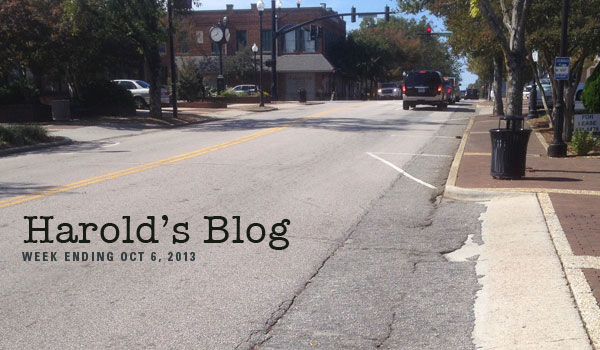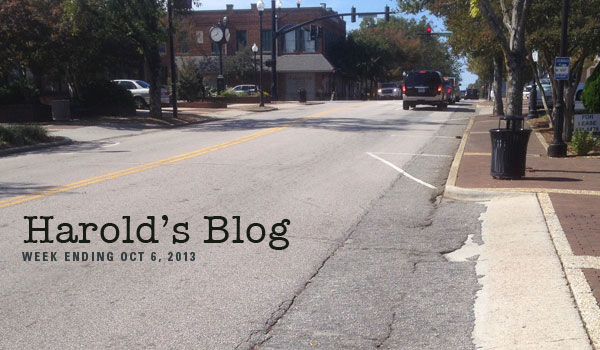 Cary, NC — This week would be considered a light week compared to some weeks but it was busier than I expected.
Monday
Monday I joined the rest of the council in the second annual boards and commissions' celebration. Cary is fortunate to have an exceptional group of citizen volunteers whose selfless efforts help to shape our government and offer valuable insights to the town.
During our four hour session we had dinner, heard from two SOG (School of Government) experts, and had a town update from the town manager and me.
John Stephens of the SOG gave a presentation on the role of advisory boards in local government. Norma Houston of the SOG gave a presentation on Parliamentary procedure and board proceedings. Both were interactive sessions and included things that were surprising. The town manager and I finished up the session by giving updates. I talked about three types of growth: economic, acreage, and population. The town manager talked about town operations.
The event ended shortly before 9 PM.
Tuesday
Tuesday I had my weekly meeting with the town manager. He introduced me to the new downtown manager, Ted Boyd, who started on Monday.
Ted was very easy to talk to and I think has the personality and expertise to get great things done in downtown.
After meeting the downtown manager the town manager and I talked for about an hour mostly on operational issues.
Wednesday
Wednesday I met the owners of Whisk in Waverly Place for a promotional photo. Whisk is a unique, independent kitchenware store offering cooking classes and services for those who love to cook. Expert chefs from around the area will lead the cooking classes. While I was there a cooking class was in progress with about two dozen students. For the photo I held a very large whisk and was flanked by both owners. I believe Whisk will be a huge success and hope that my wife and I can take a cooking class in the near future.
Later Wednesday I attended a meet and greet for School Board Candidate Nancy Caggia. What impresses me most about Nancy is that she is non-partisan, has a history of working for students, a history of working for Cary, and a genuine interest in making our school system better. If she is successful in her bid she will be a HUGE asset and a great advocate for Cary.
Thursday
Thursday I had a short recorded interview with Carl Colglazier who is doing a documentary for the Friends of the Page Walker on the history of Cary. Carl has won awards for some of his previous work and I am very interested to see the final result of this documentary on the history of Cary.
Later Thursday I met with Morrisville Mayor Jackie Holcombe to do a campaign photo for one of her upcoming political mailers. Jackie and I have known each other for over twenty years (my oldest daughter went to pre-school with her youngest daughter). I believe she has done an excellent job as mayor and together we have collaborated on sidewalks, greenway projects, park projects, and road projects. We have created a subcommittee of our councils to meet quarterly to figure out how to best coordinate our efforts.
Saturday
Saturday I joined Debra Morgan of WRAL in giving welcoming comments for the 21st annual Triangle Walk to Benefit Alzheimer's North Carolina. The purpose of the walk was to raise money to benefit Alzheimer's research. The good news is that the money raised stays local. Alzheimer's is a cruel disease. While it is tough to lose someone it is especially tough to watch them lose their memory to a point when they can't remember their family members. It is my hope that we can find a cure for this disease in my lifetime.
Later Saturday I participated in the Fall Litter Sweep. My team was made up of a member of the ISAB advisory board and an foreign exchange student from the Ukraine. We stayed in the downtown area picked up three bags of trash in about an hour. The student mentioned that there is nothing like this in the Ukraine and there is no interest in litter removal. She praised Cary for its beauty and for the volunteers who care.
Emails from Staff
In emails from staff this week the latest plans under review were sent to council. For the month of September they include:
GSA Site improvements: sally port and 2050 square foot building expansion at Centrewest Court.
Courtyards on O'Kelly Chapel Road adding 92 Single Family lots at Pittard Sears Road.
Genford Express Lube's 2400 square foot automotive repair center on Tryon Road.
SAS/GA 8036 square foot expansion of an exercise room.
SAS building P which is a 247,633 square foot office building.
Taco Mac at Bradford which is a 7150 square foot restaurant at Davis Drive and High House Road.
Taco Mac at Waverly which is a 7150 square foot restaurant at Waverly Place on Colonades Way.
To see the complete listing go to http://bit.ly/GDRiBO
Emails from Citizens
Emails from citizens this week included a concern about a dangerous sign on Davis Drive near Searstone, a complaint about our latest change to the streetlight policy, a concern about leaf blower noise, a question about the future Twin Lakes park, a concern about a Cameron Pond lot clearing, and several requests to not require a rezoning to install a 10 foot sidewalk instead of a 5 foot sidewalk.
Get in Touch
This week my time will be dominated mostly by the SAS Championship and the town council meeting.
Well that is all for now. My next post will be on Sunday October 13th. Although I have Facebook and Twitter accounts those are not the best means of communications with me. Please send all Town of Cary questions or comments to Harold.Weinbrecht@townofcary.org and email personal comments to augustanat@mindspring.com.
—————————————————————————————————————————-
Republished with permission from the blog of Cary Mayor Harold Weinbrecht. 
https://carycitizenarchive.com/wp-content/uploads/2013/10/harolds-blog-1007.jpg
350
600
Harold Weinbrecht
https://carycitizenarchive.com/wp-content/uploads/2020/03/cc-archive-logo-450-v3.png
Harold Weinbrecht
2013-10-07 13:10:34
2019-12-08 10:10:35
Harold's Blog: October 7, 2013