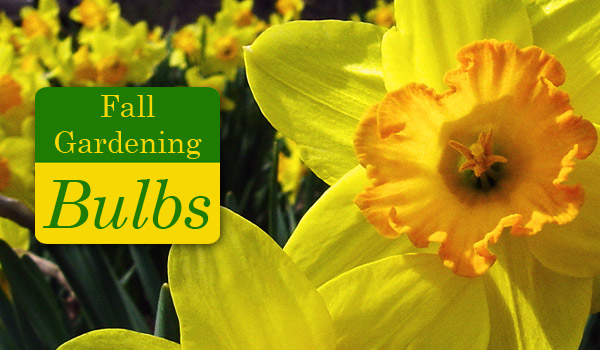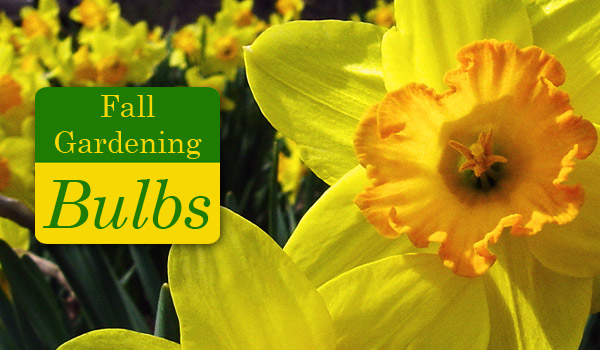 Cary, NC — Bulbs are like magic. You put them in the ground now and they produce masses of flowers for years to come.
Flowering Bulbs for the Garden
With a few exceptions, fall is the best time of year to plant bulbs in the South. You can plant bulbs anytime of year, but bulbs planted in the fall will pay dividends next year.
Bulbs truly are four-season plants – some flower in winter (Paperwhites), many flower in spring (Iris, Allium, Daffodil, Hyacinth, Tulips), other give bloom in summer (Canna Lily, Caladium, Daylillies) and some come to life in the fall (Dahlias).
Naturalize vs Perennialize
Bulbs that naturalize return and multiply year after year. Daylily are a good example; Canna lily, too.
Bulbs that perennialize can return year after year, but generally don't spread. Tulips are a good example of bulb that can become perennial.
Finally, a third class of bulbs are those that need to be lifted from the ground and stored during the winter. Caladium, a brightly colored plant sometimes called Elephant Ears, will not over-winter in North Carolina.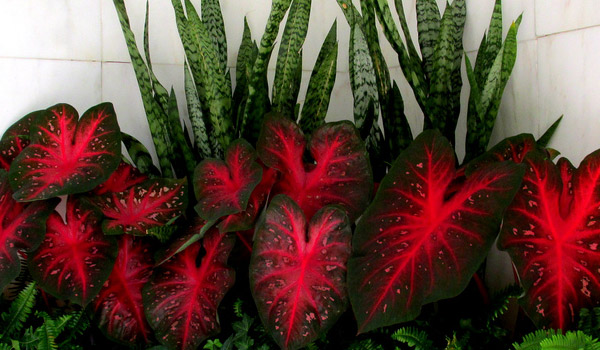 Planting Bulbs Now
If you are new to bulbs, here are a few suggestions that work in my North Carolina garden.
Crocuses – Tiny flowers are about the first thing to bloom during the year, usually by the end of January in my Cary garden. The flowers are a welcome shot of color and a harbinger of spring. Our Crocuses naturalize well and thrive in a sunny spot.
Hyacinths – Not quite as small as Crocuses, Hyacinths are about 4 inches tall and give off a heavenly fragrance. Our hyacinths naturalize as well in a sunny spot.
Tulips – Nothing is cheerier than a big bed of tulips in the spring. Many varieties need to be lifted, but some will become perennial including dwarf hybrid varieties as well as Emperor Tulips.
Daffodils – Daffodils come in a staggering variety of types. Many types will become perennial including the famous Dutchmaster.
Irises – Irises have a short bloom period (just a few weeks), but many people are fascinated by the exotic flowers. Irises can be fussy. Ours are perennial; that is, they come back every year but don't spread.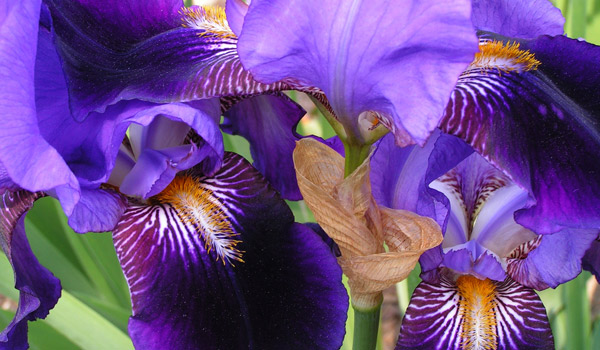 Caladium – Big elephantine leaves hover over the garden for months in shades of pink, white, green and black.  One of the few bulbs grown for the colorful leaves. Caladium bulbs won't over-winter in North Carolina, so you have to dig them up every autumn or plant anew every spring.
Canna Lily – One of the most beautiful flowers in the summer garden. Ours have become perennial, but you might get them to naturalize in the right spot.
Daylily – Not a true lily, but a stellar performer in the garden. Takes a wide range of light, blooms heavily in the spring but continues to flower until autumn. Easy to naturalize.
Dahlia – Big, gorgeous blooms in late summer and early fall.Some types of Dahlias can grow up to 7 feet tall.
How to Plant Bulbs
Let's say you want to plant some bulbs this autumn. The first thing to do is decide what you need and then visit the garden store.
Bulbs may be sold in packs or loose in a bin. The key factor to notice is how firm the bulbs are. Firm bulbs are good.
To plant, dig a hole about twice the height and width of the bulb. We use a special bulb digger tool that makes a perfect hole for a medium-sized bulb with one twist of the wrist. But and hand spade works just as well.
It's a good idea to sprinkle a little fertilizer in the hole before planting the bulb. I like to use Triple Phosphate, but Bulb Tone and other garden store products work well.
Bulbs usually have a top and a bottom. You want to plant the your bulbs with proper orientation.
Cover with dirt and water it in.You generally will not need to water again until the bulb sends a stalk up through the soil in the spring.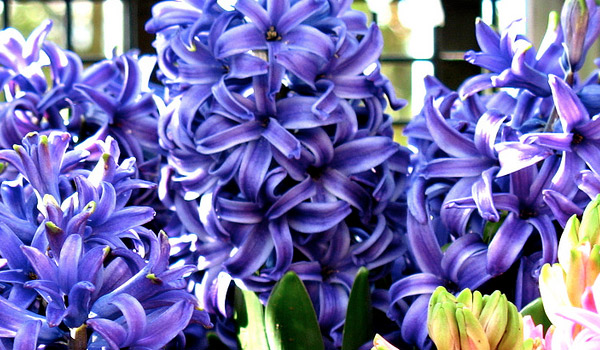 Feeding Your Bulbs
Bulbs are heavy feeders. You can use soluble fertilizer (like Miracle Grow) during the growing season.
Another technique is called "side-dressing." Basically, dig some solid fertilizer into the dirt surrounding the plant.
Most bulbs should not be fed during bloom season. But after the blooms have died down, side dress or use liquid fertilizer to guarantee be best bloom the following year.
Don't Be Afraid to Ask
Bulbs are one of easiest ways to get years of beauty in your garden. But with so many varieties, it's hard to know the subject completely.
Visit your garden store are ask questions. In addition to the varieties named above, many exotic, unique and wonderful flower bulbs are available to add joy to your flower patch. Your garden store is the best source for information, plant material and tools to make your bulbs magical.
———————————————————————————————————————
Story by Hal Goodtree. Photo credits: Hyancinth by Pinké; Daffodils by delayedneutron; Caladium (with snakeplants & ivy) by mmwm; purple and gold irises by Hope Abrams.
———————————————————————————————————————
The Gardening Column on CaryCitizen is sponsored by Garden Supply Company on Old Apex Road in Cary.
https://carycitizenarchive.com/wp-content/uploads/2013/10/bulbs.jpg
350
600
Hal Goodtree
https://carycitizenarchive.com/wp-content/uploads/2020/03/cc-archive-logo-450-v3.png
Hal Goodtree
2013-10-09 14:25:01
2013-10-09 13:19:20
Time to Plant Bulbs