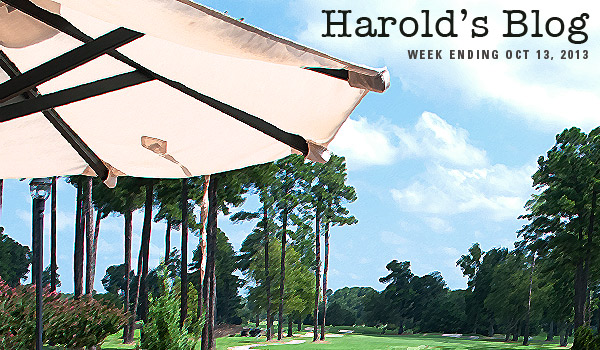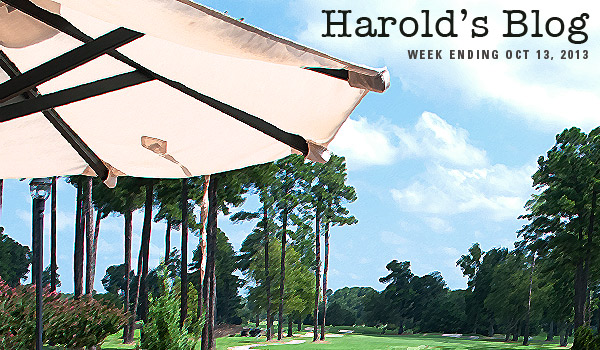 Cary, NC — This week was a busy week that consisted mostly of the town council meeting and the SAS Golf Championship activities.
Monday
Monday I contacted all council members about their questions and concerns for Thursday's regularly scheduled council meeting. Council members had very few questions and just needed clarification on the Noise Ordinance and Land Development Ordinance Amendments listed for council discussions.
Later Monday I met with management, legal, directors, and administration to walk through Thursday's council agenda. Staff explained that the noise ordinance was in two parts. Part 1 would be clarification of the existing ordinance. Part 2 would be an invitation to council to see if they would like additional changes. The Land Development Ordinance Amendments were the amendments directed by council at our last meeting with a minor recommendation on monument signs.
Based on the discussion with staff and council members I believed the council meeting would last about three hours.
Tuesday
Tuesday I met with the town manager for our weekly one on one meeting. We talked about federal projects and the impact the shutdown was having on Cary. We also talked about council's direction related to Champion trees. Council wants to save Champion trees as much as possible and not allow them to be removed for convenience. We then talked about the new Fire Station #2 site and the Champion trees at that location. Staff is struggling to find a way to save all the Champion trees but should be able to save most of them. My meeting with the town manager lasted about an hour.
Tuesday night I attended a pairing party for the SAS Golf Championship. As mayor I am invited to participate in the Pro-Am event and bring three guests. As I have in previous years, I invited council member Smith, the President of the Cary Chamber, and the Vice President of Economic Development to be part of my group. To pick our professional golfers depended on where we finished in a trivia contest. We didn't do so well and ended up in the 20th position (out of 25). However, we were fortunate to pick Roxboro native Jim Thorpe and Australian Peter Senior.
Wednesday
Wednesday was the first day of the Pro-Am and my group had the pleasure to play with Jim Thorpe. We had a lot of fun and finished about 4 strokes behind the leaders.
Thursday
Thursday morning, the second day of the Pro-Am, we played with Peter Senior from Australia. Our group was cold and wet and struggled to make good shots. We played so badly that we were all laughing most of the time. Peter seemed to be having a lot of fun too. We didn't score anywhere near the leaders but instead finished about midway in the groups. The Pro-Am was a wonderful experience and confirmed without a doubt that I am a tennis player and not a golfer.
Town Council Meeting
Thursday night was our regularly scheduled council meeting. There were four public hearings that drew over two dozen speakers.
The CTran fare increase had several speakers opposed to the changes. However, they all understood the needs for change. That is, the town hadn't increased fares in several years, operating costs continue to increase, we are below all other municipal transit fares, and town subsidies are over 90%. After much discussion the council decided to go ahead with the increases.
We also talked about the non-profits that provide assistance to those with financial hardships and how we give grants annually to those organizations.  The public hearing on the Cornerstone Presbyterian Church expansion also had a lot of speakers. A couple of speakers said they mistrusted Cary government and feared that the town won't enforce requirements. This was disturbing to me and I offered a personal guarantee that we will address any and all concerns related to issues. I invited them and anyone else to contact us. Cary has an open and honest government with one of the best staffs in the state. We will be glad to hear and work on citizen concerns.
The last controversial public hearing was the Ogden property on Penny Road. Residents there were concerned that a cul-de-sac would be required to be used as a connector street. All parties involved will continue to work on this issue. The meeting also included a brief presentation on the Noise Ordinance. Council approved the changes for clarification in the ordinance but decided not to move forward with any other changes at this time.
Our last item for discussion was on the Land Development Ordinance Amendments. These were approved by a 5 to 2 council vote with the dissenters each disliking one of the changes.
The council meeting lasted much longer than expected and ended after about 4 ½ hours.
Saturday
Saturday morning I attended the FARE (Food Allergy Research and Education) Walk for Food Allergies and gave remarks. The purpose of this event was not only to raise money to research a cure but to raise awareness of food allergies. One in thirteen or 5.9 million children have food allergies.
One of the most impressive people at this event was this year's Honorary Youth Walk Chair, Marysa Gavankar, who celebrates life every day while being threatened with over 20 food allergies. Life for her could be quite challenging yet she seeks out every opportunity to live with a fearless and determined demeanor.
Whether at one of Cary summer camps at the Cary Arts Center or among her peers at school, Marysa demonstrates a desire to teach other children with food allergies how to celebrate life like she does day in and day out. As she strives for normalcy in a world that is anything but, I'm overwhelmed by her strength and confidence.
Emails
In email from staff this week the council was notified that the council-staff retreat will now be in Winston Salem rather than Wrightsville beach.
Emails from citizens this week included a request to find a location for bike refurbishing, a complaint about the change in the streetlight ordinance, concerns about rezonings, a request to remove the leash law, and a complaint about the lack of cell towers in Park West.
Get in Touch
This week's activities include a work session, and interview, and the Diwali festival at Koka Booth.
Well that is all for this week. My next post will be on Sunday October 20th. Although I have Facebook and Twitter accounts those are not the best means of communications with me. Please send all Town of Cary questions or comments to Harold.Weinbrecht@townofcary.org and email personal comments to augustanat@mindspring.com.
—————————————————————————————————————————-
Republished with permission from the blog of Cary Mayor Harold Weinbrecht.  Photo by Hal Goodtree. News on CaryCitizen is sponsored in part by Craig Conley of MetLife in Cary.
—————————————————————————————————————————-
https://carycitizenarchive.com/wp-content/uploads/2013/10/harold-blog-1013.jpg
350
600
Hal Goodtree
https://carycitizenarchive.com/wp-content/uploads/2020/03/cc-archive-logo-450-v3.png
Hal Goodtree
2013-10-14 19:00:45
2019-12-08 10:10:41
Harold's Blog: SAS Golf Championship