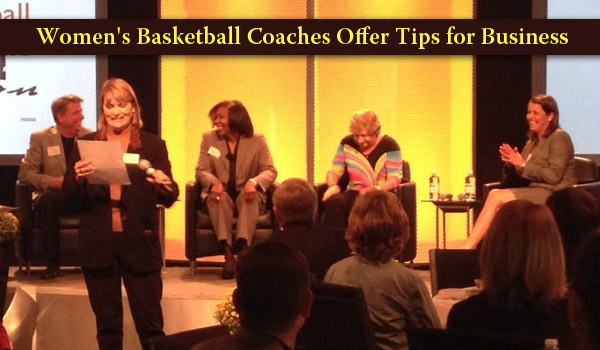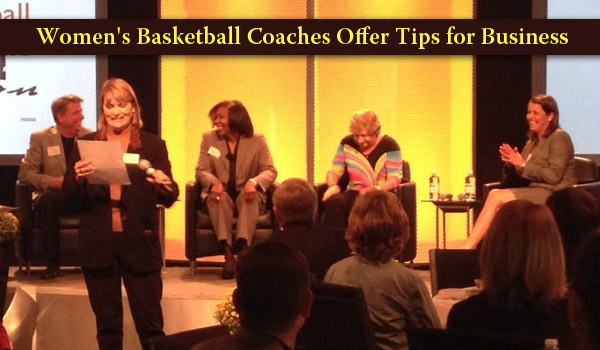 Morrisville, NC – Four of the top women's basketball coaches in the nation had some tips for business at the latest SuperKNOW luncheon presented by the Morrisville Chamber.
UNC, State, NC Central & Duke
The "Triangle Women's Basketball Tip-Off Luncheon" was part of the Morrisville Chamber's ongoing educational series called K.N.O.W. (KNOW stands for Knowledgable Network of Women- but men were invited to take part,too) . The luncheon was held at Perimeter Park Conference Center off of Airport Boulevard in Morrisville.
The panel of experts included four Triangle women's college basketball coaches:
Silvia Hatchell of UNC-Chapel Hill
Wes Haddon from NC State
Vanessa Taylor coach from NC Central
Joanne McCallie from Duke
Debra Morgan of WRAL moderated the discussion.
Tips for Business
Attendees came from area businesses to hear helpful coaching tips that can be translated to success in the business world.
Want More
Hatchell, coach for UNC-Chapel Hill, the reigning National Champions, said that success is never enough. She wants more championships and this drive for excellence is what keeps her going after more than 30 years and 900 wins. She always wants MORE.
Sleep When You're Dead
Vanessa Taylor mentioned that you'll have time to sleep "when you're dead" and therefore do all you can now while you can to achieve your dreams.
Enjoy What You Do
Joanne McCallie, coach for the Duke Women's team spoke about her past in corporate America working in Chicago and how she gave it all up to coach basketball, a sport she loves and a job that keeps her happy. "Enjoy what you do and it will never seem like work" was the motto of the day.
Horses
There was plenty of joking between the arch rivals. Wes Haddon, the only man in the group, is new to NC State and frequently exchanged barbs with Haskel about their long-standing Tobacco Road rivalry.
One of my favorite quotes from the day came from Haddon on winning "You don't run the Kentucky Derby with a mule, you need horses."
What he meant was that you bring the right talent to the game, and you do that with recruiting.
Dealing with Sports Agents
The subject then turned to recruiting and the media hype currently involving arrest of a sports agent for crossing the line in professional recruitment. Morgan asked how the coaches handle these situations.
The coaches agreed: women's sports don't get the same amount of attention as men's sports.They don't have the same violation issues. Coaches don't see agents trying to lure their girls away to pro teams. Women's sports just aren't that big of a business.
Building a Fan Base
In that vein the next topic was how to grow the support of the fans to attend women's games. Haskell mentioned that with the downturn in the economy and the rise of home theaters and online viewing attendance is down across the board for all live sports. To get more fans she challenged the audience to come out to see some games- for any of the four teams represented that day. The four coaches echoed the sentiment that if women don't support women's sports "who will?"
The ACC teams will be putting forth more effort to educate potential fans in the area about the quality of these regional athletes, and to come out to watch the high level of talent right here in our area.
Check Out Some Women's Basketball
Check the schedules for these area teams:
————————————————————————————————————————————————————–
Story and photo by Lindsey Chester.
————————————————————————————————————————————————————–
Business coverage on CaryCitizen is sponsored in part by Thai Spices & Sushi, located in Preston Corners.
https://carycitizenarchive.com/wp-content/uploads/2013/10/womens-basketball.jpg
350
600
Lindsey Chester
https://carycitizenarchive.com/wp-content/uploads/2020/03/cc-archive-logo-450-v3.png
Lindsey Chester
2013-10-15 17:28:59
2019-12-08 10:10:41
Women's Basketball Coaches Offer Tips for Business