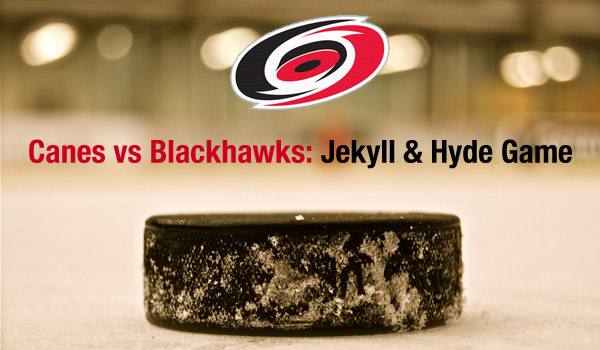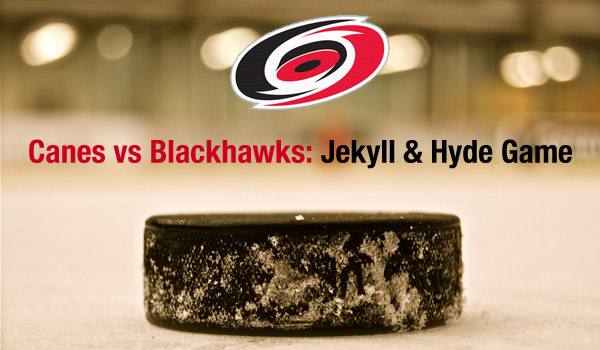 Raleigh, NC — The Carolina Hurricanes had a Jekyll & Hyde game against the reigning Stanley Cup Champs, the Chicago Blackhawks on Tuesday October 15th at the PNC Arena.  The Canes had a horrible looking first period, spotting Chicago a 2 goal lead which normally is a sure 2 points for a team that knows how to win.  
The Blackhawks did win, 3-2 after a great comeback effort by the Canes, that went into OT and a shootout.
First Period: Blackhawks Dominate
The Blackhawks' first goal was a combination of a clear deep in the defensive zone to a hail Mary pass when the play was 'go long'.  Patrick Sharp was the receiver on the hail Mary and had the puck go right to his stick while in stride.  Brett Bellemore could not catch Sharp as he went straight to Cam Ward then put the pick high glove side for the 1-0 lead.
Shortly after the goal, Eric Staal let his frustrations get the better of him and got called for holding in the offensive zone.  One second after the penalty expired, the Canes defense could not clear the puck allowing Marian Hossa to put in a backhander in from 15' out. Two very clear let downs: the inability to get the puck out of the zone and not one 'Hawk was pushed out of the slot or stick checked.
Second Period: Picking Up the Pace
The Canes looked like a different team in the second.  Skated faster, quicker to free pucks, man handled 'Hawks in front of Ward, and had more shots on goal in the first 4 minutes than they had in the 1st period.  While they did not score, you could feel it was only a matter of time.
Third: Tied Up
Early in the 3rd, Tuomo Ruutu made a cross ice pass to EStaal standing on his favorite spot on the ice.  Staal let go a one timer that Corey Crawfod made a good save but couldn't control the rebound.  Alex Semin get a stride on his defender and somehow got the puck up high from in close to cut the lead 2-1.
Later in the period, the line of Jordan Staal, Jeff Skinner and Radek Dvorak played great forechecking in the offensive zone. Ron Hainsey had the puck on the left point, did what coaches teach and sent the puck into traffic in front of the net. JStaal made a fantastic move by not touching the puck while pushing his way to obstruct Crawford's view.  The puck went in for Hainsey's first goal in 2-1/2 years.
OT Shootout
The Canes had a powerplay in the OT but couldn't capitalize sending the game to the unexciting shootouts.  For the second time in this home stand, the Canes could not convert on any attempt, losing 3-2.
————————————————————————————————-
With this post, Bob Fennel starts his third season covering the Carolina Hurricanes for CaryCitizen. Photo by Kim Faires.
https://carycitizenarchive.com/wp-content/uploads/2013/10/canes-v-blackhawks.jpg
350
600
Bob Fennel
https://carycitizenarchive.com/wp-content/uploads/2020/03/cc-archive-logo-450-v3.png
Bob Fennel
2013-10-17 10:01:01
2020-01-14 17:16:08
Canes vs Blackhawks: Jekyll & Hyde Game