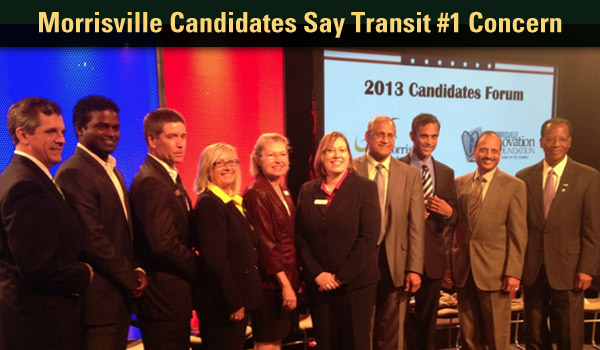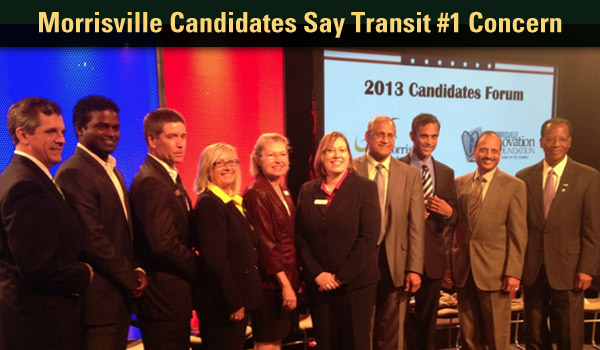 Morrisville, NC- Ten candidates are competing for the four town council seats in Morrisville. On Monday night, October 14, they faced off in a Candidate Forum hosted by the Morrisville Chamber of Commerce at the Perimeter Park Conference Center. The well attended event allowed voters to contribute questions that were then read off to the candidates by moderators, NC State District 17 Senator Tamara Barringer and State House District 40 Representative Marilyn Avila.
Record Number of Candidates Seek Office
There are a total of ten candidates, and Morrisville citizens can place votes for all 10.
Three candidates vie for Mayor: Jackie Holcombe seeks re-election for a second term; Dr. Narendra Singh, currently vice chairman of Morrisville's Zoning Board of Adjustment; and Mark Stohlman, a current town council member.
The At-Large seat has two candidates: Steve Rao (originally appointed to fill out Tom Murry's term and later elected in 2011) and Pete Martin, who served on council for 12 years in the past.
For District 2, two new political faces are running: Vinnie Goel, long-time Morrisville entrepreneur, runs against TJ Cawley who serves as Vice Chair of the Public Safety Committee and chaired last spring's East West Event.
The last seat is District 4, currently held by long-time resident Margaret Broadwell. She faces two political newcomers, Rao Bondalapati who helped start up the area Triangle Cricket League, and Vicki Scroggins-Johnson whose experience includes 20 years as a project manager and is the Chair of Morrisville's Public Safety Advisory Committee and is current President of the Savannah Homeowners Association.
Infrastructure Concerns
Questions asked by citizens largely reflected the concerns that come with growth. Additional needed infrastructure, road improvements,  additional parks,  Wake County schools in Morrisville, and what to do when construction starts on the Morrisville Parkway rail crossing.
Steve Rao stated that "transportation is our number one issue" he added that "the average age of Morrisville residents is 35 and most have small children, they don't have time to attend meetings and complain." He said the board needs to be proactive for these constituents.

TJ Cawley would like to see the NC 54 bypass completed during his tenure if elected and to see the Railroad crossing go smoothly.

Broadwell sagely added that "we all have reached consensus that the roads are the one thing we want to fix. The difficulty she added will happen when those roads are being constructed. "We'll all have to have patience as things will get worse before they get better"
Stohlman expressed his need to  "make sure that the planning process is more predictable especially for small businesses." He also wants to keep Morrisville attractive for residents and business to locate here with low taxes and the best services.
As anyone knows who drives through Morrisville whether at rush hour,  NC 54 is bumper to bumper in 2 narrow lanes, without a  shoulder or median. This road is a hallmark of infrastructure not keeping up with growth in the area. Not only has Morrisville grown with residents in the last 10 years, but new shopping has been built adding to traffic woes. Both Park West and Wal Mart/ Sam's Club anchor the 2 ends of NC 54 that run through Morrisville, each contributing significantly to cars on an already crowded roadway.
How to Address
Holcombe pointed out that work is currently underway to improve NC54 by creating the bypass, with the approval of the 2012 Bond. She pointed out that in the last four years there has indeed been progress on roads. But more needs to be done. CAMPO now lists many of the Morrisville projects on the regional improvements plan with most planned for 2021 (further widening of NC 54, McCrimmon and Aviation Parkway).
Safety Concerns
Safety was another issue that came up frequently in the questions. The ability to walk and bike safely in town was championed by Cawley. Pete Martin raised concerns that "Widening roads isn't the only answer. Once roads are widened the traffic will come. Give people choices, the town needs to set aside funds for turn lanes and road improvements".

Did You Support the Bond?
Overwhelmingly the candidates supported the recent vote on the bond measure, even though it will bring no new schools to the town of Morrisville. The Town Council, Broadwell pointed out, passed a resolution as a group to support the bond. Education, they all felt was key to keeping Morrisville and Wake County an attractive place to live for existing and new residents.
When talk turned to schools, Rao Bondalapati mentioned several times his desire for the town's first charter school. He mentioned how many parents must drive their children to Raleigh to go to theses schools. He wants more convenience for the residents. However, schools do not actually come under the jurisdiction of town council, and where they are located remains with the County and the State.
If You Could Change One Thing
The candidates for District 4 were asked if  they could change one thing in their future term, what they would do differently?
Broadwell stated that she would stay the course and seek data and public input for her decisions. Bondalapati wants a public funded charter school, and convenience for the residents. Scroggins-Johnson wants residents to be more engaged in government through more public hearings.
Gun Rights
The tough question was posed to the mayoral candidates on whether they supported recent legislation allowing guns in parks and bars. Stohlman said the town was currently out of sync with the state on this point and that as a municipality you must be very careful when considering the second amendment.
Mayor Holcombe has openly opposed this legislature. She feels that in a community that is largely made up of families this is a huge safety issue.
Dr. Singh stated he agreed with both views and that having come from the country of Gandhi he believes in non-violence and that guns kill people, but by the same token, the 2nd amendment has been allowed by the people.
What Do You Like the Most?
When asked what the candidates liked the most about Morrisville, almost all said the people. They are talented, welcoming, diverse and educated. They make Morrisville a wonderful place to live.
Residents Vote For Each Council Seat
If you live in Morrisville and are registered to vote, election day is Tuesday November 5th. The term district may mislead some into believing they only vote for one Council Member.
It is important to remember that Morrisville voters have the responsibility of electing every member of the Council, not just the Council Member who represents the district in which they reside.
Related
NC Voter Lookup – Find Your Polling Place
—————————————————————————————————–
Story and photos by Lindsey Chester.
https://carycitizenarchive.com/wp-content/uploads/2013/10/msv-candidates.jpg
350
600
Lindsey Chester
https://carycitizenarchive.com/wp-content/uploads/2020/03/cc-archive-logo-450-v3.png
Lindsey Chester
2013-10-17 17:46:05
2019-12-08 10:10:44
Morrisville Candidates Say Transit #1 Concern