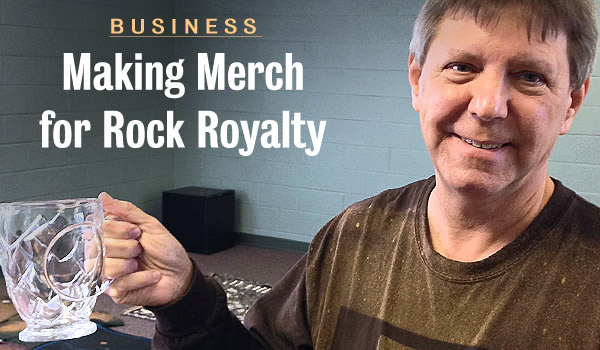 Cary, NC- How many of you recall spending hours as a teen pouring over record album covers full of art, lyrics and hidden treasures from the 70's? Many of those covers were created by Roger Dean, made famous when he began designing for the  Prog Rock band Yes.
Jud Patterson, who started his business, Kreative Concepts in Cary on East Chatham Street, began working with Dean about 5 years ago. Together they travel on rock music cruises called "Cruise to the Edge" where they sell art prints and other merchandise designed by Dean to Progressive rock enthusiasts.  The cruises feature musical concerts by popular 70's Prog Rock bands like Yes, the Moody Blues, Marillion, and others and allow the vacationers to mingle with the artists.
His relationship with Dean has helped Patterson's business in some unexpected ways. A decade ago, Patterson was asked to come to Near Festival (an annual progressive rock festival concert at Lehigh University) and sell merchandise there. The first time he went to Near Fest,  all his items Dean merchandise were sold out by noon. He continued to make the trek for 7 more years until the festival ran its course.
It All Started With the Beer Hopper
Back in 1998 or so when Jud was working at Nortel, he came up with an idea for a "hops-shaped glass".  At first he thought he'd sell it to bars for use as a tip jar, but better economics suggested adding the handle and calling it the Beer Hopper. He left a space for an engraved area that could sport a person's name or a bar's logo and began selling them to local pubs for use with their regular patrons, who can keep the glasses at the bar.
This little venture into engraving inspired other ideas, and his engraving/ memento business was born. He met Dean when at one point he wished to take a Yes logo and engrave it on an item. He researched how to contact Dean and was surprised when the artist himself answered the phone. They struck up a conversation and over several months and years began to do some business. It wasn't until the Near festival that they actually met in person. The last cruise they did together, he said he sold over $60,000 worth of merchandise.
He does plenty of engraving for corporations, even engraving awards that the Town of Cary uses. He will research which companies have anniversaries or big events coming up, and reach out to them with ideas that he thinks they might like. If he can make a personal connection between what he does and what their event is, he usually makes the sale.
Jethro Tull
The band Jethro Tull played a concert in Raleigh in the late 90's. On a whim, Jud designed an engraved glass with a silhouette of flutist/ singer Ian Anderson standing playing on one leg as a stick figure along with the dates of the concert. Jud knew the DJ MaryLou MacGregor of WRDU, who was going to do an interview with the singer. He gave MacGregor the glass to pass along.
About 3 weeks later Ian Anderson contacted Jud to tell him how much he liked it. Together they designed some merchandise to go along with the tour including a throw based on  the groups' second album which is a wood engraving illustration of the band. From there he met that original artist too.
Making Merch for Rock Royalty
In the music business, souvenirs, collectibles and t-shirts go by the name of "merch," short for merchandise. Sales of merch add significantly to the income an artist or band can earn.
Everything Jud creates for Kreative Concepts is made right here in North Carolina. All the prints for posters and calendars are made from a local printer that does fine quality four color process. His products include the engraved items, mugs, throws, t-shirts, posters and mini prints. He has had the pleasure of working with rock royalty including Roger Dean, John Entwistle (of the Who), Anderson, James Grashow, and George Underwood (who played with David Bowie, and created art for The Fixx, Gentle Giant, and Bowie's Ziggy Stardust and Hunky Dory albums)
One Thing Leads to Another
Jud has made many connections from his dealings not only with Dean, but from shows he attends. A music lover at heart, he attends area concerts and may wear an item he's created, or send something back stage.
He grew out of the space in Downtown Cary, and now works out of warehouse space on South Saunders Street. He showed me his latest works: a line of shirts he calls STATEments. With a proprietary process, he prints the silhouette of a state and key phrase about that state. He's got Jersey Girls, Texas Hold Em, Carolina State of Mind and many more.
A business has to continually come up with newness and Jud is always on the look-out for the next big thing. Maybe you'll run into him at a show you attend?
—————————————————————————————————————–
Story and pictures by Lindsey Chester.
https://carycitizenarchive.com/wp-content/uploads/2013/10/Jud-Patterson.jpg
350
600
Lindsey Chester
https://carycitizenarchive.com/wp-content/uploads/2020/03/cc-archive-logo-450-v3.png
Lindsey Chester
2013-10-23 15:01:27
2013-10-25 10:48:59
Business: Making Merch for Rock Royalty