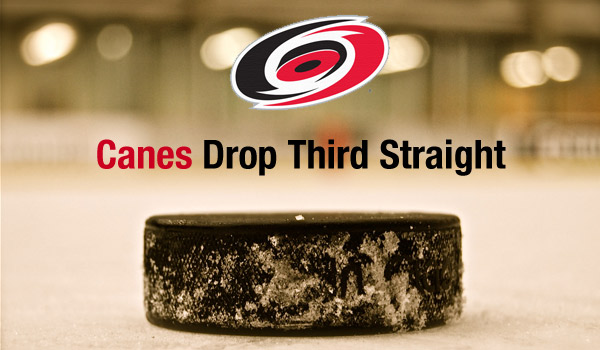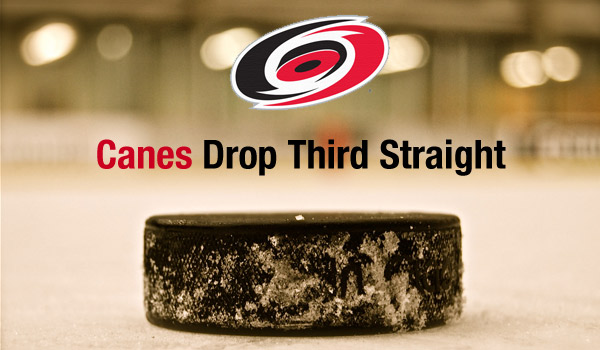 Raleigh, NC — Our Carolina Hurricanes dropped their third game in a row with a 3-1 loss to the Pittsburgh Penguins Monday October 28 at the PNC Arena.
Canes Out Hustled
Both teams are playing with injuries and the Penguins outmanned the Canes with grit and speed.  Coach Kirk Mueller summarized it best: "Their big boys came up big, and some of our guys have to start contributing,"
Said another way, the best players have to start playing their best and each do what they do best.  If it's a forward, start forechecking and scoring, if it's a defenseman, start taking the body out and clearing the lanes.
Most of all they have to move their feet. Even though they're on skates and it looks as if they all move fast, which they do, just like soccer, football or even track, some are faster, much faster than others.  Watch Pat Dwyer or Nathan Gerbe, they fly. The Penguins were flying on all cylinders, even their 'slow' skaters. How: they constantly are moving their feet.
Gerbe's a Bright Spot
The Canes again had a very slow start as they went 10 minutes without a shot on goal.  Their first was really a push to the crease that barely made it to Marc Andre Fleury that brought a sarcastic cheer.  The Canes got back into the game and did play well but well isn't good enough.
Gerbe scored the lone Cane goal on a 5 on 3 powerplay that was a thing of beauty.  Crisp, quick passing from Alex Semin to rookie Elias Lindholm to Gerbe camped out in the dirty area of the crease for a very quick one timer.
One other highlight for the fans was Brett Sutter and Joe Vitale squaring off with each getting in several solid hits.
Win 2, Lose 2 on the Road
The Canes won the first 2 games on the previous road trip, 3-2 against Toronto and 4-3 against the Islanders.  The Islanders' game was the first and only time the Canes have scored 4 goals this season.
The Canes then lost to Minnesota, 3-1 and worse, lost Cam Ward , Jeff Skinner, Pat Dwyer, Lindholm , Brett Bellmore and Radek Dvorak with injuries.  Ward is out for a month and with backup Anton Khudobin also injured, visions of last season are lingering.
The last road game was against the hottest team in hockey, Colorado.  The slow start killed them again and lost 4-2. With the firepower this team has, 4 goals every game should be possible.  The Canes have a great mix of talented young players and unbelievably talented veterans.  They can only be mildly pleased where they are in the standings, partly because other teams in the division are also not playing up to their own potential.
November games are as important as games in April.  Come on out to a game, have a great time and support the Canes!
https://carycitizenarchive.com/wp-content/uploads/2013/10/canes-drop-third-straight.jpg
350
600
Bob Fennel
https://carycitizenarchive.com/wp-content/uploads/2020/03/cc-archive-logo-450-v3.png
Bob Fennel
2013-10-30 14:35:04
2015-12-26 09:55:27
Canes Drop Third Straight