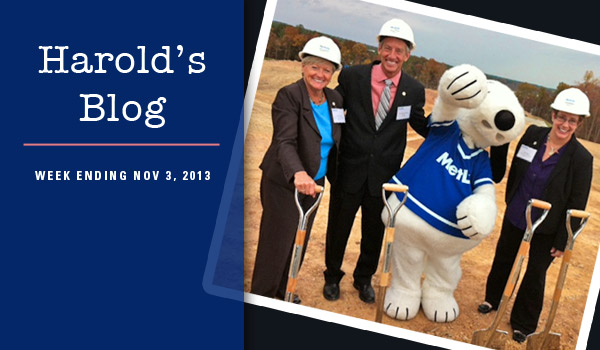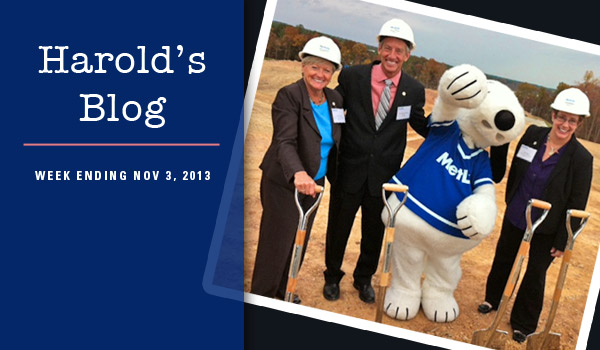 From the blog of Cary Mayor Harold Weinbrecht.
Cary, NC — This week was busier than expected with several meetings and events.
Monday – Bill Fletcher
Monday I met with newly re-elected school board member Bill Fletcher who represents most of Cary. He told me that through his years of service he has come to understand the importance of relationships and that communicating with me and other officials is important.
In our meeting I brought up several question and concerns. Out of our conversation I learned that the new H7 high school on Roberts Road is targeted to open in the 2016 school year. In the first year they plan to move students from Apex to the new school on Roberts Road so that the current Apex High School can be renovated. After that, the Apex High School Students will return to their campus and the H7 high school will be populated with freshman and sophomores as is done with newly opened high schools.
I also learned that the school board is desperately looking for land. They may consider more urban designs for high schools in the future.
Mr. Fletcher also mentioned the need for public Wi-Fi especially in areas concentrated with lower income families. He cited areas off Maynard Road near Chatham as one example. I told him I would get back to him with any information about public Wi-Fi.
Our meeting concluded after about an hour and we agreed to stay in touch on a regular basis. He also stated his commitment to addressing the needs of our citizens.
Safest Community
Staff notified council on Monday that we were ranked the safest community in the nation. Based upon data recently published in the FBI's annual Uniform Crime Report (UCR) and reviewed by the Town of Cary's Crime Analysis Unit, Cary, North Carolina has the lowest total crime rate in America among municipalities with populations of 100,000-500,000.
The ranking is compiled using the FBI's data for Total Crime Rate per 1,000 People. Data from the report is generated from over 18,000 law enforcement agencies that submitted their information through a state UCR Program or directly to the FBI's UCR Program. The FBI has collected, published and archived these statistics since 1930.
Cary consistently ranks as one of the safest municipalities regionally and nationally. For 13 consecutive years, the Town was the highest-ranked municipality in North Carolina and in the southeast based on reports by CQ Press and its annual publication, "City Crime Rankings: Crime in Metropolitan America."
Its most recent publication, dated 2011, listed Cary as the third safest among municipalities with populations of 100,000-499,999. In last year's 2011 FBI Uniform Crime Report, Cary had the ninth lowest total crime rate among municipalities with populations of 100,000-500,000.
I am so proud to be associated with such a fine police department, town staff, and town.
New Budget Director
Later Monday, in a press release to the public it was announced that the Town Manager Ben Shivar selected Karl Knapp to become the Town's next Budget Director beginning November 12, 2013. Knapp comes to Cary from the North Carolina League of Municipalities where he has served for six years as the Director of Research and Policy Analysis. I think he is an excellent choice and look forward to his expertise to keep Cary in a strong financial position.
Town Manager's Office – Changes in the Works
Tuesday I met with the town manager, assistant town manager, several key employees, and the public information officer to discuss the proposal for a Town of Cary organizational change. The purpose of this change is to help provide better customer service and be more responsive to citizens' needs.
The proposed organizational change will create several deputy managers. This will also free up the town manager to work on higher level issues. To find out more about the organizational changes go to http://www.townofcary.org/Assets/Staff+Reports/TM14-005.pdf.
Council will vote on this organizational change at its November meeting.
Kildare Farms HOA
Tuesday night I was the guest speaker at the Kildaire Farms homeowners' association meeting. Kildaire Farms was the first planned community in North Carolina and is a great success story.
In attendance at the meeting were about 50 to 75 homeowners. I talked for about 10 minutes updating folks on what is happening around town, downtown, and issues near Kildaire Farms. Afterwards I answered questions for about 15 minutes on everything from how to deal with squirrels, to maintenance of greenways, to intersection improvements.
I thoroughly enjoyed my visit and hope they invite me back next year. If you would like me to talk at your homeowners association meeting let me know and I will try and schedule it. I believe it is important for me to hear from homeowners AND from homeowners to be able to ask questions directly.
Wednesday
Wednesday I had dinner with two council members (more than three of us would have been an illegal public meeting since it was not advertised). It is important to build relationships if you are to serve together as elected officials. One topic we spent a lot of time on was the Imagine Cary Planning process. We all believe it is critical to our future and want to make the process the best as it can possibly be.
Thursday – Davis Elementary
Thursday I had the pleasure to meet with third graders at Davis Drive Elementary. The third graders at Davis Drive are studying government and actually elected mayors for each classroom. After arriving I met with the mayors from those classrooms for about 15 minutes.
Next I headed to the auditorium to meet with the entire third grade class. I described how I got into politics and what I do as mayor. Then I answered questions for about fifteen minutes.
Answering questions is always a lot of fun and some are very surprising. The most surprising question from this group was about a past ICE (Immigration and Customs Enforcement) facility proposal. It is amazing the knowledge that some of these kids possess.
I thoroughly enjoyed my visit which lasted about an hour.
Friday – MetLife Ground Breaking
Friday I had the honor and privilege to be a part of the MetLife ground breaking ceremony at their new site in Weston.
Speakers included Governor Pat McCrory, U.S. Senator Richard Burr, MetLife Chairman, President and CEO Steven A. Kandarian, MetLife EVP and Head of Global Technology & Operations (GTO) Marty Lippert, MetLife Global Chief Diversity and Inclusion Officer Elizabeth Nieto and Highwoods Properties CEO Ed Fritsch. Joining me on stage as non-speakers were Insurance Commissioner Wayne Goodwin and Wake County Board of Commissioners Chair Joe Bryan.
After remarks we went outside for the ceremonial turning of the dirt. Following the photo op with the shovels there were several interviews. I was interviewed by WRAL and gave a couple of comments. My time at the event was between 1 ½ to 2 hours.
This was a huge event for Cary and a milestone in the history of Cary. MetLife's bringing of over 1000 jobs making over $100,000 a year will not only have a significant impact in our housing market, retail, etc but will have a positive impact on our quality of life. MetLife is committed to being an excellent corporate citizen and being an integral part of this community.
I look forward to a long partnership with MetLife and am anticipating the Snoopy blimp being a regular part of Cary's skyline.
Saturday – Cary Band Day
Saturday I had the privilege to be at the 55th Cary Band Day competition at Cary High School. I was able to see exhibition performances by the 180 member Cary High School band and the 400+ member Western Carolina band which were absolutely fantastic. Before leaving I joined School Superintendent Merrill in handing out awards with the Cary Band.
What a great evening and a great tradition in Cary.
Emails
Emails sent from staff this week included plans under review. Plans submitted in the month of October include:
76,100 square foot Cardinal Charter Academy
6 additional lots in the Copperleaf Reserve on Morrisville Parkway
Modifications to an existing building for Jaguar of Cary
There are currently 43 plans listed as under review.
Emails from citizens this week included comments about the Morrisville Parkway development proposal, comments about Champion Trees and the ordinance amendment, a comment about guns in parks, a complaint about Imagine Cary, and complaints about our streetlight ordinance.
Get in Touch
This week shouldn't be as busy as the last one. Highlights include being a celebrity reader, making remarks at the Chamber Expo, and participating in the Operations meeting.
Well that is all for this week. My next post will be on Sunday November 10th. Although I have Facebook and Twitter accounts those are not the best means of communications with me. Please send all Town of Cary questions or comments to Harold.Weinbrecht@townofcary.org and email personal comments to augustanat@mindspring.com.
——————————————————————————————————————————————————–
News on CaryCitizen is sponsored in part by Craig Conley of MetLife in Cary.
https://carycitizenarchive.com/wp-content/uploads/2013/11/metlife-ground-breaking.jpg
350
600
Harold Weinbrecht
https://carycitizenarchive.com/wp-content/uploads/2020/03/cc-archive-logo-450-v3.png
Harold Weinbrecht
2013-11-04 16:15:34
2016-01-09 11:58:36
Harold's Blog: MetLife Ground Breaking