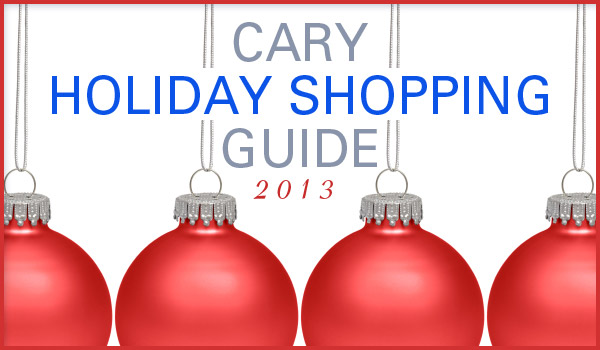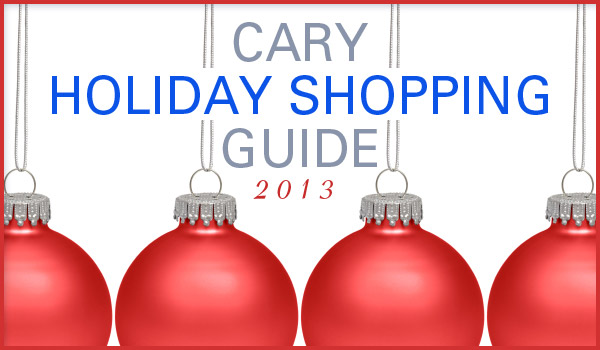 Cary, NC – Science toys, brightly crocheted head wraps, MJ memorabilia, tennis bags, pottery, hostess gifts and much more in the Cary Holiday Shopping Guide 2013.
Cary Holiday Shopping Guide 2013
Each November, CaryCitizen does a local scouting trip to discover unique items for your holiday gift list that can be found without visiting the chains at the mall. Cary's healthy retail scene includes many, independently owned stores that range from sports memorabilia to cookware, pottery, dog treats and everything in between.
This year we categorized Cary Holiday Shopping Guide by type of recipient.
For The Chef
At Whisk, which recently opened in Waverly Place, Owner Diana Saklad showed me their collection of Staub cookware. These beautiful pots are cast iron that have been enameled in gorgeous shades of cobalt, burgundy or green. For the serious chef on your gift list, these range in price from $149 for the tea kettle to $299 for the 7 quart pot.
Looking for something a little less pricey for your resident chef? Try their Cuisinart hand mixers which are great for blending soups in the pot and at $34.95 won't break the bank either.
Something a little more whimsical? Colorful Gurgle pots come in two sizes as well as matching salt & pepper shakers. These happy fish pots gurgle when you tip them to pour out the water and can be used as pitchers, vases, or utensil pots. Prices range from $19.99 for the salt & peppers, $24.99 for the small and $39.99 for the large.
For The Bartender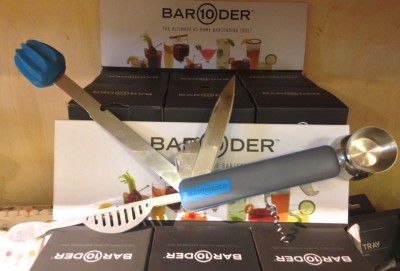 Also at Whisk is a handy item great for anyone who likes to make a good cocktail (or that Dad on your list that is hard to buy for). This retails for only$39.99- great for a stocking stuffer or grab bag gift at the office.
For the Local College Fan
Everyone has someone on their list that has a special allegiance to one of our local colleges. The local boutiques have you covered. I found a few unique items this year which included adorable onesies at Pattywhacks  in Saltbox Village, pictured above. Train 'em young to root for the Pack!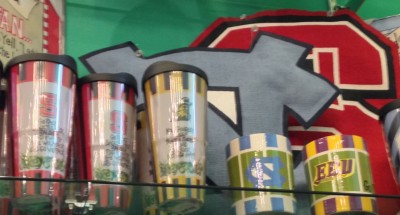 Other items in the area that are great for your high schooler who's waiting to hear from their college this December are mugs and cup ($13.99-$16.99) or frames with adorned with collegiate colors and logos. Pink Alli in Stone Creek has these in abundance.
For the Sports Collector
Local sports memorabilia store Cardiacs has the gift to complete any man cave.
Signed jerseys and framed autographed photos of sports legends fill the walls of their temporary pop-up shop at Cary Towne Center.  Owner Jonny Canon prides himself on collecting a multitude of sports, and makes sure they are certified authentic (COA).
The high-end of the collection tops out around $1200 for a signed Michael Jordan framed piece highlighting #23 at UNC and the Chicago Bulls. Pieces featuring the 'Canes average around $200. If that's too steep for your wallet, look for collectible figurines known as Mc Farlanes that retail about $20 depending on player and sport. How about a stocking stuffer for the younger sports collector? Trading cards in a grab bag (great stocking stuffer) are only $5, new boxes are as low as $20.
You can find Cardiacs in the mall near the new Dave & Busters through Dec 31, after that they move back into their location on NW Maynard.
For the Tennis Buff
Last year, Love All Tennis opened in Stone Creek and they have been supplying the local tennis buffs at Prestonwood and the Cary Tennis Park with all the gear they need to stay fashionable and organized. Owner Julie Larrichio suggested a tennis bag as a great Holiday gift and they have many styles to choose by Cinda B that retail about $150. Another cute gift that could be purchased by a child or student for the tennis buff were adorable embroidered tennis towels in bright colors and ring in at only $18.
Have a cyclist in the family? Check out accessories at Cycling Spoken Here or Inside Out Sports. They have your needs covered whether its a great new racing shirt or a new pair of gloves, or the all-important bike shoe that clips into the pedals. These independent retailers have been serving Cary for over a decade.
For the Green Thumb
Looking for something "Wow" for your gardener ? Check out these solar gazing globes made by Coloriscape  at Garden Supply Company. These are complete with a stand and solar charger and very easy to set up in the yard, no wires! Retail for about $78.
Looking for something fun but inexpensive? Try the Herb Garden or Teapot Garden seed kits in a box. Everything you need to start your garden for edible or drinkable teas for only $18.
For the Scientist
STEM is all the rage, and parents of boys and girls want to encourage science discovery at home. The toy store Science Safari in Saltbox Village has plenty of options. Owner Sean suggested chemistry sets which range in prices from $35.99- $149. These core science kits will be great distractions during the long Holiday vacation. Looking for a fun stocking stuffer? He also mentioned the popularity of robots and pointed out BattleBorg for $59.95.  Try the MetalEarth metal model kits – only $6.95, are very sturdy when constructed. Another fun smaller gift for under $10, are nano blocks – think slightly smaller and thinner Legos with specific items to construct like animals and vehicles.
For the Fashionista
Have a fashionable friend whose hard to buy for? Try brightly crocheted head wraps. There are toboggan hats to match. And only $21.99-$30. Luscious Couture in Saltbox Village had these and other fun accessories to  brighten any winter wardrobe.
For the Preppy Princess
All Preppy Princesses can't get monograms or Lilly Pulitzer (God Bless). Pink Alli has plenty of Lilly totes, phone cases, iPad covers and more many of which can be monogrammed. Allow at least a week and a half for customization.
At the Purple Polka Dot in Downtown Cary the most popular item for this fashion set this season is the Moon And Lola monogrammed necklace. Earrings, key chains and bracelets are also available for personalization. But be sure to allow plenty of time, these have a lead time of 6 weeks! Necklace monograms can be cursive or block letters and come in small medium and large range in price from $58-78. An extra large in 2-tone was $98. Keychains are $34.
Genuine Cary Souvenirs
If you are a proud resident of Cary, wouldn't you want to share the love and send something made in Cary to your out-of-town relatives? How cool to give a piece of pottery that is signed Cary Pottery by Kenneth Neilsen who works right in the heart of our Downtown?
Kenneth throws pots (and mugs, bowls and platters) every day and you can watch him at work in studio at the back of Cary Pottery located on Dry Avenue across from the Cary Arts Center. He makes his own clay and has exclusive glazes. Pictured here is the studio's most popular glaze known as Sienna. His Berry Bowls run $26, mugs can be $10-$20, and the small vases shown here were $10, platters range close to $100 depending on size and style.
The Hostess with the Most-est
If you are like most Cary Folk, you will be invited to several parties between now and New Year's. Its good to find some gracious house gifts to have at the ready to pop in a gift bag with tissue and a card to give the hostess. Elizabeth's in Downtown Cary has several options that work well. Candles by Aquiesse have beautiful amber glass lidded containers and come in an attractive box. Two sizes are priced $25 and $39. Other great house gifts on display in a beautiful armoire is a large collection Panier des Sens triple milled soaps and hand lotions imported from France.
How about wine?
Going to a party but not sure of your hosts' tastes? Wine can fit the bill and UnVined is putting together baskets that include beautiful glasses and a book about wines to get folks started on wine appreciation.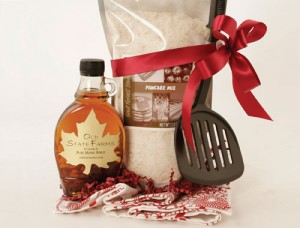 Another way to thank the hostess with the most-est is a "Made-from-Scratch" gift set! Great Harvest Bread's Pancake Perfection gift set includes their famous Whole Grain Pancake Mix, a bottle of Specialty Fruit Syrup, and a pancake flipper. And who can resist our Cookie Mix Set? Hot, homemade Great Harvest cookies warm the heart and the home! This set includes Chocolate Chip Cookie Mix, colorful tea towel, and wooden spoon.
For the Pampered Pet
Woofgang Bakery in Stone Creek has everything your pampered pooch could want for Christmas. Treats that look like cupcakes and cakes by the pound, and any manner of chew toys. A cute brand of "dental treats by Paragon range from $3.95-$6.95 and look like porcupines and alligators. Fully digestible vegetable snack.  My favorite was the glow in the dark Zisc by WestPaw. Good for Rover's teeth and you won't be pissed he wrecked one of your favorite disks.
The Grandchild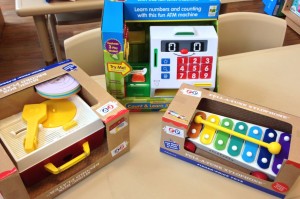 Classic toys are back at Brilliant Sky in Stone Creek. Sales Manager Shanna showed me three toys she was excited about that are a blast from many Baby Boomer's past. A xylophone, a plastic record player and an ATM (a version of our old cash register) These price out around $25-$35. Recycling is popular, and Green Toys make study vehicles completely from recycled materials. Retailing between $24 and $35 there's a plane, dump truck, bus, rocket to choose from. A pink truck was recently added for the girls.
Other popular choices there included Stuffies- these soft plush animals have seven hidden pockets where little toys can be hidden to increase the fun of these friendly critters. Each Dog, hippo, lion or dinosaur is only $29.99.
Small Business Saturday, Nov 30
Small Business Saturday is November 30, 2013. That's a perfect opportunity to visit some of the places listed in the Cary Holiday Shopping Guide. 
Get something unique for friends and family while supporting Cary's local economy this holiday season.

—————————————————————————————————————-
This seasonal guide was made possible with the support of the following local businesses: Great Harvest Bread Co, Garden Supply Company,  UnVined Wine Bar & Tapas, Waverly Place, Cardiacs, Whisk.
https://carycitizenarchive.com/wp-content/uploads/2013/11/cary-holiday-shopping.jpg
350
600
Lindsey Chester
https://carycitizenarchive.com/wp-content/uploads/2020/03/cc-archive-logo-450-v3.png
Lindsey Chester
2013-11-20 19:13:02
2019-12-08 10:10:57
Cary Holiday Shopping Guide 2013