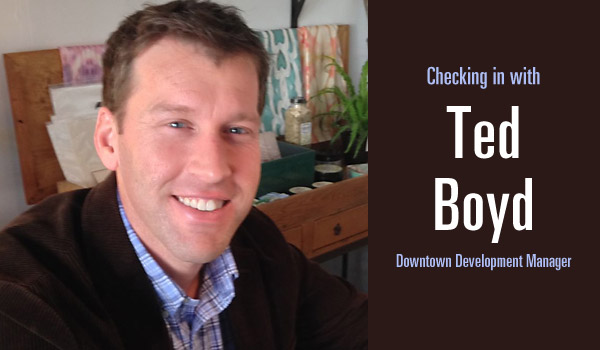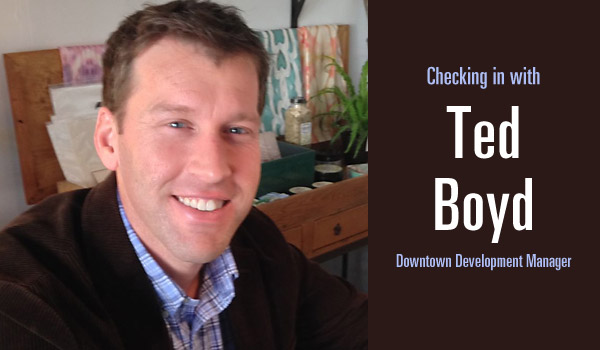 Story and photo by Lindsey Chester
Cary, NC – It's been about six weeks and CaryCitizen wanted to check in with our new Downtown Manager, Ted Boyd, now that he's settled into his new job.
A Conversation with Ted Boyd
We met at a place that is becoming a favorite hotspot Downtown, Gather, and over a chai and a coffee discussed what he sees as progress and potential for the area.
Ted's first comment was that he "is even more encouraged about Downtown than when he first came to Cary and applied" (for the manager position). He went on to explain that, like anything that happens, a lot of work goes on "under the surface" and now the progress is becoming visible. The Cary (Theater) will open soon, the Jones House is under construction, the improvements to the streetscapes and sidewalks on Academy Street will begin soon.
Inquiries Already
All of these projects began under Ted's predecessor, Ed Gawf. And these projects are all funded by the Town of Cary. What about private developers? Ted said he was getting inquiries since his first week in Cary from potential business owners asking about space Downtown. Now that progress is visible to the outside, folks are getting interested.
Ted Boyd spent the first few weeks walking and exploring the area. He compared our Downtown area to an onion with many layers ("Shrek" anyone?) and said there exists the obvious Academy-Chatham Street nexus, but further out the potential lies in the ability to grow denser residential.
Academy will remain largely fixed on the arts and history, Chatham is the main retail corridor, but the streets North and South have potential too. These neighborhoods have the ability to support the downtown with walkable residential. Ted says he has been meeting people who wish to move downtown – now there's a shift!
He's spent a fair amount of time reviewing the Downtown Area Plan which looks out 10 years at growth and potential development. As part of the town's planning staff, this plan is integral to his vision. In addition to added food and beverage places there's a need for a compelling element to draw people to Downtown. Is that the Arts center? Town Hall? the Park, Library, Post Office, or all of the above? The ability to walk to any and all of these begins to tell a compelling story.
Challenges
One of the biggest challenges to a downtown concept is Cary residents' reliance on parking in large open lots with close proximity to their destination. That is not always the case in an urban environment. To "Park once, and go to several destinations" is not as familiar to our suburban residents who frequent drive-throughs and Big Box retailers. "Downtown isn't set up like a shopping center," Ted Boyd said.
Pedestrian Friendly
One concern is to make better pedestrian connections. Currently there are several denser developments in Downtown (Samuel's Keep and Madison Ave, for instance) but they are not connected seamlessly by sidewalk into the Downtown Core.
They are not far, but walking or pushing a stroller requires traversing gravel and narrow shoulders. There is also nothing to look at or shop along their travels, as they cross car shops, and light industrial buildings before even getting to the Roundabouts.
Fill the Gaps
There are gaps in the storefront landscape in Downtown and a challenge is to find uses for them. Two examples: the plaza at Fidelity Bank and the lawn in front of the Ivey Ellington House. Not all will be filled with new construction. But they could represent un-tapped potential. Ted Boyd suggested there be free form un-programmed space to make these outdoors spaces more lively. If there is activity happening outside, as cars drive by, the space appears lively and "happening" and sparks interest.
That leads to another needed element: Area stakeholders creating their own events and activity. The recent Heart of Cary Harvest Festival (October 26) was a great example of homegrown success. The event brought 2200 people to the downtown area on a Saturday afternoon, albeit with a TOC sponsorship. The group organized activities, had food and crafts, and participation from many of the Downtown merchants. Crowds found parking, and stayed for an inexpensive family-friendly afternoon, with spin-off business to area restaurants and shop owners.
Transit Advantages
Coming from Charlotte, Ted saw how light rail and transit were a huge economic boom to the South End where he helped bring development. He said Amtrak and light rail could represent huge potential for Cary. First for tourists coming into Cary, but also for potential younger residents working further out, who wish to live near transit and work elsewhere.
Parking
Parking is often perceived as a big problem in Downtown. Retailers guard their spots, and don't share spaces, or worse, threaten to tow customers in front of their shops even when they may not be needed in the evenings. Existing parking needs to be clearly marked to the occasional visitor who simply does not know where to look for a spot.
Successes
Downtown is already attracting the creatives and the entrepreneurs (the Cary Innovation center, Gather's co-working space) and all the gallery space in Ashworth Village and Chocolate Smiles Village, as well as retailers who now have gallery space available.
What About the Farmer's Market?
Ted Boyd says he is a big supporter of the power of a farmer"s market and believes our market in downtown can be a huge asset to the area. He is currently working to find a new permanent location for the existing Cary Downtown Farmer's Market which will once again be forced to move in the coming months as the building on the grounds on Park Street will soon be demolished to make way for the Mayton Inn. Parks and Recreation is working with Ted and the market to help identify appropriate spots with greater visibility and access to parking. The hopes are to also attract more vendors.
In a Perfect World
If Ted had a magic wand, what would he fix first? He would love to see the gaps filled along Chatham Street, with activity  from the Roundabout at Old Apex to the Round-About on East Durham.
A lofty goal, perhaps. But for business people with a long-term vision, maybe not an impossible one.
——————————————————————————————————————-
Downtown coverage on CaryCitizen is sponsored in part by Cary Players Theatre Company.
https://carycitizenarchive.com/wp-content/uploads/2013/11/ted-boyd1.jpg
350
600
Lindsey Chester
https://carycitizenarchive.com/wp-content/uploads/2020/03/cc-archive-logo-450-v3.png
Lindsey Chester
2013-11-22 15:33:38
2013-11-22 15:22:42
Checking In With New Downtown Manager, Ted Boyd