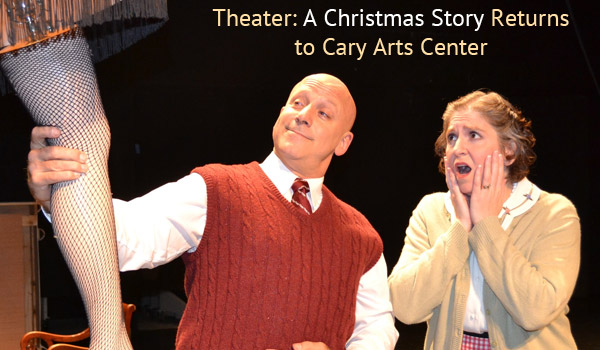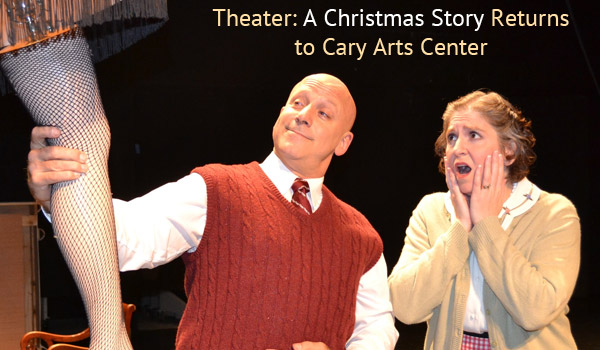 Photo courtesy the Cary Players.
Cary, NC –  A Christmas Story returns to the stage at Cary Arts Center next week. The holiday season in Cary isn't complete unless you attend a performance of this Cary Players classic.
A Christmas Story Returns to Cary Arts Center
This December, they return A Christmas Story to the Cary Arts Center for the second holiday season in a row. Its actually the sixth time the group has produced the play and each year they make it a little bigger, a little grander. The play was written by humorist Jean Shepherd and is a  memoir of growing up in the midwest in the 1940s. The plot follows young Ralphie Parker in his quest to get a genuine Red Ryder BB gun under the tree for Christmas. Ralphie pleads his case before his mother, his teacher and even Santa Claus himself, at Goldblatt's Department Store.
Q&A with Director Debra Grannan
I spoke with Debra Grannan, the director of this year's show and discussed a little pre-show background for our readers.
CC: This is the second year you've performed A Christmas Story at the Arts Center, but how many times has Cary Players produced the show?
Debra: 2013 marks the 6th time Cary Players has produced Jean Shepherd's classic comedy "A Christmas Story" and the second time in the renovated Cary Arts Center. When first produced in 2004 at the old Cary Elementary Media Center there was a minimalistic set, plastic chairs for the audience and uncertainty as to whether or not we'd have heat in the "theatre!"  The venue and the production values have improved dramatically!
CC: How many actors tried out?
Debra:: We had 102 eager people show up to audition!
CC: I see Tracy Fulghum is back as the Red Ryder, anyone else returned?
Debra: Almost half of the cast members are performing in their first Cary Players show, but there are still many familiar faces. Tracy Fulghum won a Pietzsch Award last year for his outstanding cameo performance as Red Ryder.  How could we not give him another "shot" at playing this quintessential cowboy?  Young Hannah Smith returns to "lead the pack" of Bumpus Hounds.   Dan Martschenko played the role of the Ol' Man in 2007.  This year, he is playing the part of Adult Ralph, the storyteller. This was a role in which Matt Schedler charmed audiences for five years.  I wasn't sure anyone else could nail it with the same degree of emotion until I saw Dan's audition.  He understands the poetry of Jean Shepherd's story and is a natural on stage.
Other familiar faces are Chris McKittrick who played the Ol' Man in 2005 and 2006 who  returns this year to plays Pierre Andre, the radio announcer and Santa!  Last scene as a high-kicking, dancing nun in "Nunsense," Heather Shinpaugh plays the role of Mrs. Parker.  Sharron Galluzzo, who played Mrs. Keller in "The Miracle Worker" plays Miss Shields Ralphie's school teacher.
Last year, Nick Larkin  played the unfortunate Flick, the kid who gets his tongue stuck on the flag pole.  This year Nick is one of Santa's elves and his younger brothers Greg and Jacob Larkin play Ralphie and Randy!  The real-life family dynamic between the sometimes pesky, but always loving brothers  translated beautifully to the stage!
Young actresses Corinne Drabenstott, Kelly Holsopple were on stage for five minutes as Perkins Schoolgirls in "The Miracle Worker." In ACS, they enjoy more stage time in the delightful the roles of Esther Jane and Helen Weathers.  Colin Cassidy as Schwartz and Kedrick Sherle as Flick bring previous youth theatre experience and much talent to their roles as Ralphie's two  best friends.
CC: Any special challenges to this year's production?
Debra: Working around busy holiday calendars for 32 cast members always presents a challenge, but everyone has worked hard to make the time commitments needed to prepare for a show like this. Our biggest  challenge is not having the set in place until a couple days before the show opens.  The set is built and painted weeks in advance, but because of the high demand for the theater space at the Cary Arts Center, we are not able to "load-in" the set until the Sunday afternoon before the show opens.
CC: Was it easier producing for the second year in the same place?
Debra:   We save everything we can! Carole Kelly our Props Master takes great care of the props and set dressing items.  Some of them are very expensive, such as the Leg Lamp and are stored and handled with TLC from year to year. We are very conscientious when it comes to saving lumber, and set hardware, but there are still many necessary purchases, beyond a fresh coat of paint, when it comes to building a new set each year.
CC: Where is all this stored when not in use?
Debra: For several years we were fortunate to be able to store items in the warehouse of the now closed Nowells' Furniture Store.  Without that option, Cary Players rented a small office/warehouse space near downtown Cary. It is a significant and necessary part of the cost associated with producing the high quality shows Cary Players presents.
CC: What's new this year?
Debra: While the script is the same each year, it is amazing how a new actor in a role can find different interpretations and inflections for the same lines.  That is especially true with the role of The Ol' Man played by Stanley Amditis.  Making his Cary Players debut, Stanley has performed recently with Raleigh Little Theatre and at community theaters in New Jersey.  He brings incredible depth and humor to the role of the dad.  The same can be said for the role of the Tree Lot Owner, it has been much fun to watch different actors bring new life to this clever cameo each year!  This year, Randy Jordan's comedic timing does not disappoint. Preshow radio jingles featuring local merchants and a few tweaks to the set will give the show a new feel. Santa has a new costume, there's an extra elf, and oh yes, and we have a "new" very cool-looking vintage kitchen table!
CC: Anything you would like our reader to know?
Debra: If you would like to bring a new, unwrapped toy to the show, Cary Players is partnering with The Heart of Cary Association and Toys for Tots to make Christmas more special for needy children. Also: Arts Access will "audio describe" the performance on Monday, December 9th for audience members who are blind or have limited vision.
Event Info
A Christmas Story
Presented by the The Cary Players
Cary Arts Center
101 Dry Avenue
Downtown Cary, NC
Thurs Dec 5, 2013 – 7:30 pm
Fri Dec 6, 2013 – 7:30 pm
Sat Dec 7, 2013  – 3:00 and 7:30 pm
Sun Dec 8, 2013  – 3:00 pm
Mon Dec 9, 2013  – 7:30 pm
Tickets can be purchased online through eTix or at the box office in the Cary Arts Center. Tickets are $18 for adults and $16 for students and seniors.
————————————————————————————————————-
Downtown coverage is sponsored in part by the Heart of Cary Association.
https://carycitizenarchive.com/wp-content/uploads/2013/11/a-christmas-story-cary.jpg
350
600
Lindsey Chester
https://carycitizenarchive.com/wp-content/uploads/2020/03/cc-archive-logo-450-v3.png
Lindsey Chester
2013-11-25 16:06:53
2013-11-26 15:08:11
Theater: A Christmas Story Returns to Cary Arts Center