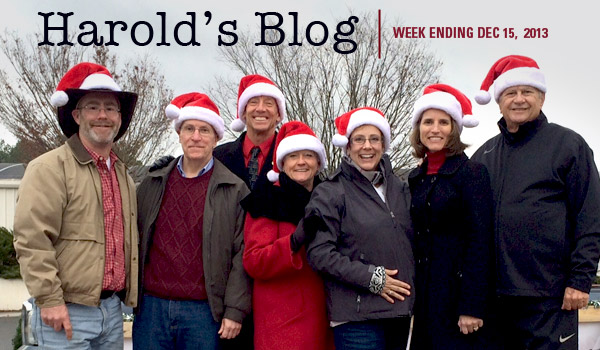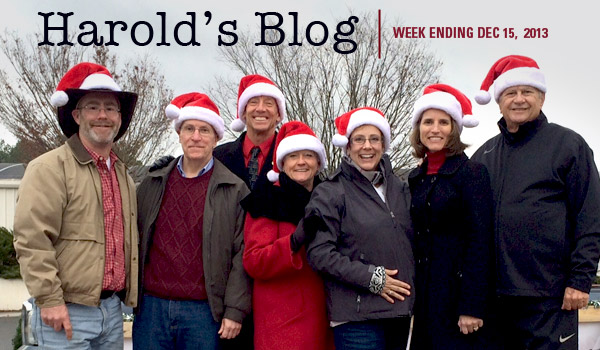 Cary, NC — This week was a full week of meetings and events which made for a lot of long days and nights.
Monday – Town Manager
Monday I met with the town manager and assistant to the town manager to discuss several items. These items included the downtown park, a staff/council retreat topic, and an upcoming work session. Our meeting lasted about 45 minutes.
Tuesday – Morrisville Swearing In
Tuesday I attended the organizational meeting of the Morrisville Town Council. Prior to the meeting I was able to speak with all incoming and outgoing council members. The new mayor, Mark Stohlman, agreed to sit down with me and go over issues between the towns. Hopefully, we can get together before the end of the year. I look forward to working with the new mayor and council.
The Swearing in ceremony included Representative Tom Murray giving the oath to Stohlman, Secretary of State Elaine Marshall giving the oath to Rao, Mayor Sears giving the oath to T. J. Cawley, and NC Senator Josh Stein giving the oath to Scroggins-Johnson. Leaving office were Steve Diehl, Margret Broadwell, and Jackie Holcombe.
I have known Mayor Holcombe since our kids went to pre-school together (they are now 24) so it was tough to see her leave office. Morrisville will miss her great leadership.
After the organizational part of the meeting I attended a reception for Mayor Holcombe along with Mayor McFarlane, Mayor Sears, and dozens of others.
Busy Wednesday
ABC 11
Wednesday was a busy day for me. It started with an 8:20 AM live appearance on ABC11 to help the Food Bank of Central and Eastern North Carolina to ask residents for donations for those in need. God bless all the volunteers and folks that sacrifice so that people don't go hungry. It is important for all of us to remember that there are always people in need of our help.
ToC Holiday Lunch
At 11:00 on Wednesday, I headed to the Herb Young Community Center for the Town of Cary's holiday luncheon. Once the luncheon started I greeted 622 employees as they went through the line. Some employees, essential to keeping the town running were not able to attend and will be given gift certificates for a complimentary meal. After everyone was seated I joined the town manager in thanking employees for another great year. Cary is blessed to have the best town staff in the state. It is their dedication, commitment, and attention to detail that helps Cary residents have the highest quality of life in the region.
CAP
Wednesday night I headed to Carolina Preserve for the annual CAP (Citizens Assisting Police) dinner.  The CAP Team members help provide security at public events and assist the Cary Police Department with child safety seat installations, administrative duties, service center staffing, sobriety checkpoints, traffic control, community watch programs and many more duties. Their volunteerism saves Cary residents thousands of dollars each year. I, along with several police officers and the police chief, gave remarks thanking them for their passion and dedication in serving our community and assisting our police department. They are an integral part in Cary's ranking as the safest community in the United States.
Wednesday Town Council
On Thursday I met with the town attorney for a brief meeting. We hold these meetings at least once a quarter to go over issues and to discuss any concerns. The town attorney's office is doing a great job representing the town, keeping us legally safe, and saving taxpayers thousands of dollars.
Later Thursday was a regularly scheduled meeting of the Cary Town Council. However, it was much different than past meetings. It started with the swearing in of three council members: Jack Smith, Jennifer Robinson, and Ed Yerha. It is an honor to continue to work with such fine public servants. We are fortunate to have them and have such a council.
Quasi-Judicial Hearings
The rest of the meeting was made up of four quasi-judicial hearings. These types of meetings will be common in the future if the new meeting structure is approved at the next council meeting on the 19th. The new schedule will have two regularly scheduled meetings a month and one meeting a month for quasi-judicial hearings.
In case you are not familiar with quasi-judicial hearings, these are hearings where the council has powers and procedures resembling those of a court of law or judge. The council is obligated to objectively determine facts and draw conclusions based only on those facts.
Cary Swim Club
The first quasi-judicial hearing was whether or not to allow Cary Swim Club to erect a temporary enclosure (a tent) over an existing pool allowing year round use of the pool. The council decided to allow it between October 15th and April 15th. In addition, the council stipulated that exterior lights on poles cannot be used while the tent is up.
144 Town Homes on Cary Glen Blvd
The second quasi-judicial hearing was a site plan to develop 144 town homes on approximately 26 acres located on Cary Glen Boulevard between Green Level Church Road and Carpenter Fire Station Road.
This proposal had been to council before and council asked the developer to reduce density and save some of the Champion trees. This new proposal did that and was unanimously approved.
169 Town Homes on Green Hope School Road
The third quasi-judicial hearing was a proposal for subdivision of 169 townhomes and eight detached dwellings on approximately 59 acres located on Green Hope School Road east of I-540 next to Highcroft. This subdivision was approved in 2007 with a minimum of 169 units.
Our decision was about a utility easement, streetscape, and champion trees which we approved.
Several residents showed up in protest not wanting this subdivision approved but unfortunately that decision was made several years earlier by another council.
Parkside Commons
The final quasi-judicial hearing was for the Parkside Commons site plan at the west side of NC 55 at O'Kelly Chapel Road.
This was the second phase of this huge development and only included developments which the roads would support. Additional infrastructure has to be built for the remaining phases. Council approved this unanimously.
Our meeting lasted over 4 ½ hours. We will have another long meeting on the 19th.
Saturday – Jaycees Christmas Parade
Saturday I joined all council members for the annual Jaycees Christmas parade. While the weather was drizzly it was a lot of fun. For the first time in a long time all council members participated. Thanks to Don Frantz and others we all rode together on a float. We wished all a Merry Christmas and Happy Holidays and threw out bags and bags of candy. It was a great time and a great memory for sure.
Emails – NCAA Likes Cary
In emails from staff this week we received great news about our sports venues from the NCAA regarding national championships.
The WakeMed soccer park will host the Division I Men's College Cup in December 2014 and the Division I Women's College Cup in December 2015. The USA Baseball National Training Complex will host the Division II baseball championships in May 2016, May 2017, and May 2018. We already have the commitment for 2014 and 2015. The Cary Tennis Park will hold the Division III Men's and Women's Tennis Championships in May 2017.
Combined these events will likely provide economic benefit of well over a million dollars.
Citizen Emails
In emails this week I received a lot of recommendations for the repaving of Walnut Street both for and against a median.
I also received a complaint from the head of CaryWatch on my comments from last week about CaryWatch.
Other emails and phone calls included concerns about the new Cary High School not having Cary in the name (disappointing for me too), safety issues at Cary High School, and safety concerns for all high schools in Cary.
Get in Touch
Well that is all for this week. My next post will be on Sunday December 22nd. Although I have Facebook and Twitter accounts those are not the best means of communications with me. Please send all Town of Cary questions or comments to Harold.Weinbrecht@townofcary.org and email personal comments to augustanat@mindspring.com.
———————————————————————————————-
From the blog of Cary Mayor Harold Weinbrecht. Photo courtesy of the Mayor.
https://carycitizenarchive.com/wp-content/uploads/2013/12/harold-1215.jpg
350
600
Harold Weinbrecht
https://carycitizenarchive.com/wp-content/uploads/2020/03/cc-archive-logo-450-v3.png
Harold Weinbrecht
2013-12-17 16:15:10
2016-01-09 11:58:36
Harold's Blog: December 15, 2013