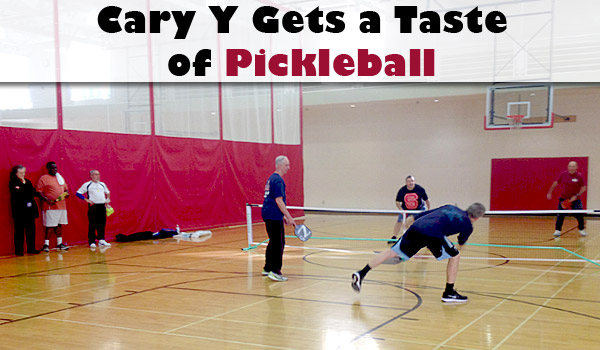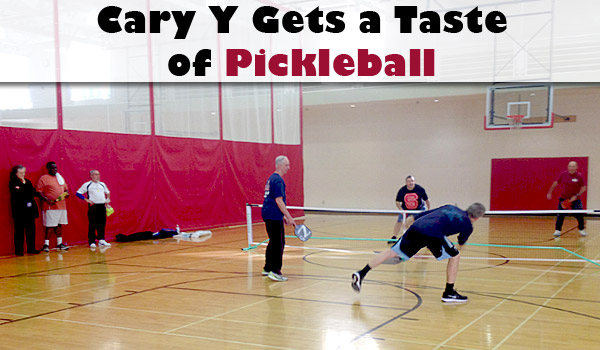 Cary, NC — The Pickleball phenomenon is sweeping the country and now's it's arrived at the Cary YMCA.
Pickleball
Pickleball combines aspects of tennis, badminton and ping pong. The court is 20′ wide by 44′ in length. The net is 34″ high at the center. The game is played with a hard paddle and a plastic ball similar to a wiffle ball.
According to Wikipedia, the sport was invented in 1965 by Joel Pritchard and friends on Bainbridge Island in the state of Washington.
Although any age can play Pickleball, the new sport seems to be most popular with seniors and retirees. It's less taxing than tennis or racketball, but more aerobic than golf.
Pickleball Trumps Technology
I first heard about Pickleball at a Cary Town Council meeting in February during the "public speaks out" segment. I was there to talk about technology funding (or the lack there of) for initiatives like Open Data and a new Town website. Ian Henshaw also spoke about technology.
Eight people spoke about Pickleball. Passionately.
In the end, no new funding was designated for technology initiatives. But Pickleball has a league, tournament and regular court hours.
Pickleball trumps technology.
Cary Y Gets a Taste of Pickleball
Last week, I wandered into the big gym at the Cary Y to play some basketball. One side of the gym was filled with wildly enthusiastic seniors smacking a wiffle ball, chasing around the court or cheering from the sidelines. Will Mangum, Assistant Director of Wellness, was supervising the madness.
Will is a crackerjack basketball player – quick, strong, smart. Pickleball? "Gotta go where the action is, Hal," he said.
"I can see that," I replied.
"Anyway, the YMCA has a history of sports innovation," Will reminded me.
"The Peach basket," I responded. Basketball was invented in 1891 at the YMCA in Springfield, MA by James Naismith. The first game was played with peach baskets and a soccer ball. The score of the first game was 1-0.
"Is Pickleball the future of sports?" I asked Will.
"You never know," he said with a smile.
More Info
If you're a member of the Cary Y and have an interest in Pickleball, drop Will a note: William.Mangum@ymcatriangle.org.
——————————————————————
Fitness coverage on CaryCitizen is sponsored in part by Western Wake Farmers Market.
https://carycitizenarchive.com/wp-content/uploads/2013/12/pickleball.jpg
350
600
Hal Goodtree
https://carycitizenarchive.com/wp-content/uploads/2020/03/cc-archive-logo-450-v3.png
Hal Goodtree
2013-12-17 14:38:27
2019-12-08 10:11:02
Cary Y Gets a Taste of Pickleball