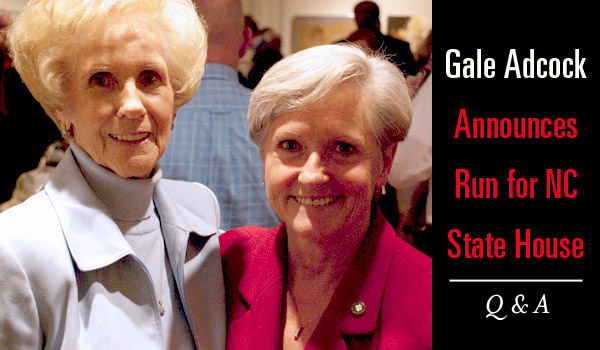 Cary, NC — Under the Dome reported recently that Cary Town Council member Gale Adcock has decided to challenge NC Representative Tom Murry for his District 41 seat in the state legislature. I caught up with Gale and asked her a few questions.
Adcock Announces Run for NC State House
For once, I was early. It didn't matter. Gale was already waiting for me at the Starbucks on Maynard. It was 7:50 AM.
"Why are you running for the NC General Assembly?" was my first question. Gale already has a job in government – she's Mayor Pro Tem of Cary and my representative in Cary District D.
"I've wanted to do this for a long time," Adcock said. "I want to be more involved in policy."
"Why now," I asked.
"It's a good time for me," Gale said. "The kids are in college and I've served 6 years on Cary Town Council. The General Assembly needs more people who can solve everyday problems."
Adcock continued, "I've never had so many people tell me how worried and frightened they are by the actions of the legislature, by the dismantling North Carolina's infrastructure and institutions."
"It seems like a pretty dysfunctional bunch up there," I said. "Why throw yourself into a madhouse?"
"You gotta have hope," Gale said with a smile.
Core Issues
"Tell me about your core issues," I asked.
"Three issues are at the top of my list," Adcock said. "The first is the state economy. If you look at issues through an economic lens, you make better policy decisions. I'm a data-driven person."
"My second issue is education, Pre-K through university," she continued."And, of course, the third issue is healthcare." Adcock is the Chief Medical Officer of SAS and a leading Nurse Practitioner in the state. She would be the first Nurse Practitioner to serve in the NC General Assembly.
Filing Starts in February
"What's the big rush?" I asked.
"Filing for the November 2014 election starts on February 10 and goes on for two weeks," Gale told me. That's right around the corner.
"How long have you been seriously considering at run for the General Assembly?" I asked.
"I've been thinking and talking to family and friends since February of this year," Gale replied. "I made the decision over Thanksgiving."
Challenging Tom Murry
Gale detailed calling her colleagues on Town Council, talking to Mayor Weinbrecht and finally calling the incumbent, Tom Murry. "I wanted to tell them myself," she said.
"How is your relationship with Representative Murry?" I asked.
"Amicable," Gale said.
Town Council Seat
Our chat strayed across various topics. I teased Gale that she was running for NCGA for the salary increase.
"Actually, the state legislature pays less than Cary Town Council," she said.
We finally got to the question I really wanted to ask, the one that concerned me personally."Are you going to continue as my representative in District D?"
"I'm going to continue to serve on Town Council during the election," Gale reassured me.
And after? "You can't hold two elected offices at the same time," Gale said with a twinkle in her eye.
More to Come
It seems a little early to say this, but we'll have more on the November 2014 elections in the coming weeks.
————————————————————————————————
Story and photo by Hal Goodtree. 
https://carycitizenarchive.com/wp-content/uploads/2013/12/gale-adcock-cary-nc.jpg
350
600
Hal Goodtree
https://carycitizenarchive.com/wp-content/uploads/2020/03/cc-archive-logo-450-v3.png
Hal Goodtree
2013-12-17 09:01:00
2019-12-11 06:21:58
Gale Adcock Announces Run for NC State House