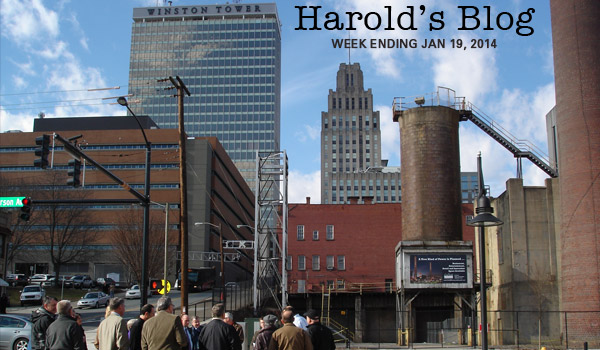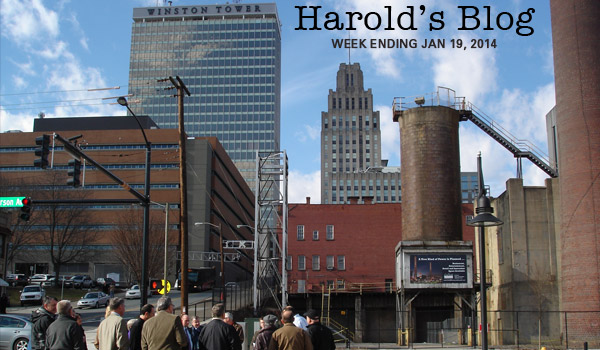 Cary, NC — This week was the annual council-staff retreat week, so my meetings were limited.
Monday I met with the town manager, deputy town manager, and assistant to the town manager to go over ongoing issues in the town. We talked about communication issues with boards and commissions, an operational issue, and an economic development opportunity.
Prior to the retreat, there were two articles printed in the local newspaper [Cary News] about the council holding a retreat out of town.
[Being editorial]
As usual the story was not fair or balanced and IMHO misleading. The implication was that we were going on a boondoggle at the taxpayers' expense. So I think it is important to address why the town holds retreats out of town.
The annual council-staff retreat is one of the most important times of the year for council and staff. It is the time when council and staff discuss important topics and give direction for the entire year and some direction for upcoming years. The retreat usually consists of two entire days of non-stop meetings. A typical day at a retreat begins with getting up in the dark, having breakfast, meeting until noon, having lunch, meeting until dinner, having dinner, and then going to bed. The only free time available is during one of the meal breaks or the time you should be sleeping. So basically it is live, eat, sleep, breathe, and think of complex town issues for two entire days.
So what is the benefit of doing this out of town? At the retreat it is extremely important we cover as many topics as possible in as short a time as possible. This requires little or no interruptions and a very experienced facilitator. If done correctly, the time spent at a retreat can be extremely valuable. In the past we have tried having retreats in town. Unfortunately there were a lot of interruptions resulting in less effective retreats. It is important to reiterate that these are two intense days of meetings with very few breaks. These retreats are equivalent to about eight to ten work sessions. It is not a boondoggle to relax and enjoy the scenery. In fact, you can ask anyone that has been on one of these retreats and they will tell you the experience is exhausting.
It is disappointing that these points are all excluded from the articles especially when the press is always in attendance and knows exactly what we do. By reporting only the cost the public is being misled. But of course that is tabloid reporting and what we have come to know and expect. Regarding costs, it does cost more if we have our retreat out of town but the benefit more than makes up for the added cost.
In the future if you want to see what we do at the retreat I would invite you to attend. It is always an open, advertised meeting. Since I have little confidence that the local tabloid [Cary News] will report on the meeting with a fair and balanced approach, I will spend the rest of my journal entry detailing what we did at this retreat.
[End editorial]
Thursday – Travel & Dinner
Thursday afternoon council members and a few staff members, who set up electronics and other materials, traveled to Winston Salem. Council members met for dinner and paid for their own meals.
It is important to note that the location and time of the dinner was provided for anyone who wanted to witness or be in attendance. It is not legal for us to gather as a group and talk about any town business and of course we did not.
Friday Sessions
Cathedral Thinking
Friday morning the rest of the staff arrived and retreat sessions began. The first topic was to set the theme of the retreat and it was called "Cathedral Thinking".
This term was created from the fact that back in the Middle Ages the building of Cathedrals would take longer than a lifetime. The people during the beginning planned and work diligently knowing that they would not be around to see the completion of the building.
Another way of put it in today's terms would be to say that we are planting a tree knowing that we will not enjoy its shade. Or to put it even simpler, it is the process of creating thoughts, visions, or other things that will outlive you.
As we began the retreat we were encouraged to be Cathedral thinkers. We talked on a very high level during this initial session.
One point of note was that things we have done in the past to make us great may not take us to where we need to go in the future.
Touring Winston-Salem
Mid-morning we boarded a trolley (paid for by Winston Salem), to take a tour in certain sections of downtown. We toured many areas, including historic areas, and viewed current development and developments of the past. Our guides talked about planning, thoughts and decisions made over the years. In the tour they talked of decisions made they were very proud of and some they regretted.
Lunch with Mayor Mayor Allen Joines
After the tour we had lunch at the hotel and were honored to have Winston Salem Mayor Allen Joines attend a make a few remarks. Mayor Joines has been serving in his role for 12 years. Before that he served as assistant city manager. In his remarks to the group he talked briefly about some of the issues they are dealing with. He was a very gracious host and it was pleasure talking with him.
Economic Development
Most of the afternoon session was spent talking about Economic Development. We define economic development as expanding the tax base and increasing jobs.
During the last 7 years Cary has added 7800 jobs and $290 million dollars in Capital investment.
Some points of interest in our discussion include:
While many projects take 4 to 6 months others take 3 to 4 years or more.
We have about 6 million square feet of office in Cary
Most companies are looking for available office space and not to build. MetLife was an exception.
More and more companies want public transportation which is one of the reasons RedHat went to downtown Raleigh.
Council agreed that the seven strategies for economic development defined in 2006 were still relevant today. The seven strategies are:
Existing Business and Industry Support
Business Recruitment
Small Business/Entrepreneurial Development
Downtown Development
Sports Development
Travel and Tourism Development
Business Park Development
Council directed staff to pay more attention to 3, 4, and 7.
Our Economic Development session also had a presentation by Ted Abernathy on trends in the US and NC. Some of the interesting trend information included:
While corporate profits and the stock market are at an all-time high there is a stagnation of wages and job growth.
¾ of job openings in the next 10 years will pay a median salary of less than $35,000 a year.
Occupations that are providing the most new jobs are child care, personal care aides, home health aides, janitors, and teaching assistants.
The prototypical suburban family of a couple with school aged kids is now 20% in the US.
Purchasing power and discretionary income are both declining for 90% of households.
Big Data and technology are becoming more important. The volume of business data worldwide doubles every 1.2 years.
More than 5 billion people are using mobile devices worldwide.
States are becoming more and more entrepreneurial and making rules that differentiate them from other states.
Most people believe the role of government to help businesses is to invest more in local infrastructure, education, and job training.
Wake Med Soccer Park
The first day ended with a success story on the Wake Med Soccer Park. Cary is known for having one of the best soccer fields in all of amateur sports. Video clips and other communications were shown from recent teams playing the College Cup (NCAA Division I championship). It was estimated that the College Cup in 2013 combined with the CASL showcase had an economic impact of $4.7 million to the area. And that was just one weekend!
Saturday
Communications, Messaging and Brand
The first half of the day on Saturday was spent on communications. We discussed our communications goals in general noting that there is increasingly more misinformation.
Next we talked about the town's brand. That is, what makes our town great. The top descriptive words and terms included: safe, attractive and clean, family friendly, quality, green, jobs, parks and recreational opportunities, infrastructure, and being well planned.
Our second communications discussion was on messaging. That is, who we are, what we are, and why we are different. We agreed that there were two major areas of messaging for the town: The town as an organization and the town as a community. Council agreed that our web site and other tools do a good job of messaging the town as an organization but believed we needed to promote the town as a community more. Staff will come back to the council in the future with options of how we can improve on this.
Council directed that this not be a high priority since it would interrupt other initiatives. Instead the increased promotion of the community should be phased in over time.
Civic Engagement
Our last discussion in communication was on Civic Engagement. In general the council felt we were doing a decent job and suggested a few tweaks.
Priority Budgeting
The last major session of the retreat was spent on priority based budgeting (PBB). PBB is a system that identifies all programs and activities; evaluates these programs and activities based on the influence they have on established goals and why the activity is being done. Then it ranks the programs in terms of the influence they have on achieving goals the community's goals and allocates the full cost of the programs and activities to these rankings.
The goals used in our PBB are a safe community, an attractive, well-planned and livable community, economic vitality and development, quality cultural, recreational and leisure opportunities, effective transportation and mobility, and reliable, sustainable infrastructure. Each goal had four to six definitions. Council and staff had breakout sessions to go over definitions for each of these goals. Council agreed on all the goals and ended up making a few changes to the definitions.
Fire Station #8
The final session at the retreat was another success story: Fire Station #8 which opened this year. One of the goals of creating this firestation (and police substation) was to meet public safety services level objectives. Since it has been in operation the response times have decreased by 10% with an average of 5 and ½ minutes. In addition, it was the first green built town facility. Its energy efficiency will not only be kind to our environment but will save taxpayers thousands of dollars each year.
Retreat Perspective
Our retreat ended Saturday afternoon. I arrived home in time for dinner. As I was after previous retreats, I was exhausted and slept soundly for about 10 hours. The retreat was another success for the town. While most municipalities spend retreats struggling with how to play nice and act like adults, Cary was able to do a "deep dive" on several complex issues. As result we will continue to be proactive, solve problems, and make decisions that will keep Cary one of the greatest places to live, work, play, and run a business.
Emails
In emails from staff this week tentative plans for the opening of the downtown theater called The Cary we sent out. While nothing is final it appears that the lighting of the Marquee will be on Friday night, February 21st and the ribbon cutting will be the following morning on February 22nd. Stay tuned for details once plans have been finalized.
Emails from citizens this week include a complaint about the Mayton Inn, praise for public works clearing debris, and concerns about a rezoning.
This Week
This week will be a busy week. It will include a Mayors Association meeting, the taping of the State of the Town Address for Cary TV, the presentation of the State of the Town Address at the Chamber breakfast, and a high school graduation.
Well that is all for this week. My next post will be on Sunday January 26th. Although I have Facebook and Twitter accounts those are not the best means of communications with me. Please send all Town of Cary questions or comments to Harold.Weinbrecht@townofcary.org and email personal comments to augustanat@mindspring.com.
———————————————————————————-
From the blog of Cary Mayor Harold Weinbrecht. Photo by Brent Miller.
https://carycitizenarchive.com/wp-content/uploads/2014/01/harolds-blog-0119.jpg
350
600
Harold Weinbrecht
https://carycitizenarchive.com/wp-content/uploads/2020/03/cc-archive-logo-450-v3.png
Harold Weinbrecht
2014-01-21 14:10:22
2016-01-12 17:33:02
Harold's Blog: Council Staff Retreat