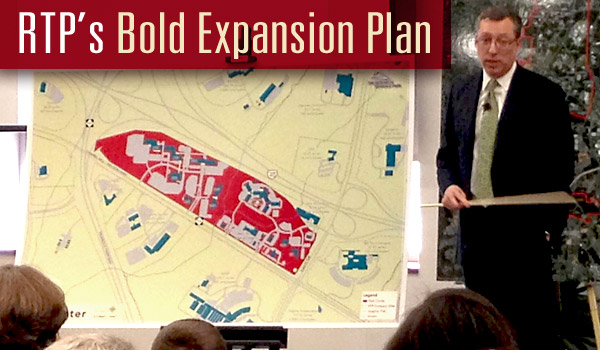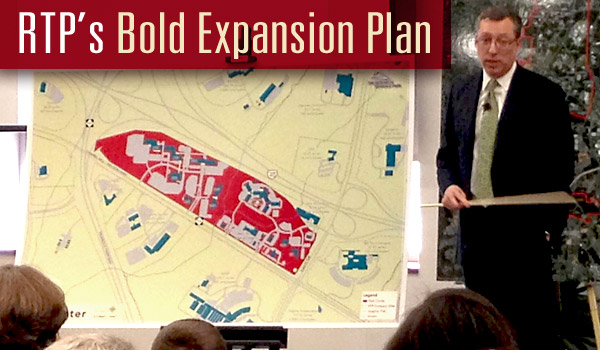 February 3, 2014, RTP Headquarters, NC — Bob Geolas, President and CEO of the Research Triangle Foundation (RTF), announced plans to move forward with Park Center, a mixed use parcel in RTP where the old Governors Inn is located. Site plans will begin in a few weeks.At a press conference in Research Triangle Park Headquarters on Davis Drive, Geolas showed maps of land that the Foundation has recently acquired which will be more than just offices, zoned and planned as mixed use incorporating housing, retail and "collaborative space"
New Land Acquisition
Geolas started off the meeting by referring to other recent announcements about the changing character of the Park. A large land parcel off Cornwallis and Davis Drive has already been discussed as having a mixed use footprint.
But today's announcement was centered around an area now dubbed Park Center and will border I-40. For quite some time the Foundation has been monitoring this land, but until recently the landowners held it too dear, and so nothing moved forward.
Geolas stated today that the Foundation has closed on the parcels and they now own 2 parcels totaling more than 100 acres in aggregate.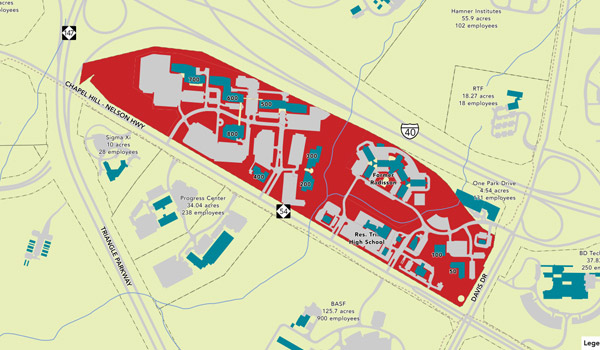 Map from RTP.org.
Research Triangle: No Place to Buy a Cup of Coffee
Geolas said that RTP is a land mass roughly half the size of Manhattan, yet no where in the Park can you buy a cup of coffee. The Foundation has been at work to rectify that.
He also added that many of the companies that call the Park home are smaller than 20 employees, a fact at odds with most people's perceptions of corporate Giants Cisco and IBM with all- inclusive office space. These smaller firms need flex space, and smaller buildings that can grow with them. And they may need meeting space. Or places to buy a cup of coffee.
The Foundation is making a bold private sector move of investment and land acquisition in a key corridor in the park. The sites are adjacent to two proposed  Triangle Transit Authority rail stops. He went on to state that with added bike paths, bikes for hire, inner park rapid transit and vans, that the office space could be more accessible than it currently is to a wider range of people traveling further distances.
Geolas called on four high school students from the Research Triangle High School to give a collaborative speech about the vision that will drive this new area. Collaboration was a word used over and over, and it was described as a space that can continue to evolve and change.
The students' presence underscored the focus on education and training that will take place in the new Park. The partnerships with the three major local universities was emphasized, as well as the location of the magnet high school.
Another Key Note was Housing
A question from the room was asked concerning affordable housing. To this, Geolas remarked that he felt the housing should include rental apartments and townhouses, and didn't think single family homes would currently fit the plan.
He again emphasized the need for the rail stating that support staff currently lives further out and rail access could make the park more affordable as a work place as gas and housing prices rise.
New Spaces around the Triangle
It was asked if RTF saw the proposed space in Pittsboro and Apex as competition. Geolas countered that his competition is "China, India and globally."
In contrast, he said he wants to see success in these other venues because they make the whole area more desirable and profitable.
https://carycitizenarchive.com/wp-content/uploads/2014/02/research-triangle-central-park.jpg
350
600
Lindsey Chester
https://carycitizenarchive.com/wp-content/uploads/2020/03/cc-archive-logo-450-v3.png
Lindsey Chester
2014-02-06 14:14:04
2016-01-01 19:09:23
Research Triangle Foundation Announces Bold Expansion