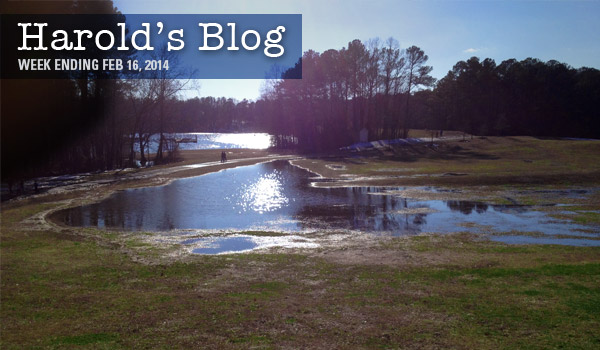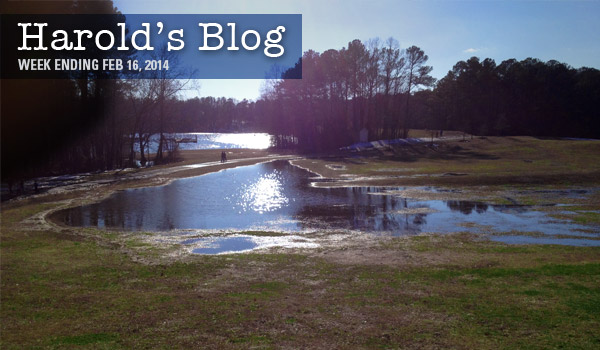 Cary, NC — A week that was supposed to consist mostly of events and meetings was instead dominated by the second snow storm of the winter.
Monday
Monday began with calls to council members to understand their concerns and questions about Thursday's regularly scheduled council meeting agenda. The issues mentioned by council members included the Parkside Commons agreement, the Herndon Burt proposal, and the Walnut Street Pedestrian improvements. Later in the day I met with Mayor Pro-Tem Adcock, management, administration, and legal to go over the agenda items. Our meeting lasted approximately 30 minutes.
Monday evening I met with the town manager, deputy town manager, and assistant to the town manager. Although several topics were discussed, the most pressing issue in our meeting was the pending snow storm. During this time we believed it to be a Tuesday through Thursday event with three to six inches of snow followed by ice and power outages. Our estimates weren't far off.
Tuesday
Tuesday I was supposed to participate in McTeacher's night at the McDonalds in Crossroads. Scheduled to join me were the principal and teachers from Dillard Drive Elementary. There was even going to be a Big Mac building contest between me and the principal. Unfortunately, the forecast caused this event to be cancelled even though the snow did not come until the following day. It is my hope it will be rescheduled and I will be invited again.
The winter storm finally hit on Wednesday around noon. Within about half an hour the roads went from dry to half an inch and more of snow. At that point most of the major employers closed for the day creating a traffic mess. Several people told stories of taking two to four hours to get home. The good news is that this was not a repeat of 2005 and these folks did eventually get home.
Cary's snow team was once again outstanding. The brine worked as planned keeping ice from adhering to the asphalt. As a result Cary's streets were cleared in a little over a day while other communities continued to struggle to get back to normal. This was another example of exemplary service from the great men and women who dedicate their lives to public service in Cary. Great Job!
Wednesday
Wednesday night I was scheduled to participate in the Grand Opening of Bass Pro Shops in Cary. This event was predicted to draw thousands. While it is sad the opening had to be cancelled, I am glad we didn't have to deal with the traffic nightmare. Bass Pro Shops did open later in the week and they are drawing large numbers of people to the store.
Thursday
Thursday afternoon I participated in a phone call with business leaders interested in bringing their business to Cary. They will make an announcement next week.
Thursday night was a scheduled council meeting. Usually, in a winter storm council members are picked up and hold an abbreviated meeting to continue public hearings. This happened in the 20 inches of snow in the early 2000s. Fortunately, our legal department found that General Statutes allow us to cancel a meeting and move items to the next scheduled meeting. So the February 27th meeting will be a LONG one.
Friday
Friday afternoon I participated in a phone interview with WPTF. We talked about Cary's response to the winter storm and about the Imagine Cary planning process. This interview will air either on Monday, February 17th or Monday, February 24th. It is part of their interviews with regional mayors.
In the News
In the news this week Business Insider listed Cary as the #4 Happiest Mid-Sized City in America. Their measurements included stress factors such has unemployment, long commutes, and cost of living. Other factors included personal safety, married residents, home ownership, residents making over $25,000 annually, residents with a bachelor's degree or higher, and convenience of amenities.
Emails from Staff
Emails sent from staff this week included the current plans under review. Plans entered since the beginning of the year include:
20 single family units on Bailey Park Lane off Evans Road
38 single family units on Pittard Sears Road
5500 square foot expansion of Cornerstone Presbyterian Church
10,400 square foot day care center on McCrimmon Parkway
71,656 square foot hotel on Ledsome Lane in the Crossroads area
For the complete list of plans under review go to http://www.townofcary.org/Assets/Planning+Department/Planning+Department+PDFs/planreview/Active+Projects+in+the+Review+Process+%28sorted+by+date%29.pdf.
Staff emails also included the 4th quarter report from 2013. Highlights include:
As of January 1, 2014, the Town of Cary's population is estimated at 147,561, an increase of 3,832 or 2.67% since January 1st of 2013.
The average new family housing unit was 3884 square feet.
There were 361 Multi-family permits issued down 46% from last year.
4th quarter non-residential permits included Harris Teeter at 56,294 square feet, MetLife 450,680 square feet + 586,566 square foot parking
The Cary/Apex Water Treatment Facility Phase III Expansion which will expand the facility's treatment capacity from 40 to 56 million gallons per day, is scheduled for construction bidding over the next two months. Construction duration is expected to be approximately 24 to 30 months with substantial completion scheduled for late spring 2016.
Over the past seven years as population increased, garbage disposal per person decreased.
Crime in Cary showed a 6% decrease through December 2013 over the same period in 2012.
There were 46 crimes reported in Cary Schools in the 4th quarter which was a 58% decrease.
Animal Control received 20 calls related to chickens in Cary. This resulted in over 10 hours of staff time.
CTran ridership increased 7.2% from the 4th quarter of 2012.
In November a Fleet Efficiency Standard Procedure was finalized that will result in right-sized vehicles, fleet utilization reviews, efficient driving training, and more.
To read the entire fourth quarter report go to http://www.townofcary.org/Assets/Town+Manager$!27s+Office/Quarterly+Report+Documents/4th+Qtr+2013.pdf.
Emails from Citizens
Emails from citizens this week included a lot of emails thanking the town staff for a great job in snow removal. However, I did receive one complaint upset that we plowed their street: "I absolutely DO NOT appreciate y'all plowing the streets in my subdivision, Summerwinds III, last night. Obviously any chance of sledding is now destroyed, as well as the enjoyment of walking around the neighborhood. … Keep your plows out." Wow I didn't expect that one! Since I am a strong believer in safety as a priority, I guess we will have to agree to disagree.
Other emails from citizens included several concerns about proposed rezonings, a concern that the town was studying a bridge over the railroad tracks at Harrison, a complaint that we are putting too much emphasis on downtown, and several requests to participate in events.
Get in Touch
This week's calendar includes a meeting with Wake County Mayors, a meeting with Congressman Holding, a meeting with the Capital Area Metropolitan Planning Organization, and events related to the opening of The Cary.
Well that is all for this week. My next post will be on Sunday, February 23rd. Although I have Facebook and Twitter accounts those are not the best means of communications with me. Please send all Town of Cary questions or comments to Harold.Weinbrecht@townofcary.org and email personal comments to augustanat@mindspring.com.
———————————————————————————
From the blog of Cary Mayor Harold Weinbrecht. Photo by Hal Goodtree.
https://carycitizenarchive.com/wp-content/uploads/2014/02/harolds-blog-0216.jpg
350
600
Harold Weinbrecht
https://carycitizenarchive.com/wp-content/uploads/2020/03/cc-archive-logo-450-v3.png
Harold Weinbrecht
2014-02-17 14:15:38
2019-12-08 10:11:12
Harold's Blog: The Snowy Week