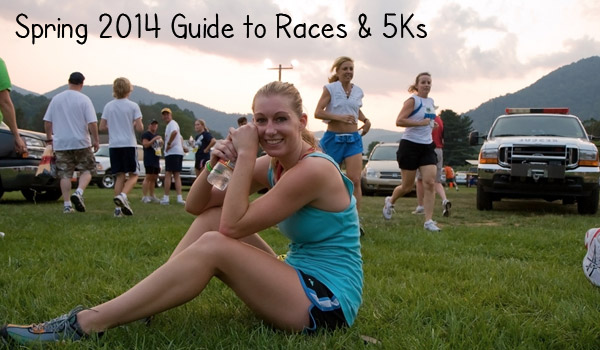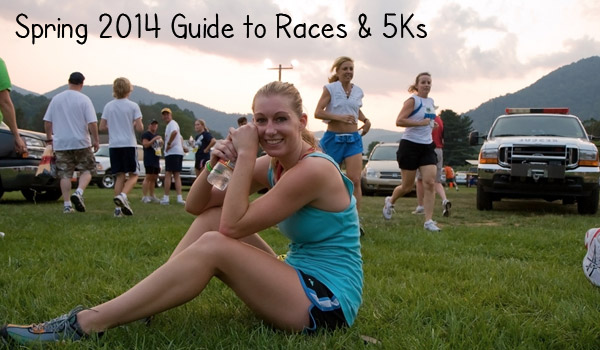 Cary, NC — Throughout Cary and across the Triangle, people like to run. Over the past decade, the number of 5Ks, 10Ks, marathons and races has increased dramatically.
2014 Triangle Guide to Races & 5Ks
CaryCitizen has assembled a Spring 2014 Guide to Races & 5Ks. We've organized the listings by month, beginning with March.
While the list is somewhat Cary-centric, we've included races from Raleigh, Chapel Hill and elsewhere. What are you waiting for? Start training!
(If we missed listing your race, place add it in the comments with date, time, details and a link to registration.)
March 2014
The Eleventh Annual  Umstead Marathon
Saturday, March  1st, 2014 at 9:00AM EST
All 26.2 miles of the marathon will be run within the borders of William B. Umstead State Park, a five thousand-acre tract of dense woods, lakes, streams, hills, and trails that rests between the cities of Raleigh, Cary, and Durham. The course consists of some technical single-track, but is mostly run on the park's bridle trails, which are the width of a single lane road and covered with fine gravel. The route is scenic and hilly.
The Umstead Marathon is sold out. If you did not get a chance to register, there will be a second sign-up
Registration: Website info
Pricing: $70/ person.
Run Green 8 K St Paddy's
March 1st 2014, Moore Square in Downtown Raleigh
The 2014 St. Paddy's Run Green 8K will again attempt to set an official Guinness World Record for the Largest Kilt Run! Here is your chance to enjoy a great race, party, AND participate in setting a new world record! Don you best kilt for an afternoon of running, eco-friendly fun in downtown Raleigh.  After the run, celebrate in Moore Square with live Irish music, food, and the first beer is free (for runners 21+ of course)!  The current Guinness World Record was set in 2012 in Perth, Ontario with 1,764 runners.
**Registration for the 8K INCLUDES entry into the 200 meter kilt run**
All registered runners will receive a gender specific tech shirt and race koozie.
Pricing: before 2/26= $35, after, $40 per individual
Registration
Tobacco Road Marathon
March 16th, starts at USA Baseball in Cary
This race is a Boston Marathon qualifier. Participants can sign up for a marathon, or half marathon, all starts and finishes at USA Baseball. The event takes place in the relatively flat course along the pined lined American Tobacco Trail. There's a  limit  of 1500 marathon and 2500 half marathon participants.  Half usually sells out by January and Full is also expected to cap before the event. Proceeds go to several organizations including Rails to Trails Conservancy, JDRF, the Wounded Warrior Project, the Red Cross, Wake County Parks and Recreation,
Pricing: Ranges now from half marathon at $85 to $105 for the marathon after March 10 (if available)
Registration Website
Rockin Marathon Relay
March 30, 2014 Wake Med Soccer Park, Cary
This is a marathon relay and features some live music at one of the premier cross-country courses in North Carolina! Medals for all finishers! Athletes check in at 7:15, relay begins at 9am.
Pricing: early $45/ later $50
Organizer's Website
April 2014
Umstead Endurance Run
April 5, 2014 Umstead Park
The Umstead 100 Mile Endurance Run is designed with several basic concepts in mind. It will help new ultra runners to bridge the quantum leap from 50 mile runs to the mountainous and more rigorous demands of most 100 mile endurance runs. It will allow those runners who have difficulty finishing 100 miles in 24 hours or just finishing 100 miles the opportunity to do so when severe topography, heat, and getting lost are removed as major obstacles.
Registration Website:
Cary Road Race
April 5, 2014 Koka Booth Amphitheatre, 8003 Regency Parkway, Cary
This race includes a 10 K,  5K, and a  1 mile fun run. Proceeds for the Cary Road Race are earmarked annually for local youth and fitness projects. This year's Cary Road Race proceeds will be used to enhance existing greenways and trails in Cary. There are more than 21 miles of greenways and trails in the Cary area, with many linking to state and county trails. View courses: 10K and 5K
Pricing: Fun Run – No charge, but registration required. Fees vary from pre-registration Recreational of $12, to Race Day Competitive registration of $20.
For more info: Kirk Matthews, Athletic Program Supervisor, (919) 469-4363, or email kirk.matthews@townofcary.org
Rock Solid Run Center Stage Fun
Sunday, April 13, 2014 Downtown Raleigh, start in front of Memorial AUditorium, Finish on Fayetteville Street.
Distances Offered: Marathon and 1/2 Marathon. This race features live bands, a scenic course, gear bags, medals, a Brooks Technical shirt for all runners, and a festival at the finish.
Pricing:  $110 ½ marathon, $100 marathon, $150 at the expo.
Registration: Website
May 2014
Sparkle Me Wild Cary
May 10, 2014 Wake Med Soccer Park,  201 Soccer Park Dr, Cary9:00am
This Mother's Day weekend  celebrate the heart of SPARKLE…AWESOME, TIRED, OVER WORKED MOM'S!  This one of a kind 5K, full of glitter, color and big bling at the finish!  Mom's you deserve a day full of love, color, glitter, celebration and most of all…Sparkle! With each registration runners receive a one of a kind t-shirt and one bag of color to throw at the start of the event and more glitter along the course.
Pricing: $45 race fee plus a sign up fee $4
Registration: website
Cary Du Classic
May 17, 2014 – 7445 Green Hope School Road, Cary, start 7:15am
Long Course Duathon: 5 mile run, 31 bike 5 mile run start 7 am
Short Course: 2.5 mile run, 17.65 mile bike, 2.5 mile run
Pricing: from $55- $110 depending on which course and when you register.
Registration info FSSeries webpage
NCRC Classic Half marathon and 10K at Umstead
May 18, 2014 – 3001 Weston Parkway, Cary, NC by The North Carolina Roadrunners Club (NCRC)
The race uses roads, trails and greenways of Cary and of Umstead State Park. The NCRC Classic Half-Marathon & 10K Races are now in their 16th year and considered to be some of the Triangle area's premier distance races.  Some of the proceeds from the race will support several local causes, including the Jimmy V Foundation and The American Red Cross – Triangle Chapter.
Spring Triple Crown – The NCRC Classic Half Marathon is part of the Spring Triple Crown Series along with the Tobacco Road Half Mararhon and the Race 13.1 Midtown Raleigh.
Registration: NCRC Website
Someone Special Like Me 5K
May 25, 2014 – WakeMed Soccer Park 201 Soccer Park Drive, Cary , NC 27511
This year marks the 3rd year of the Someone Special Like Me 5K. The race will benefit Someone Special Like Me, an organization created to provide a recreational activity center for children with special needs.  The 5K is a run and a walk, so runners and walkers of all skill levels are invited to take part in the event. Starting Times: The Kid's dash starts at 8:00 am and the 5K begins at 8:30 am.
Pricing : From $10 for the kid's dash to $20 for the competitive 5 K
To Register :Website
June 2014

Glow In the Park Run
June 6, 2014 – Wake Med Soccer Park, 201 Soccer Park Drive, Cary , NC 27511
This race boasts lots of glow in the dark fun from foam sprayed while runners run, to glow powder thrown from the sidelines.  blacklights and pumping music increase the fun quotient. Its truly something different! All during a 5K race!
Pricing: $40 –now through- $55 on race day
Registration website
Susan B Komen NC Triangle to the Coast Triangle Race for the Cure
June 14, 2014 – Meredith College in Raleigh
It's an opportunity to raise critical funds and awareness, celebrate survivors, and honor those who have lost their battle. Race day activities also include a survivor breakfast, tribute and photo; Zumba warm-up; Competitive Open 5K (co-ed), Women's-Only 5K, Recreational Open 5K, One Mile Fun Run and Kids Dash. Komen North Carolina Triangle to the Coast Affiliate® hosts the Race and other events throughout the year to raise funds and awareness for breast cancer research and local breast cancer programs.
The Race is a 5K (3.1 miles).
Registration Website
July 2014

Triangle Triathlon
July 19, 2014 –  1:30 pm, Harris County Park, Southwestern Wake County
The event is held to benefit the YMCA's We Build People Program. Athletes will compete in 3 events including:
a 750 meter swim  in the Lake Harris., a 17.5 mile bike loop on rolling rural county roads.  and a 5 K run which is a loop. Bike Map.
Pricing: starts now at $55 to $60-125 depending on when you register and if you are doing an individual or a relay.
Registration Website
August 2014
UNC Wellness Super Sprint Triathlon 2014
Sun Aug 10, 2014 – UNC Wellness Center at Meadowmont, Chapel Hill
Race consists of a 250 yard swim, 9 mile Bike ride and a 5 K run. The UNC Wellness Super Sprint Triathlon is a great mid-season pool swim event. Conveniently located just off Rt. 54 in Chapel Hill this race is easy to get to and is a fantastic beginner event. After a 5 lap swim athletes transition to a rolling 9 mile bike rolling bike course and rolling 5K run. If you are new to the sport or looking for a super fast course this is the event for you! This event benefits the UNC Wellness Medical Fitness Scholarship Fund. This group provides memberships and clinical services to people who have medical and financial need.
Pricing $55 until June 1, thereafter, $65.
Registration website:
If We Missed Your Race
If we missed listing your race, place add it in the comments with date, time, details and a link to registration.
——————————————————————————————————————
Story edited by Lindsey Chester. Photo by Brooke Novak via Creative Commons license.
——————————————————————————————————————
Spring 2014 Guide to Races & 5Ks is sponsored in part by Fit & Able Productions and Great Harvest Bread Company.
https://carycitizenarchive.com/wp-content/uploads/2014/02/spring-2014-races-5ks.jpg
350
600
Lindsey Chester
https://carycitizenarchive.com/wp-content/uploads/2020/03/cc-archive-logo-450-v3.png
Lindsey Chester
2014-02-18 18:51:00
2019-12-08 10:11:15
Spring 2014 Guide to Races & 5Ks