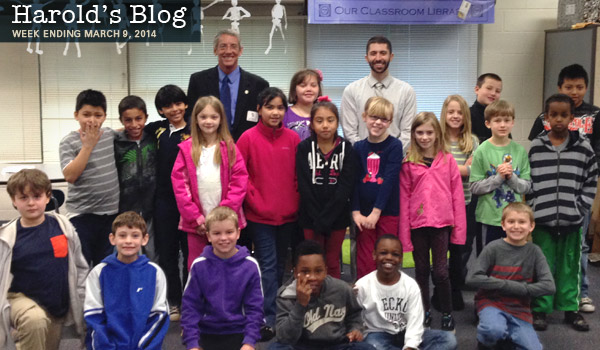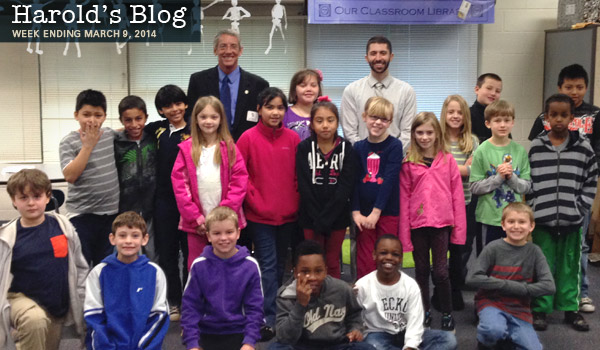 Cary, NC — This week was a busy week and included another round of inclement weather.
Monday
Monday I participated in Read Across America at Cary Elementary. The book I picked from the library was called "The Three Questions" by Muth, which I had not read before. I first read to a fourth grade class and even had time to answer about a dozen or so questions and take a few pictures. Afterwards I read to a third grade class, answered a few questions, and took pictures again. It was a lot of fun and I thoroughly enjoyed my time at Cary Elementary.
Later Monday we had another round of inclement weather consisting of mostly sleet. While driving conditions were OK during the evening they quickly became dangerous when the temperatures reached the low 20s. Since this started off as rain the Cary, crews could not put down the brine because it would have washed away. Instead Mother Nature took care of most of it Tuesday morning and the Cary crews added a little salt and sand as needed in problem areas. Hopefully we are done with winter weather.
Tuesday
Tuesday I was supposed to do a ribbon cutting for TrialCard Customer Experience Center which is healthcare related and located in Weston. They will be launching new services and expanding their 200 person call center. They have rescheduled this event for April 1st.
Tuesday night I was given a tour of the Searstone clubhouse. It has been a while since I was on the property and it was the first time in the clubhouse. Searstone, which is still being built, already has many residents. I was honored to meet several of them including the HOA president and his wife. I am looking forward to having new Searstone residents in Cary.
Wednesday
Wednesday morning I was scheduled to give remarks to the Cary Chambers Youth Leadership group which was postponed until March 25th.
Wednesday evening I joined that town manager, council member Smith, and others as we interviewed two of the final four candidates for the position of Vice President of Economic Development in Cary. This position will be important in recruiting new businesses to Cary.
Thursday
Thursday's first meeting was with a twelve year old girl and her parents about a recent rezoning in her neighborhood and my duties as mayor. It is so nice to have someone interested in their local government. Our meeting lasted around 15 minutes.
The council held a short work session on Thursday to finalize the wording for the position of town clerk. As I have mentioned before, our long time town clerk Sue Rowland will be retiring as of August 1st. We will be posting this job soon and expect hundreds of applications from all over the nation.
Thursday night the council held its first regularly scheduled quasi-judicial council meeting of the year. There were four quasi-judicial public hearings.
The first two were to allow the First United Methodist Church to build a columbarium. The only concern expressed by a council member was that this would be on valuable land in the center of downtown. The council approved the request unanimously.
The next request was by SAS for minor modification requests for reductions in required parking, connectivity to the adjacent office building, and removal/replacement of champion trees. This was also approved by council unanimously.
The final request was to allow Patel Brothers Grocery to modify their site plan for a different service and delivery access. The proposal also included minor modifications to the Town's connectivity and streetscape requirements. This was also approved unanimously. Our four hearings lasted about two hours.
The local newspaper [Cary News] wrote an article about this meeting and the approval of another SAS building. In it they stated the Mayor Pro-Tem and I, who both work at SAS, "didn't recuse themselves from the vote. They said they wouldn't directly benefit from the plan." This statement can be construed as our choice. It is important for people to understand that, by General Statues, we HAVE to vote unless we have a reason (listed by General Statute) not to vote. Here is a statement I read when a case like this comes up:
GS 160A-75 states that no member shall be excused from voting except upon matters involving the consideration of the member's own financial interest or official conduct or on matters on which the member is prohibited from voting [under certain other statutes]. In all other cases, a failure to vote by a member who is physically present in the council chamber, or who has withdrawn without being excused by a majority vote of the remaining members present, shall be recorded as an affirmative vote.
Under other statutes, a council member may not vote if the outcome of the matter is reasonably likely to have a direct, substantial and readily identifiable financial impact on the member.
The Town Attorney has advised us that merely being an employee of an applicant does not trigger the prohibition.
IMHO, the comment in the paper was uncalled for and disingenuous.
Sunday
Sunday I had the pleasure of giving opening remarks at the Basant Bahar event at the Cary Arts Center. We are fortunate to host events like this in Cary.
Cary not only celebrates diversity but embraces it. It is diverse events like this that help us enrich our community and make it the best place to live, work, and raise a family. The event featured fantastic performances to a full house. A good time was had by all.
Emails
Emails this week included a building permit newsletter from the homebuilders. In January 2014 Cary had 121 new residential permits pulled compared to Raleigh which was the second highest with 86. Cary has seen a 9% increase in new residential permits during the last twelve months.
Emails from citizens this week included a concern about fire hazards on the outside of homes and several more requests to support Google Fiber (which we are doing).
Get in Touch
This week will be another busy week and will consist of interviews for the Vice President of Economic Development, a meeting of the Economic Development Committee, a regularly scheduled council meeting, and an Arbor Day event.
Well that is all for this week. My next post will be on Sunday, March 17th. Although I have Facebook and Twitter accounts those are not the best means of communications with me. Please send all Town of Cary questions or comments to Harold.Weinbrecht@townofcary.org and email personal comments to augustanat@mindspring.com.
———————————————————————————————–
From the blog of Cary Mayor Harold Weinbrecht. Photo courtesy of Mayor Weinbrecht.
https://carycitizenarchive.com/wp-content/uploads/2014/03/harolds-blog-030914.jpg
350
600
Harold Weinbrecht
https://carycitizenarchive.com/wp-content/uploads/2020/03/cc-archive-logo-450-v3.png
Harold Weinbrecht
2014-03-10 18:59:03
2016-01-12 17:33:02
Harold's Blog: March 9, 2014