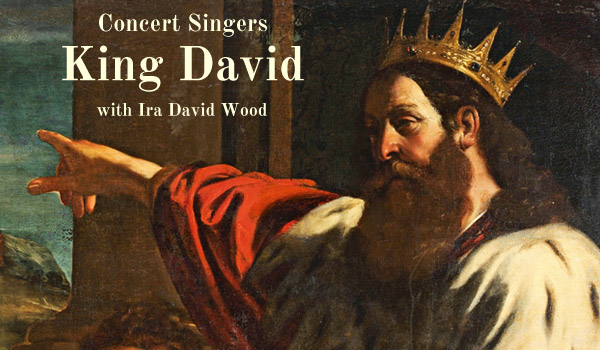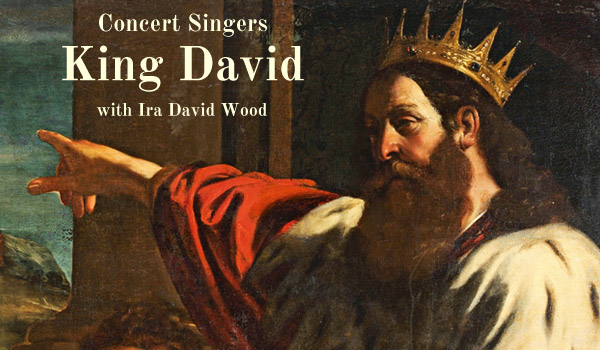 Cary, NC — The Concert Singers of Cary continue to push the performance envelope in their collaborations with other area artists. This season they feature actor Ira David Wood III in their latest performance, titled King David.  In past seasons, The Concert Singers have mixed movies and light shows, and even dance into their performance pieces.  In this latest production, Arthur Honegger's King David, the group will feature actor Ira David Wood III as the narrator. "Think of it as a one man show set to music," says Lawrence Speakman, Concert Singers Conductor.
King David
Arthur Honegger's epic story of King David, or Le Roi David, was composed in 1921. The work made the young Honegger famous when it was published. The story starts with David as a lowly shepherd and follows his life as he rises to power through battle and glory, to lusting after another man's wife, agony over the loss of a son, and finally to his death. All in 27 sections of music.
David is central to Jewish, Christian and Islamic doctrine and culture. Biblical tradition maintains the Messiah's direct descent from the line of David. In Islam, he is considered a prophet.
In this work, Honegger depicts the all too human David, stricken by conscience, who is punished by God and tempered into true greatness by repentance and redemption. Honegger was commissioned to to write the music in only 2 months to accompany a written piece by René Morax. The result was a huge success. The combination is often called a symphonic psalm.
The music combines different styles all in one piece, from Gregorian chants to jazz (it was written in the 1920's after all).
Thrilled to Have Wood Involved
The story is told in song with special narration by Ira David Wood III with Lawrence Speakman conducting.
Speakman had this to say of the reasons he chose this piece for the Concert Singers:
I sang in a performance of Honegger's King David in Philadelphia a number of years ago that featured Leonard Nimoy as narrator and enjoyed the dramatic content of it immensely.

What I learned from that performance was how important  it is for the narrator to be a fine actor. Ira David Wood III is one of our most celebrated and well known actors so I thought I would start at the top and contact him.

We are thrilled to be performing with him and delighted that our audience will be able to experience his work with us."
There are two concert dates at two very different locations. See the show March 22 at the Cary Art Center where the group has residency, or travel to the show in Durham and see them at the Carolina Theater on March 23.
Event Info
King David by Arthur Honegger
Concert Singers of Cary and the Chamber Orchestra of the Triangle with Ira David Wood
Saturday March 22, 7:30 PM at Cary Arts Center
Tickets: $20 for adults and $18 for seniors. All Students are admitted FREE.
Etix
Sunday March 23, 3:00 PM at Carolina Theater (Durham)
Tickets: $20 Adults, All students admitted FREE
http://www.carolinatheatre.org/events/touch-neo-classicism
More info: http://concertsingers.org/
—————————————————————————————-
Detail of painting by Giovanni Francesco Barbieri (1591 -1666), King David giving Uriah a letter. Image from Dorotheum.
https://carycitizenarchive.com/wp-content/uploads/2014/03/king-david.jpg
350
600
Lindsey Chester
https://carycitizenarchive.com/wp-content/uploads/2020/03/cc-archive-logo-450-v3.png
Lindsey Chester
2014-03-13 17:09:16
2019-12-08 10:11:22
Concert Singers "King David" with Ira David Wood