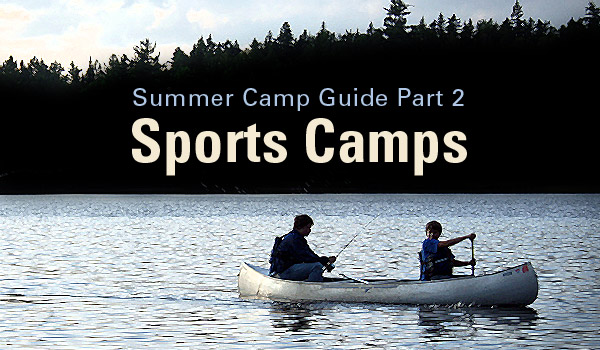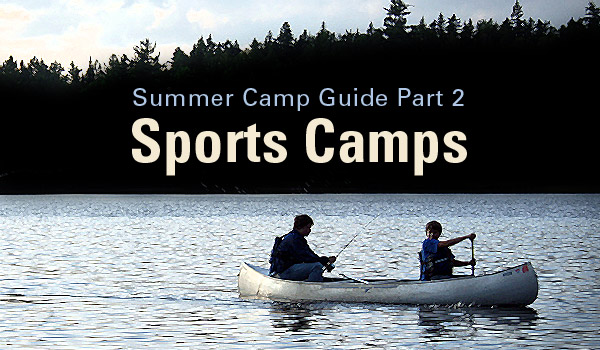 Cary, NC – In Part 1 of our 2014 Cary Summer Camps guide, we covered academic and arts camps. Today, in Part 2, the focus is on Sports. If there is any sport that your child wants to try, chances are good that Cary has a camp for them. See the list below, and be sure to register soon as spaces are limited for each camp.
Cheer Camps
Carolina Legacy and Dance
125 Quarrystone Circle, Cary, NC 27519
Contact: Ashley Isaacs
919-380-2152
CLA offers tumbling, stunting, and cheer camps for all ages and levels. There are also special camps to get middle and high school students ready for cheerleading try-outs. Camp lasts three hours per day for each week of camp. The first week begins on June 9 and the last week is August 18.
Rock Climbing Summer Camps
Triangle Rock Club 
102 Pheasant Wood Court, Morrisville, NC 27560
Contact: Aaron Kenyon
919-463-7625
TRC will host track-out, summer, and holiday camps starting the week of June 2 with the final camp week from August 11 to 15. Base camp is an introduction to climbing for children ages 6-13, and lasts for half the day.  Summit camp is a full day camp, and introduces teens (age 12 and over) to climbing basics. In Summit camp, the youth also get to try their hand and climbing outside with a trip to Pilot Mountain. The third camp is called My Adventure where in addition to climbing; children also plan their dream adventure, considering what it would require to fulfill the dream.
Dance Camps
Cary Ballet Conservatory
3791 NW Cary Parkway, Cary, NC 27513
Contact: Suzanne Murley
919-481-6509
Week-long summer camps have themes such as Jazzfest, FairyTale Princess, Hip-Hop, and PopStar Party. Camps are available for children from age 6 to 13, some last a few hours, while others last all day. The first camp week is June 23, and camps occur until early August.
Graceful Expressions Dance
312 West Chatham Street, Suite 103, Cary, NC 27511
Contact: April Schweitzer
919-272-2576
Classes and camps run from June 30th through August 8th. Serious ballet students can take their dancing to the next level with the ballet intensive classes. Half-day camps provide a fun way to learn and grow in creativity for preschool through middle school age.
International Ballet Academy 
201 Davis Grove Circle, Suite 104, Cary, NC 27519
Contact: Rossana Nesta Gahagan
919-303-7200
Summer evening classes begin on June 16th for children ages 3 and up. There are different levels of ballet, jazz, and contemporary classes that take place on Mondays, Wednesdays, and Thursdays. If your child is at least 9 years old and an advanced dancer, he/she can audition for one of the three summer intensive programs. Call IBA as soon as possible to schedule an audition as regular auditions have already passed.
Soccer Summer Camps
Carolina RailHawks 
WakeMed Soccer Park, 101 Soccer Park Drive, Cary, NC 27511
Contact: Pete Sciandra
919-459-8149
RailHawks camps will help your child improve on any soccer skill they may choose – defending, finishing, goalkeeping, or general skill-building. All camps are open to children ages 7 to 15 and take place Monday to Thursday evenings from 6:00 – 8:30 p.m. RailHawks players and coaches will teach and play side-by-side with all campers, and there will be daily scrimmages for campers to work on each facet of the game. Boys and girls of any skill level are welcome at camp, and will be divided up based on age and ability. All participants will receive a RailHawks soccer ball and t-shirt at the completion of camp.
Triangle Futbol Club
431 US Highway 70A East, Hillsborough, NC 27278
919-640-6034
Summer training programs are on Monday and Thursday evenings, for boys and girls 8-12 and 13-17 who have some experience. There are morning camps for youth who want to improve their one-on-one skills, and camps for Little Kickers (ages 4-6) who are just starting to learn soccer. The locations for these camps are in different places in the Triangle, so be sure to sign up for the camp closest to you.
Capital Area Soccer League (CASL)
Camp location: WRAL Durham Bulls Stadium
CASL Office: 3300 Woman's Club Drive, Suite 1, Raleigh, NC 27612
919-834-3951
CASL has both full and half day summer camp options for players U8-U15 from any level (Recreation, Challenge, Caya, and Classic). Players can be CASL and non-CASL, all are welcome. Camps occur in June and July- half day is from 9:00 a.m. – noon and full day is from 9:00 a.m. – 3:00 p.m.
Gymnastics
Superior Gymnastics
220 F Dominion Dr., Morrisville NC 27560
Contact: Katherine Keith
919 388-1632
Full day camp takes place from 9:00 a.m. – 4:00 p.m. for those who are older than 5. Half day summer camp can either be from 9:00 a.m. – 12:00 p.m. or 12:00 – 4:00 p.m. for kids 3 and older. Campers take weekly field trips to PlayNation where they get to go in bounce houses and play on indoor play sets. There are also weekly crafts which include decorating a Superior Gymnastics t-shirt. Each week offers something different so your child will never get bored. Camp weeks: June 16- August 18.
Skating
Jellybeans Roller Skating
1120 Buck Jones Rd, Raleigh
919-467-5283
Not only will campers enjoy private and public skate times, there are also 6-8 field trips each week. To participate, campers must be school aged-kindergarten to fifth grade. Campers may be dropped off as early as 7:45 a.m. and should be picked up at 6:00 p.m. Register before May and you will receive a discount!
Polar Ice House
1410 Buck Jones Road, Raleigh NC 27606
Contact: Christina Driggers
919-460-2756
Campers will spend the day learning new ice skating techniques, and participating in fun activities and field trips. Camp Chillin' offers a choice of on-ice instruction programs including the skate school, which teaches the fundamentals of ice skating, and the basics of ice hockey. Off-ice activities can range from arts and crafts to scavenger hunts to water fun days.
Jump Rope
TriForce Jump Rop
100 Dominion Drive, Suite 200, Morrisville, NC 27560
Contact: Coach Sh'ay Perez
919-465-3955
Your child will receive single rope and double dutch instruction from national champion jumpers. Children of every ability level can learn about different styles of jump rope and participate in active games. Full and half day summer camp options are available.
Martial Arts
White Tiger
1605 NW Maynard Rd, Cary
Contact Master Rondi
919-469-3553
Summer camp drop-off is at 7:30 a.m. with pick up at 6:00 p.m. for a full day and week of excitement.  All camps incorporate Taekwondo classes and adventure activities, but each week has a different theme such as Gymnastics and Anti-Bully camp.
Championship Martial Arts
8111 Tryon Woods Drive, Cary, NC 27518
919-233-4454
No experience is necessary for your child to attend CMA summer camp. Camp days are 10:00 a.m. – 4:00 p.m. with the first week commencing on June 16.
Bowling
Buffaloe Lanes
151 High House Road, Cary, NC 27511
919-468-8684
Buffaloe Lanes has a great deal for kids – the 8 for 8 bowling league. It's only $8 per week to bowl for 8 weeks. The league begins at 6:30 p.m. on June 16th. All campers will get their own bowling ball.
Multi-Sport Camps
Town of Cary Summer Camps
316 N. Academy Street, Cary, NC 27513
919-469-4061
The Town of Cary has a multitude of camps for your child to attend whether they like the arts, nature, sports, or technology. There are full and half day camps and classes that last an hour. Children from age 2 to 17 can find a camp in Cary. All camps are listed in the Town's brochure found on the website or in community buildings. Cary residents may sign up for summer camp at discounted rates.
NC State Camps – various campus facilities
NC State has a summer camp for almost any sport you can imagine for example running, baseball, volleyball, swimming, or golf. Coaches and players lead each camp while children ages 6 to 18 refine their skills. If your children are at least 9 years old, they may prefer to go to overnight camps and stay on campus in the University Towers.
General Day Camps
The Cary YMCA
101 YMCA Drive, Cary, NC 27513.
Contact: John Collins
919-469-9622
The YMCA of the Triangle offers full-day and half-day summer camps with activities that include swimming, hiking, archery, sports, games, devotions and arts & crafts.
Camp Blazing Trails is a unique half-day camp located at Lake Crabtree Park in Morrisville, N.C. for ages 5 years – rising grade 8 that focuses on the environment and the great outdoors. This summer camp has strong traditions, such as a walking stick that has been passed down from summer to summer. Camp Blazing Trails features hiking, fishing, meeting with a park ranger, canoeing, archery and more.
Sign-ups are on-going for most of these camps, but as always don't hesitate or you may be locked out of the weeks you want.
Happy Camping!
————————————————————————————–
Story by Jamie Buning. Photo by the B's.
 ————————————————————————————–
The Cary Camps Guide is sponsored in part by the Carolina RailHawks, Cary's professional soccer team.
%CODE409%
https://carycitizenarchive.com/wp-content/uploads/2014/04/sports-camps.jpg
350
600
Community Contributor
https://carycitizenarchive.com/wp-content/uploads/2020/03/cc-archive-logo-450-v3.png
Community Contributor
2014-04-09 13:45:01
2019-12-08 10:11:27
Summer Camp Guide Part 2: Sports