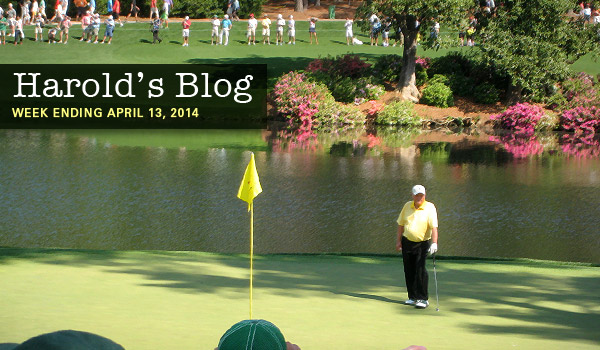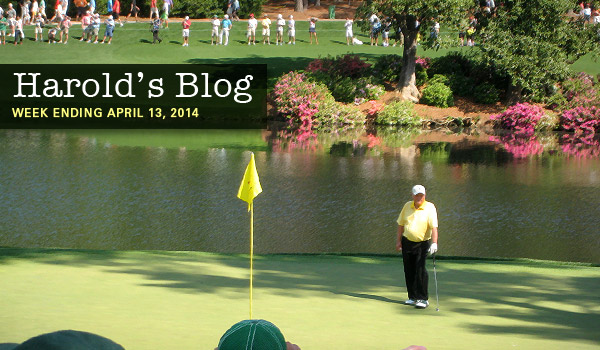 Cary, NC — This week was my week to work at the Augusta National during the Masters Golf tournament, so my post will be short.
Mayor Pro-Tem Adcock Sits In
At the beginning of the year the council sets meeting dates and times for the entire year. In the past, we have scheduled around my trip to Augusta so I could be present at all meetings. This year, the council decided not to do that and instead hold the meeting with Mayor Pro-Tem Adcock. That being the case, on Monday it was her duty to contact council members for questions and concerns about the upcoming agenda. Fortunately, there were only two public hearings and two topics for discussion. At the meeting with staff she went over each of the items and there were very few questions. I predicted that meeting, along with the closed session, would last until about 8 PM.
Newspaper Disappoints
The local newspaper [Cary News] had a couple of articles this week that were disappointing. In the article titled "Cary OKs day care expansion, despite neighbors' concerns". It was not made clear that this was a quasi-judicial hearing which is very different from other council meetings. As I said in my blog last week:
During a quasi-judicial hearing, the council must hold an evidentiary hearing and make its decision based on the written and oral evidence presented.  Unlike legislative decisions (like rezonings), a quasi-judicial decision must be based solely on the evidence presented and cannot be based on opinions of members of the council.  Put differently, a quasi-judicial decision is one that requires the council to find facts and exercise discretion when applying the standards of an ordinance to a specific situation.
Home Day Care
This case was about the expansion of a small home day care from 6 children to 12. Adjacent residents claimed traffic issues and that the applicant didn't live at the residence which is required. However, there was no legal evidence presented to prove that the day care caused traffic issues and no evidence to prove that the owner did not live at the address. It was only observations and opinions. In fact, the applicant presented evidence to the contrary. Therefore, it was a unanimous decision for the council. What was not unanimous was the applicant's offer to only expand to 10 children instead of 12.
Unfortunately, the newspaper wrote the story in a way to imply that council members ignored residents' comments which is absolutely false.
Townhomes vs. Single Family Homes
In the article titled "Cary OKs townhomes near Park West Village" it was implied that Cary is favoring townhomes and multi-family over all types of development. Two letters to the editor asked council not to approve dense development as if this is the council's initiative.
What is important to understand is that council considers every proposal on its merits and many are changed and denied. The council does not have a desire, nor does it champion, multi-family development. The development mentioned in the article was on a site not suitable for office, commercial, or single family because of its topography. So there was not really a better use for this property.
The article also talked about the number of townhomes being built in Cary. It failed to mention that most of the townhome proposals follow the land use plan. Some were already approved before this council took office.
It also failed to mention that Cary, for the last several months, has issued more single family permits that any municipality in the council including Raleigh.
So the implication that the town and council is favoring multi-family over all other development is simply false. Unfortunately, our local newspaper abandoned fair and balanced years ago. And their editor has said it is OK for reporters to form an opinion and write from that opinion. Personally, I think that is shameful.
Masters Golf Tournament
My time in Augusta this week was great. The weather was perfect and everyone, including myself, seemed to have a good time. The golf scores were about average until Friday with no one making a big move with a great score. Bubba Watson, a crowd favorite, finally made a move on Friday and had a great finish with the 20 year old Speith. As usual, it was another great Masters. From a work standpoint my days were long starting early in the morning and finishing after 8 pm.
This Week
This week I will be back to a normal schedule with several meetings.
Well that is all for this week. My next post will be on Sunday, April 20th. Although I have Facebook and Twitter accounts those are not the best means of communications with me. Please send all Town of Cary questions or comments to Harold.Weinbrecht@townofcary.org and email personal comments to augustanat@mindspring.com.
———————————————————————————————–
From the blog of Cary Mayor Harold Weinbrecht. Photo by Tim Meaney.
https://carycitizenarchive.com/wp-content/uploads/2014/04/harolds-blog-0413.jpg
350
600
Harold Weinbrecht
https://carycitizenarchive.com/wp-content/uploads/2020/03/cc-archive-logo-450-v3.png
Harold Weinbrecht
2014-04-14 16:15:41
2016-01-12 17:33:03
Harold's Blog: Masters Week