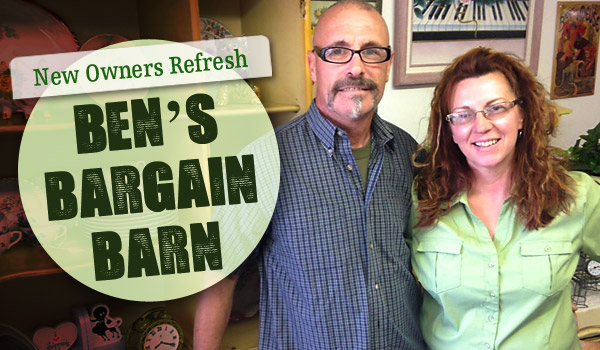 Morrisville, NC — Ben's Bargain Barn, a familiar site at the corner of Morrisville-Carpenter and Chapel Hill Rd., has become Cinderwalls. There are new owners and a new energy, but some things have stayed just the same.
Ben's Bargain Barn Becomes Cinderwalls
For  27 years, Ben's Bargain Barn sat at the crossroads of Morrisville Carpenter and Chapel Hill Roads. The cinder block building held treasures inside, as owner Ben Towson collected and sold antique furniture and collectibles.
Curious homeowners would drive by and wonder about the lawn furniture and old washing machines stationed outside in the grass.
Twenty-seven years is a long time for any business. A few years ago, Ben met Cynthia and Walter Santilli, collectors and  bargain hunters. They all became friends and would run into each other around the state bidding on storage units and estate sales.
Ben began a relentless campaign asking them if they would like to take over his business. He was getting older and didn't have the energy to run the Morrisville store any longer (he has a second location on Hillsborough Street in Raleigh). It was a win-win proposition. He needed someone to mind the store  and they would have a proper place to set up their merchandise.
Last year, they finally relented, and in October, Ben's Bargain Barn became Cinderwalls. They opened under Ben's license and in October 2013 they started operating under their own name.
Things have been changing at the store ever since.
Happy Accident
Cynthia told CaryCitizen that she and her husband got started in the used furniture business quite by accident. They moved to Cary after Walter retired from the City of Warwick, Rhode Island in 2010. It wasn't long before being retired became boring. They began visiting storage unit sales and seeing what they could then sell on Craigslist and EBay for a tidy profit.
Before long, they filled their carport and three storage sheds. Their house had become an unofficial store, as visitors would come to pick up pieces, or look to see what new items they had picked up recently. Many sellers knew they were in the market to buy, and they would stop by too.

Where the Furniture Comes From
As shows like "Storage Wars" became popular, they started to see an increase in the bidding on the units and sometimes the contents weren't good to resell. But the lure of the hunt had them hooked. In addition to estate sales, and storage unit auctions, they visit flea markets and antiques shows. When a show is ready to close up, many times they find vendors with goods left to sell, and Walter makes them an offer.
At the store, the day I was there for this story, a guy rolled into the parking lot with a truck loaded with furniture. Walter stepped outside to look over the items and make an offer. There's no shortage of supply.
What You'll Find
Inside Cinderwalls, you'll find wood furniture from every era:  mid-century modern to the truly antique and everything in between. If its not in great shape, Cynthia or Walter will spruce it up with either a faux finish or oil-based paint, add new hardware and create a fun vignette to surround it. There's also home accessories, paintings, kitchen items, rugs.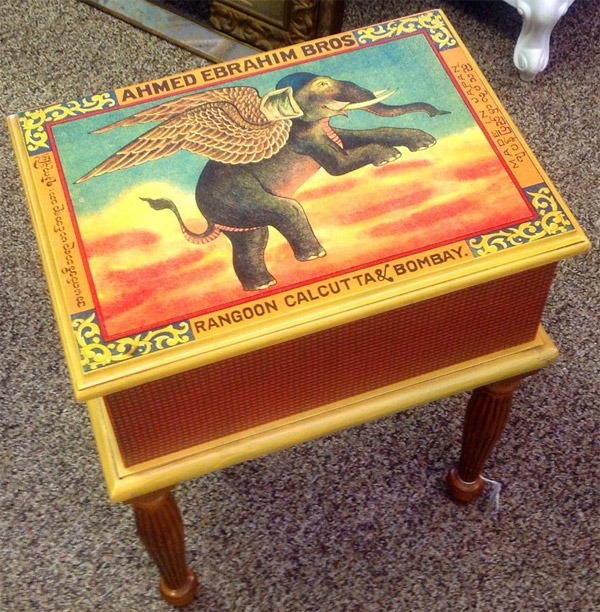 They are hoping to attract more attention along the main thoroughfare in town by hanging some of their pieces on the wall outside the shop. With no windows facing Morrisville Carpenter Road, many cars drive by and just don't know what's inside. By hanging a dresser on the side of building, Cynthia thinks she is on to something. Look for rocking chairs and mantels to join the furniture on the wall soon!
Not A Consignor
Cynthia pointed out that Cinderwalls is not a consignment shop. They buy pieces outright. This gives them leeway with pricing, and allows them also to bargain with a potential customer. And if something isn't selling as is, they move it around in the store to give it a fresh look, or Cynthia paints a faux finish on it, or Walter paints an oil based paint in black or white which always sell quickly.
They may even re-purpose an item, for instance from a baby carriage to a garden planter.
Building Community
Cinderwalls actually faces its back to Morrisville Carpenter Road. The official address is 200 Franklin Upchurch Sr Street, right next to the Pugh House. The front of the store looks out on a quiet street of old homes.  As Walter and Cynthia paint outside, several of the old timers in the area like to hang out in the chairs on the store's porch. They chat about old times and pass the time. As the weather heats up, the couple think they will  make lemonade and encourage more people to feel like they can "set a spell"and give the community a gathering place that it's lacked in the past at this old time crossroads.
Blending old and new, and adding a sense of whimsy in the heart of Morrisville. Building community one dresser at a time.
——————————————————————————————————–
Story and photos by Lindsey Chester. Furniture photo from Cinderwalls on Facebook.
——————————————————————————————————–
Morrisville coverage on CaryCitizen is sponsored in part by the Morrisville Chamber of Commerce and East Meets West Festival.
https://carycitizenarchive.com/wp-content/uploads/2014/05/bens-bargain-barn.jpg
350
600
Lindsey Chester
https://carycitizenarchive.com/wp-content/uploads/2020/03/cc-archive-logo-450-v3.png
Lindsey Chester
2014-05-07 16:15:40
2016-12-08 11:40:04
New Owners Refresh Ben's Bargain Barn