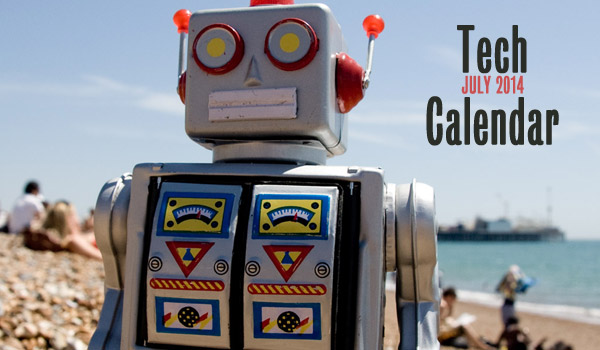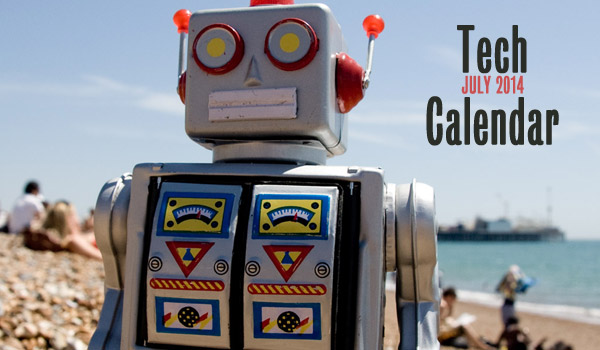 Cary, NC – Here is a quick summary of technology events coming up in July 2014 and beyond from Ian Henshaw of TechTank in Cary.  If you have an event you'd like to add to the Tech Calendar, contact Contact Ian. 
Quick Links
July Tech Calendar
Triangle Startup Weekend: Education Bootcamp – Tuesday, July 8, 2014 from 6:00 PM to 8:00 PM (EDT) in Raleigh, NC. Are you just entering education entrepreneurship and at the idea stage, or operating in another sector and exploring the education space? Join us for "Business Models in Education: Creating a Sustainable Venture" to learn about proven business models in education, and to immediately apply your knowledge in a hands-on workshop while getting feedback! Also check out the Triangle Startup Weekend: Education event – Friday, July 18, 2014 – Sunday, July 20, 2014. Details are below.
Morrisville Startup Networking – Thursday, July 10, 2014 from 5:30 PM to 7:00 PM (EDT)in Cary, NC. The Morrisville Start Up group will host its third meeting at West Park Tavern, a little south of Morrisville but still close by.
Triangle Startup Weekend: Education – Friday, July 18, 2014 at 6:00 PM – Sunday, July 20, 2014 at 9:00 PM (EDT) in Raleigh, NC. Have you ever had an idea for improving education? Here's your opportunity to transform your education ideas into action in 54 hours. Find the right people with complimentary skills & the passion & dedication to build a startup quick & smart. Test your idea with real potential customers, receive coaching from experienced education entrepreneurs & industry professionals, and win prizes that will help you take your startup idea to the next level of execution!
Startup & Play: Main Event – 6:00 P.M. to 9:00 P.M. on Thursday, July 24th in Durham. Our main goal is to help create a groundswell of support for consumer-facing Triangle startups. We passionately believe that the Triangle community is stronger if we all work together. As such, we want to connect all of the cool, young companies directly with the community at large and with each other. Ultimately, we want to help bridge the Durham-Chapel Hill-Raleigh ecosystems through a collective celebration of entrepreneurship!
August
Triangle Startup Weekend: Health – August 8th-10th in Durham, NC. All Startup Weekend events follow the same basic model: anyone is welcome to pitch their startup idea and receive feedback from their peers. Teams organically form around the top ideas (as determined by popular vote) and then it's a 54 hour frenzy of business model creation, coding, designing, and market validation. The weekends culminate with presentations in front of local entrepreneurial leaders with another opportunity for critical feedback.
Cryptolina – August 15-16, 2014 in Raleigh, NC. "The defining Bitcoin event for the Carolinas." Cryptolina is the Carolinas first event bringing together Bitcoin entrepreneurs, financial professionals, venture capital and angel investors, enthusiasts and others who are looking to network, learn and discuss the emerging cryptocurrency industry.
WorkShift 2014: The First Conference for Coworking in the Southeast – Saturday, August 16, 2014 from 8:00 AM to 5:00 PM (EDT) in Durham, NC. An unconference for people who own, operate or work in a coworking space!
September
Forward Triangle – September 9-12, 2014 in the Triangle, NC. We bring together entrepreneurial communities to provide resources, knowledge and connections for businesses to succeed. Triangle Entrepreneurship Week has evolved into Forward City (Exit Event Article)
Innovate Raleigh Summit – Thursday, September 11, 2014 from 11:00 AM – 5:00 PM (EDT) in Raleigh, NC. More details to follow.
BlendConf – September 11-13, 2014 in Charlotte, NC. A generalist conference featuring 60 diverse speakers sharing ideas and conversations about user experience, design, and web development.
NC Datapalooza Final Pitches – Friday, September 12, 2014. More details to come.
NCDevCon 2014 – North Carolina's Premier Web Conference – Saturday, September 13, 2014 at 8:00 AM – Sunday, September 14, 2014 at 3:30 PM (EDT) in Raleigh, NC. NCDevCon is a 2 day web and mobile development conference in Raleigh, NC. For $200 you get access to all sessions and hands on classes. Your conference fee also includes lunch, a snazzy conference T-Shirt and admission to our evening networking event. Learn more at ncdevcon.com
ICMA Hackathon Hackstock for #LocalGov – Saturday September 13, 2014 to Sunday, September 14, 2014 in Charlotte, NC. the ICMA or the International City/County Management Association will hold a hackathon in conjunction with the ICMA 100th Anniversary Conference to be held in Charlotte, NC. Participants in Hackstock will use data provided by local governments across North America to develop new mobile and online apps and dashboards needed for greater citizen engagement and improved service delivery.
Ignite Charlotte 7 – September 16, 2014 @ 6:00 PM – 9:00 PM (EDT) in Charlotte, NC. "Enlighten Us, But Make It Quick!" is the mantra and key to Ignite Charlotte 7 talks. This truly fun, exciting and unique presentation format brings together community members involved in technology, arts, communications, education, non-profit, the government sector, and more.
CED Tech Venture Conference: The Internet of (Every)thing – September 16-17, 2014 in Raleigh, NC. You're invited to this year's CED Tech Venture Conference, to be held September 16-17, 2014 in Raleigh, NC. Join 600 of the region's most promising early-stage and high-growth companies, leading investors, and tech enthusiasts as we explore how the ubiquitous "Internet of Things" paradigm is increasingly blurring the lines between the physical and digital worlds.
Edcamp NC 2014 – Saturday, September 27, 2014 from 9:00 AM to 4:00 PM (EDT) in Raleigh, NC. Edcamp is a new education movement sweeping the country. It is an "unconference" that takes everything you love about conferences: meeting new people, learning amazing things, and getting excited about education with an easy and free flowing format. Join us on Saturday, September 27 at the Friday Institute for Educational Innovation at NC State University for the most amazing "unconference" you've ever seen!
October & Beyond
Triangle InfoSeCon 2014 – October 16, 2014 from 8:00 A.M. – 5:00 P.M. (EST) in Raleigh, NC. The Raleigh ISSA Chapter fall conference is a great opportunity to learn more about information security, talk with companies who provide security products and services, and network with fellow information security professionals. We submit CPE Credits automatically for attendees who provide their CISSP certification information. Registration Site
BSIDES – October 17, 2014 in Raleigh, NC. Security B-sides (BSides) is a community-driven framework for building events for and by information security community members. The goal is to expand the spectrum of conversation beyond the traditional confines of space and time. It creates opportunities for individuals to both present and participate in an intimate atmosphere that encourages collaboration. It is an intense event with discussions, demos, and interaction from participants. It is where conversations for the next-big-thing are happening.
Southeast SAS Users Group Conference – October 19 – 21, 2014 in Myrtle Beach, SC.
All Things Open – October 22-23, 2014 in Raleigh, NC. A Conference Exploring Open Source, Open Tech and the Open Web.
Internet Summit 2014 – November 11-13, 2014 in Raleigh, NC. More information to follow.
———————————————————————————————-
Photo by Andy Wilson.
https://carycitizenarchive.com/wp-content/uploads/2014/07/tech-calendar-july-2014.jpg
350
600
Hal Goodtree
https://carycitizenarchive.com/wp-content/uploads/2020/03/cc-archive-logo-450-v3.png
Hal Goodtree
2014-07-02 16:51:30
2020-01-27 17:06:04
Tech Calendar: July 2014