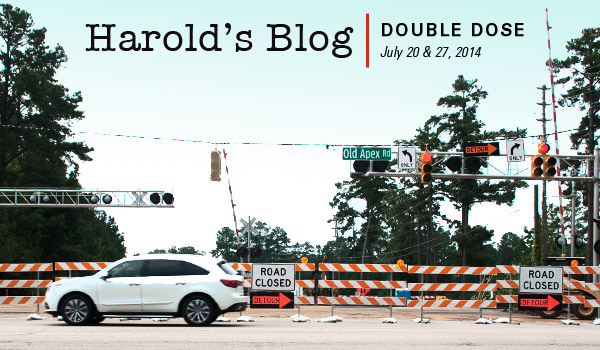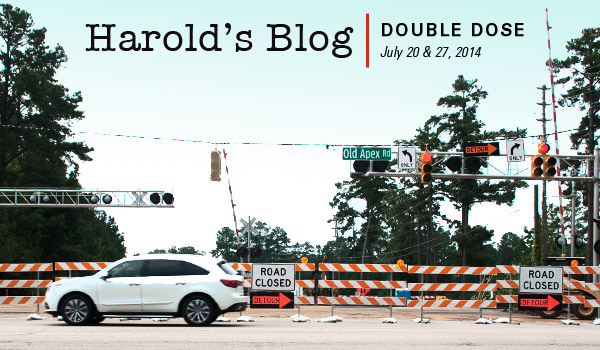 Editor's Note: CaryCitizen was on vacation last week. This week, we're publishing a double dose of Harold's Blog from July 20 and July 27, 2014. 
July 20, 2014
From the blog of Cary Mayor Harold Weinbrecht.
Cary, NC — This week was dominated by a regularly scheduled council meeting and a couple of political meetings.
Monday began with calls to council members to hear of their concerns or questions about the agenda for Thursday's regularly scheduled council meeting. I was able to contact and have conversations with three members. Most of our discussions centered on the Green Level West Road Widening project, the Howard rezoning on Carpenter Fire Station Road, the public art for Fire Stations #2, and the council initiated school capacity issue. Since the meeting had nine scheduled public hearings and ten discussion items I predicted the meeting would last until 10 PM.
Later Monday I met with the town manager and several staff members to discuss an economic development issue.
Tuesday I had the honor and privilege of meeting and talking with Clay Aiken who is running for the Second Congressional District seat. If you think that Clay is just a singer with a golden ticket then you are sorely mistaken. I was extremely impressed with his knowledge of all the national issues and his district. What I also liked was his eagerness to work with both parties. In fact his logo starts with blue coloring and goes to red symbolizing this bipartisanship. Clay Aiken has a passion for helping people and doing what is right for his district regardless of party affiliation. I think he would represent Cary and his district well and be a breath of fresh air in Washington. I would invite anyone to check out his stance on issues and contact him. His campaign office is in downtown Cary and is staffed by smart, knowledgeable people.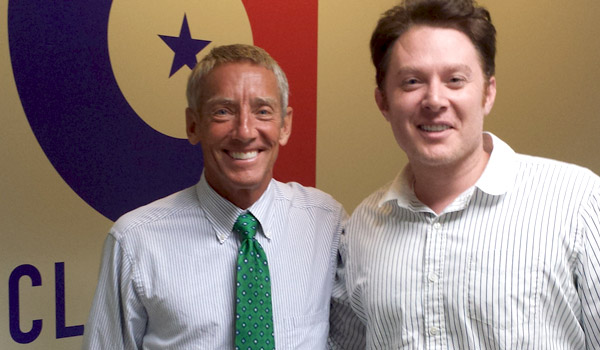 Wednesday I headed down to Pinehurst to give welcoming comments and a mid-year update to the attendees at the Cary Chamber's Annual Planning Conference. My talk lasted about ten minutes and included about a dozen PowerPoint slides. To see my slides go to http://origin.library.constantcontact.com/download/get/file/1113097892257-242/2014+Mid-Year+Review+-+Chamber.pdf.
Later Wednesday I was scheduled to attend the monthly meeting of the Capital Area Metropolitan Planning Organization but that meeting was cancelled. So I headed over to former council member Erv Portman's residence for a Jessica Holmes fundraiser. Jessica is running for Wake County Commissioner. I had the honor of introducing State School Superintendent June Atkinson who made a few comments. Later we heard from Jessica about her passion for education. She told a great story about how education and teachers changed her life. You can find out more about Jessica Holmes at http://www.jessicaforwake.com/.  Also in attendance were about a dozen or so candidates for other offices.  I stayed and talked with folks for about two hours.
Thursday the council held one of three regularly scheduled monthly council meetings. The nine public hearings did not draw many speakers. However there were a few that spoke of the rezoning proposal for a YMCA on the land next to the Crosspointe Church on Carpenter Fire Station Road. Discussion items took much more time. The Howard rezoning was approved and I was the dissenting vote. My objection was the 6000 square foot lots which I believe is too small for a single family house unless it is a cluster home. The next discussion item was public art on the new fire station that is being built. Council wanted integrated art instead of affixed art so it rejected the proposal. One item that was a no brainer was to refurbish the water tower on Maynard across from Cary High School and build an additional tank near Maynard and Kildaire. Months ago information showed that this would be cost prohibitive but after much work by the staff we were able to save the old tower. Other agenda items included the appointment of the aging issues task force, direction to staff to investigate adding minimum lot sizes to the land use plan, and direction to staff to investigate changing the land development ordinance to further discourage mass grading. Our longest discussion of the evening was about school caps in western Cary schools. Even though we are not the decision makers when it comes to schools, it is a very important topic that significantly impacts the town. The capped schools in western Cary will not allow more students even if you move into a home that already had a student going to that school. School board member Fletcher was on hand to provide data and answer questions. At the conclusion of that discussion, council member Robinson agreed to work with school board staff to come up with additional detailed information about the school caps. After two closed session items our meeting adjourned at 10 PM.
Friday morning I joined Mayor Pro-Tem Adcock to talk with a representative from a major publication. More on this at a future date.
In tweets this week the Raleigh-Durham (including #Cary) was ranked the #3 swim-friendly locales in US bit.ly/1wztvpH @WakeGOV @TriangleBIZJrnl @CaryChamber.
In emails from staff this week council was notified that contractors working on behalf of the Town will enlarge existing multi-purpose slabs at White Oak Park to create three permanent pickleball courts. A combination of tennis, badminton and ping pong, pickleball is among the nation's fastest growing sports.
Emails from citizens this week included a complaint about cluster mailboxes required by the US Postal Service, a complaint about electrical outages, and several invitations to participate in events.
Next week I will be spending time entertaining visitors from Japan that work for SAS. In addition to those meetings and events I will be attending a few meetings including a meeting of the Wake County Mayors Association. I will also join council member Frantz in the taping of the August episode of Cary Matters.
My next post will be on Sunday, July 27th. Although I have Facebook and Twitter accounts those are not the best means of communications with me. Please send all Town of Cary questions or comments to Harold.Weinbrecht@townofcary.org and email personal comments toaugustanat@mindspring.com.
July 27, 2014
From the blog of Cary Mayor Harold Weinbrecht.
Cary, NC — This week was a much slower week with a lot of time spent on non-town related issues.
Monday I met with the town manager, the assistant to the town manager, and one of the assistant town managers. We talked about our annual retreat which is held at the beginning of the year. While it might seem a little ridiculous to talk about that now it is important to plan this event to make sure it is effective. The annual retreat is when direction is set for the year. After that topic I talked with the town manager about other minor issues.
Tuesday I was part of a Cary SAS contingent entertaining a group of SAS workers from Japan. We took them to a Durham Bulls game and had a great time in spite of seeing the Bulls lose 4 to 0.
Wednesday I joined council member Frantz for the taping of the August episode of Cary Matters. Our main topic for August will be the US Postal service and the cluster mail boxes which have been causing a lot of problems in Cary. Our taping was done in a record time of just 18 minutes.
Thursday I talked with a representative of the Pritchet rezoning proposal on Holly Springs Road. They have continued to make concessions to try and accommodate the residents adjacent to the property. I, along with these county residents, am looking for a transition from town to county.  It is my hope that the densities will be lower and that residents will support the proposal. The residents will meet Monday night to decide their next step. Council will vote on this Thursday.
Friday's meeting of the Metro Mayors was cancelled so that staff could attend the NC House meetings that were in session. Later in the day the Metro Mayors staff reported that the Senate will be in skeleton session Monday at 9:30 AM but is planning to come back later it the afternoon for action. And that House Rules Chair Representative Moore said there was not a budget deal. The House held a non-typical session which is probably a sign the end could be near.
Emails from staff this week included a notification that the Town of Cary and regional transportation partners will present the findings of the Harrison Avenue railroad bridge feasibility study. There has been plenty of research and public input leading to this presentation which will be held at the Cary Chamber of Commerce on August 5th from 4 to 7 PM. Staff also sent out a notification that there will be parking lot resurfacing at Godbold and Bond Parks. The resurfacing at Godbold Park will begin July 28th and finish by August 1st. The Bond Park resurfacing will be from July 28th until August 24th.
Next week's activities will include the swearing in of our new town clerk Sherry Scoggins, a work session, a council meeting, and the dedication of a tribute in honor of 50 years of Rotary in Cary. The Rotary tribute is a five sided granite piece of art. Each side represents one of the five Rotary clubs in Cary.
My next post will be on Sunday, August 3rd. Although I have Facebook and Twitter accounts those are not the best means of communications with me. Please send all Town of Cary questions or comments to Harold.Weinbrecht@townofcary.org and email personal comments toaugustanat@mindspring.com.
————————————————————————————————–
Cary Parkway closure photo by Hal Goodtree. Clay Aiken photo provided by Harold Weinbrecht.
https://carycitizenarchive.com/wp-content/uploads/2014/07/harolds-blog-0720-0727.jpg
350
600
Harold Weinbrecht
https://carycitizenarchive.com/wp-content/uploads/2020/03/cc-archive-logo-450-v3.png
Harold Weinbrecht
2014-07-28 14:26:04
2016-01-12 17:33:04
Harold's Blog: Double Dose