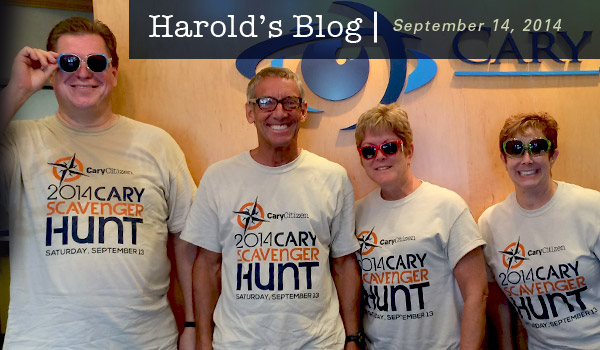 Cary, NC — This week was typical for a regularly scheduled council meeting.
Council Meeting Prep
Monday I attempted to contact council members about Thursday's upcoming agenda. I was only able to contact two. In my discussions, there was interest in the naming of the park at the old Bartley farm located on Penny Road near the intersection at Holly Springs. Discussions also included the Barbee tract in Preston and the Kildaire Farm/Cary Parkway intersection analysis.
Later in the day I met with management, directors, public information, administration, and legal to go over the items on the agenda. Our meeting lasted about 20 minutes and I predicted Thursday's council meeting would last until about 9 PM.
Brad Cooper
After the agenda review, I met with the town manager and the public information officer. They wanted to make me aware that a story had been leaked to the news about convicted murderer Brad Cooper possibly making a plea deal for second degree murder rather than going through a retrial. In case you are wondering, the town isn't really involved in this matter at this point.
Legal Work
Tuesday I had my quarterly meeting with the town attorney. We spent a half an hour mostly talking about legal risks associated with rezonings.
Another Environmental McDonalds in Town
Wednesday I attended the Gold LEED Certification ceremony for the McDonalds at Crossroads. Joining me was NC Secretary of Commerce Decker and several of McDonalds' upper management. We were two of the half dozen speakers to be able to thank and congratulate owner Ric Richards for his second Gold LEED certified restaurant in Cary, making Cary the only municipality in the world with that distinction.
In obtaining their Gold certification they recycled 95% of the old building and created a new building with several green features. For example, their solar panels heat the fryers, light is provided by solar tubes, food waste is composted, etc. These are just a few of the dozens of green features of this restaurant. This is a building of the future and reflects the sustainable, environmentally friendly community that Cary is creating. They give tours so I would suggest signing up for one if you get a chance.
Meeting with Economic Development and Miss Tar Heel
Wednesday evening I met with the Economic Development Committee. Some of the notes of interest included:
North Carolina's two largest employment centers (Charlotte and Raleigh) will grow faster than any large metro areas in the next 15 years.
Currently there are 7 active projects considering Cary. If they all located in Cary it would mean 3200 jobs, $335 million in investment, $1.2 million annual tax revenue, and 1.3 million square feet of office.
Class A office space is shrinking and is now below 8% and expected to continue dropping.
Cary's unemployment rate is 4.4% this quarter which is a slight tick upwards. Wake County is 5.5%, RTP is 6.0%, NC is 6.9%, and the US is 6.3%.
 The Chamber is exploring the creation of a "startup ecosystem". They are contacting key people about creating a co-working incubator place in Cary.
The VP of Economic Development is working with the Planning Director to identify potential future employment centers.
Numerous businesses and met and discussed the idea of locating in downtown Cary.
The meeting concluded in just under an hour.
Thursday afternoon I had the pleasure of meeting 8 year old Mary Harrison who was crowned "Miss Tar Heel State" 2014 Sweetheart along with her mom. They showed me videos of her competition and I heard her incredible voice. I am proud that she lives in Cary and that she is great example of the talent we have in this area. Next she will be heading to the national competition at Disney in Orlando. I wish her the best of luck.
Town Council Meeting
Thursday the council met for our 1st regularly scheduled meeting of September. Items that seem to generate the most interest included the public hearing for apartments in Weston, intersection improvements at Kildaire Farm Road and Cary Parkway, a rezoning on Indian Wells Road, the naming of a park, and traffic calming on Castalia Drive.
The public hearing for apartments in Weston had no speakers. However, council will have a tough decision of whether to allow multi-family in a place that was planned for office. While it might provide a good mix of uses it will take away valuable office land. As I mentioned earlier, the Raleigh/Cary area will be one of the fastest job growth areas in the country within the next 15 years.
Council also spent a lot of time discussing the intersection improvements at Kildaire Farm Road and Cary Parkway. I believe most of the council wanted to protect the median so we chose option 14 which would mostly add width rather than narrow medians. We also directed staff to look at options for High Meadow Drive which impacts that intersection.
The Indian Wells Road rezoning was to allow 3 single family homes per acre. This future subdivision is west of 55 in an area which is seeing a lot of growth. But the proposal was for the smallest density possible and it matched our land use plan. It is important to understand that our job at a rezoning is to decide the best possible use of the land. In my opinion the proposal of the lowest density was the best possible use.
Council decided to name the park on Penny Road near Holly Springs Road for sitting council member Jack Smith. Council member Smith is the longest serving council member ever with 25 years and counting. In the future when people visit the park and ask who Jack Smith is they will find out that he gave a good portion of his life in service of this town. We are blessed to have such a great public servant. Thank you for all your years of service Jack and I hope to work with you for many more.
Our last discussion point for the evening involved the repaving of Castalia Drive and whether or not to restripe it. Residents previously asked council to have more time to collect signatures to not have the striping. By the time of the meeting 82% of the residents signed a petition to not have the road striped. So council voted to repave without the stripes.
The council meeting ended about five minutes before 9.
Walk-To-School Day and Overcrowding
Friday, I had the joy of joining in the Walk-To-School Day event at Highcroft Elementary. There were about 100 students in attendance with parents and teachers at the neighboring park. The event started with games of soccer, hula hoop, and other activities. Then there were few speakers including me. After the talks local leaders from the YMCA led the group in stretches and exercises. Around 8:30 the walk started. What a fantastic event and I am looking forward to joining them again next year.
Later Friday, I talked with a County Commissioner about the school overcrowding in western Wake County. She mentioned, and I agreed, that it is not just western Wake County that is experiencing growth issues. We talked about possibilities of getting schools sooner rather than later and about how to fund those schools. At the conclusion we agreed to work on a meeting with others.
Cary Scavenger Hunt
Saturday, I joined council member Bush in participating in Cary's 5th annual Scavenger Hunt. This was my 2nd year as a participant. The other 3 years I was a judge. Council member Yerha was also a participant and council member Smith was a judge. As a participant we had to get as many pictures and answers to 25 pages of clues in a span of about 4 hours. This included driving over most of Cary's 60 square miles. Being the driver this time I can tell you it was nerve racking. Overall it was great fun and, as always, I learned something new about Cary.
Emails from Staff
Emails from staff this week included development and construction activity for the month of August. During the month there were 11 non-residential development plans approved totaling over 110,000 square feet. 6 residential plans were approved for 163 townhomes, 72 single family houses, and 0 multi-family units. Currently there are 23 rezoning cases in review, 9 annexation cases in review, and 4 comprehensive plan reviews. 52 new single family permits were issued in August which is a 46.39% decrease from last month and a 52.29% decrease from the same period last year.
Staff also sent an email with the current projects under review. Some of the projects that began the process in July and August include:
4800 square feet of retail by the Patel brothers on Chatham Street
44 single family units on the Young property off Old Apex Road
81,252 square foot Courtyard by Marriott hotel at Parkside Commons
A greenway connection to Crabtree Creek on Weston Parkway
An elementary school on Pleasant Grove Church Road14,400 square foot church by Raleigh Chinese Christian ChurchA bank at Parkside Commons19,011 square foot office building on Pinedale Springs Way152 single family homes and 270 townhomes on Petty Farm Road
38 single family homes on Highcroft Drive
18,932 church on White Oak Church Road
96,384 square foot building for a YMCA on Carpenter Fire Station Road
To see the complete list of projects under review go to http://www.townofcary.org/Assets/Planning+Department/Planning+Department+PDFs/planreview/Active+Projects+in+the+Review+Process+(sorted+by+date).pdf.
In another staff email council members were made aware of a new statute adopted by the legislature that permits 'temporary family health care structures' to be placed as an accessory use on single family lots regardless of local regulations concerning accessory use. I can see this being a potentially big conflict in the future.
Emails from Citizens
Emails from citizens this week included comments about traffic calming on Castalia Drive, concerns about the school board changing Mills Park Middle School to a year round calendar, a concern about high grass on the state portion of Bond Park, a concern about school overcrowding in general, and a comment about the Cary Parkway and Kildaire Farm intersection.
Get in Touch
Next week will be much slower and will include a meeting of the Mayor's Association and CAMPO.
Well, that is all for this week. My next post will be on Sunday, September 21st. Although I have Facebook and Twitter accounts those are not the best means of communications with me. Please send all Town of Cary questions or comments to Harold.Weinbrecht@townofcary.org and email personal comments to augustanat@mindspring.com.
https://carycitizenarchive.com/wp-content/uploads/2014/09/harolds-blog-0914.jpg
350
600
Harold Weinbrecht
https://carycitizenarchive.com/wp-content/uploads/2020/03/cc-archive-logo-450-v3.png
Harold Weinbrecht
2014-09-15 16:15:33
2019-12-07 17:01:24
Harold's Blog: Town Council Meeting, LEED McDonalds and the EDC