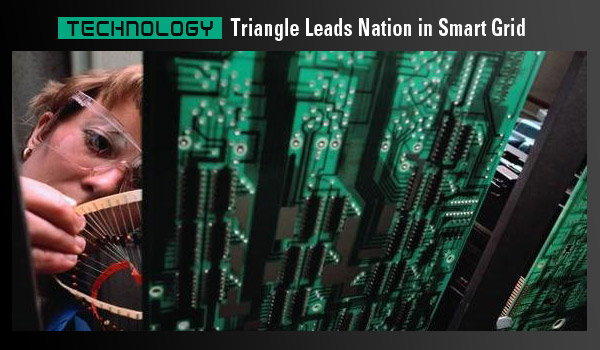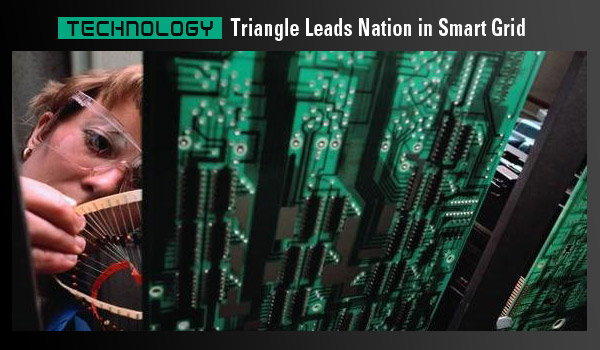 Triangle, NC — While summer heat and severe weather can cause power disruptions and outages, North Carolina is leading the charge in smart grid innovation to help improve energy distribution and help consumers conserve and efficiently use energy across North America and the world.
In fact, the Triangle region has the second-largest smart grid sector in the nation, following southern California.  Dubbed by national media as the "new Silicon Valley," the Triangle is home to more than sixty companies in the smart grid sector including ABB, Power Secure, Sensus, SAS, Eaton, TE Connectivity, Red Hat, Siemens and PlotWatt, among others.
Although internationally recognized smart-grid companies are in our backyard, the question remains: Will North Carolina utilities and their customers widely use the innovative technologies in the near future?
What is Smart Grid?
For a century, utility companies have had to send workers out to gather much of the data needed to provide electricity to its customers. The workers travel through our communities to read meters, look for broken equipment and measure voltage, for example – and customers have to call the utility to report a power outage. Most of the devices that utilities use to deliver electricity have yet to be automated and computerized. Now, many new options and products are being made available to the electricity industry to modernize it.
"Similar to the hi-tech improvements we've seen with smart phones over the last decade, the smart grid in its simplest form, means computerizing and updating the electric utility grid via newer technologies," said Betsy McCorkle, Director of Government Affairs with the NC Sustainable Energy Association.
Enlisting a variety of digital technologies, the smart grid monitors and regulates the distribution and movement of electricity from the power generation source (e.g. power plant) to homes and businesses via two-way communications.   By automating distribution and demand response, the smart grid can also better harness renewable sources of energy to help boost energy production and improve grid reliability.
Beyond avoiding, isolating and managing power disruptions, smart grid technologies also have the ability to provide consumers and businesses with useful information they can use to manage their energy consumption and reduce their electricity bills.
For example, Power Secure and HoneyWell staff in North Carolina are developing innovative technology for use at Fort Bragg as part of a new Micro Grid, which will improve the base's energy security, usage and savings. Once completed in early 2015, the new micro grid will monitor spikes in energy use and send alerts to the base at appropriate times to reduce consumption and avoid overburdening the electrical grid, while also increasing its energy savings.
Economic Impact in NC
According to industry analysts, the digital power grid is expected to replace our aging grid and create a host of new technology jobs for communities. Within North Carolina, the smart grid sector includes more than 3,000 jobs across nearly sixty companies, according to Wake County Economic Development and Duke University.
One local example is ABB, a global leader in power and automation technologies. With its North American headquarters in Cary, ABB employs approximately 30,000 people across the U.S. in multiple manufacturing, engineering, service and other major facilities, with more than 120,000 additional employees around the world.
Ongoing Innovation
"North Carolina is at the epicenter of developing smart grid technologies – and we're hopeful that we'll see more of these technologies used by our utilities and their customers in the years to come, as well as continuing to be exported across the nation and around the world," said McCorkle. "However, smart grid technologies, like smart meters and smart appliances, must also be coupled with updated energy regulations and policies, which allow these technologies to be installed in our homes and businesses, while engaging and empowering customers."
Nationally, smart grid technology is expected to minimize energy waste, achieve greater reliability of electricity delivery and maximize the use of clean energy.  Moreover, efforts to modernize the power grid also include next generation smart metering for timely information and control options for consumers and businesses to harness renewable energy sources, such as solar or wind.
An increasing number of homes will be equipped with 'smart' appliances and consumer devices to maximize energy efficiency, while giving consumers greater access to energy usage data.
——————————————————————————–
Story by Kiersten Williams, Gibbs & Soell, Special Guest Writer.
https://carycitizenarchive.com/wp-content/uploads/2014/09/smart-grid.jpg
350
600
Community Contributor
https://carycitizenarchive.com/wp-content/uploads/2020/03/cc-archive-logo-450-v3.png
Community Contributor
2014-09-15 12:04:20
2014-09-15 12:04:20
Technology: Triangle Leads Nation in Smart Grid