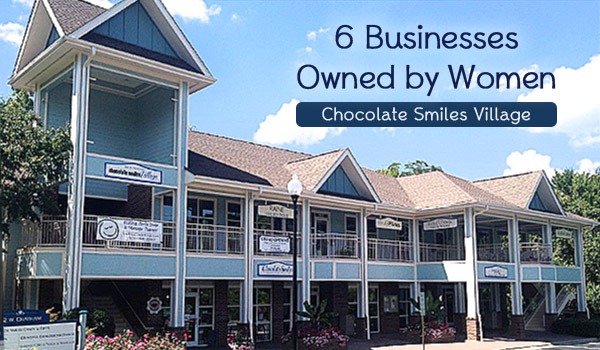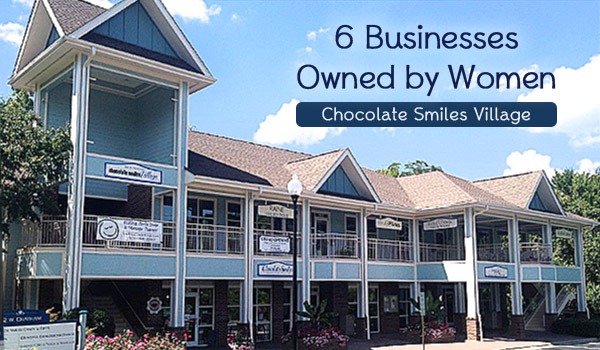 Cary, NC — Six businesses owned by women are hoping to make their mark in downtown Cary at the shops on West Chatham collectively known as "Chocolate Smiles Village."
With the recent addition of a new business called "Rain Nail Boutique," the Chocolate Smiles Village is now full. Every business in the building is owned by an independent woman who is eager to work together with her neighbors to bring downtown Cary some unique offerings.
Chocolate Smiles
Called "Everyone's Favorite Chocolate Shop," Chocolate Smiles certainly is Cary's original premium handmade chocolatier.
Owner Melanie Williams has a background in computer science but was laid off eight years ago after having spent 18 years in the industry. She then heard about the opportunity to purchase the chocolate business. "Everything happens for a reason," she exclaimed as she talked about her position as the store's fourth owner.
Melanie enjoys the excitement of experimenting with new flavors and the creation of new molds for the tempered chocolate. The day CaryCitizen visited, she was consulting with a customer about a baby shower gift basket that would use themed molds.
Everything is made on site in the kettles at the back of the shop. When you walk in, there is no mistaking that aroma! In the shop's display case sit hundreds of specialty truffles, snappers (or "turtles"), toffees, nut clusters, and many flavors of fudge and glace fruit slices. There is even a "Five O'clock line" of chocolates that feature liquor and cordials (think Mojito, Wild Turkey and Strawberry Daquiri).
The store is a go-to location for teacher gifts and holiday baskets, and a line stretches out the door during the Valentine season.
Graceful Expressions Dance
Graceful Expressions Dance is located right beside Chocolate Smiles. The established studio moved to the lower level of the building three years ago, making the location easily accessible to students and therefore delighting owner April Schweitzer. April's dance instruction ranges from preschool pre-ballet to adult classes and includes ballet, tap, jazz, modern, and hip-hop.
Graceful Expressions has a performing company of more experienced dancers who give an annual benefit performance at the Cary Arts Center (see CaryCitizen story). This year's benefit will be based on a local writer's work called Papa's Pastries.
The end of each year concludes with a story-based Spring recital, in which all dancers take part and classes are fully integrated to take part. This year, the studio will perform Sleeping Beauty at the Cary Arts Center.
Studio 180 Salon
Anna Smith, owner of Studio 180 Salon, moved her established hair salon from its original location on Maynard Road to the Chocolate Smiles Village three years ago. The move of less than a mile gave her clients more parking and a more centralized location. At that time,  the village was almost empty; only the chocolate shop remained, and the dance studio had just moved in directly below her.
The salon's name takes its cue from their willingness to "turn your look around," and they are happy to guide you in the process. Anna and her staff each have over 20 years experience in the hair business. She says they aren't really looking for walk-in business, as they are busy with clients who seek consistent service and a high quality product.
The salon features Schwartzkopf color from Germany, which is known for its great color and low ammonia. They specialize in cut, color, hair texture, and special occasion hair services, as well as kids of all ages and both genders. Customers may also purchase Nevo organic, Aqauge, and Biomega hair products. The salon has a cozy, intimate feel and can be booked for wedding parties, where a group can come in and have the place to themselves while they have their hair styled for the big day.
The studio owners are on the board of the Cary Art Loop (see CaryCitizen story) and the studio changes its gallery displays every two months.
Blue Sky Pilates
Kelli Loomis moved her business from the Heater House on Dry Avenue to the building one year ago after outgrowing her previous space. She now teaches 13 classes as well as duets and private lessons on her five reformers, five pilates chairs, and additional equipment all set up as stations. The move allowed her to expand her space from 1000 to 3000 square feet.
Her classes start with gentle beginner lessons all the way up to intermediate and advanced, and she prides herself on her ability to accommodate people of all fitness levels. All her exercise techniques focus on core strengthening. Classes can consist of as many as five people, each on one machine. She does not teach mat pilates. Kelli's background includes National certification as an athletic trainer, but after some time spent as a stay-at-home mom she started taking Pilates. She liked that the exercises could work therapeutically for clients. What Kelli likes best about pilates is that, "Once you do pilates for a while, you become more aware of your body, even when you are away from the studio. You will be less likely to become injured."
She has a bridal special where she can set up goals with the bride and even offer a package to include the bridal party.
Smiling Circle Yoga and Massage Therapy
Yeong Chang moved her business, Smiling Circle Yoga and Massage Therapy, to Cary in April. She came from a small town in Massachusetts where she had been teaching  for 13 years until her husband's job brought them to the Triangle area. It has been hard to move from her established clients, and she has actually made a couple visits North to work with them as her Cary business starts to grow.
At Smiling Circle, Yeong works to help clients remove chronic pain, and to stop the cycle of bad posture and bad habits that lead to the pain. She helps patients with occupations that may enforce repetitive motion or unbalanced use of their bodies. She does this through clear and easy-to-follow instructions with yoga poses and massage. She gives short meaningful reminders.
For yoga, Yeong offers different classes during the day and evening, and clients can purchase packages for 90 or 60 minute sessions. Clients can also drop in. Her massage sessions always start with an evaluation in which clients lie supine, face up. Then she tugs the legs to see if they are balanced and stretches the hips. She can evaluate the balance in the body and see what needs correction. Through a series of two second stretches she promotes healing. Her aim is "to follow the chain to correct the source of the pain." She encourages her clients to make some common sense changes to their daily routine to help improve the way they feel.
Rain Nail Boutique
The most recent addition to Chocolate Smiles Village is Raine Nail Boutique. Owner Debra Fagen also moved her business from another Cary location. She was up the road on West Chatham in a detached home, but when the space on the second floor opened up, she took the opportunity to expand her spa nail salon and to add an element of shopping, too.
Raine specializes in spa manicures and pedicures that utilize luxury organic products for a 100% natural nail treatment. Looking for a gel manicure? This is not your spot! Want healthy nails and cuticals and a little pampering? Debra has you covered. She does offer a nail product called Vinylux that lasts for 10 days. It's all natural and does not require harsh chemicals or special light treatments to apply or remove.
With the larger space, Debra expanded into a shop that is about half nail salon and half gift shop. There are handmade bags, cases, murano glass, some jewelry, and even lamps. Be prepared to spend some time when you visit–a typical manicure will take one to one and a half hours because Debra doesn't want to rush her clients. Manicures start at $40 and pedicures start at $60. She can also accommodate bridal parties where folks can rent the entire space and have their nails done as a private group.
These women-owned businesses have filled the building down on West Chatham with a mind, body and soul-ful vibe that is energizing. As they collaborate, CaryCitizen will be eager to see how they expand and help to change the landscape of our Downtown. Give them a visit and tell them that CaryCitizen sent you!
https://carycitizenarchive.com/wp-content/uploads/2014/09/chocolate-smiles-village.jpg
350
600
Lindsey Chester
https://carycitizenarchive.com/wp-content/uploads/2020/03/cc-archive-logo-450-v3.png
Lindsey Chester
2014-09-18 13:36:36
2015-02-13 10:51:38
Chocolate Smiles Village: 6 Businesses Owned by Women