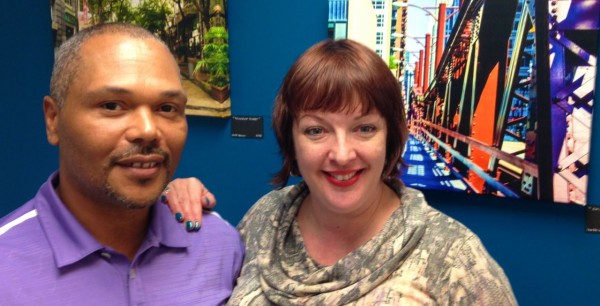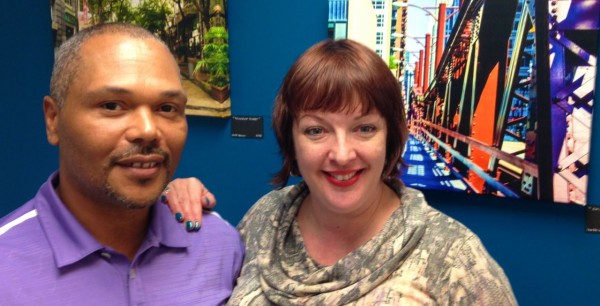 Cary, NC – The Cary Art Loop was founded in 2005, but for years the group had no central voice getting the monthly art show information out to the public. The monthly receptions held by the Town at Page-Walker, Town Hall and other public venues were publicized in the Town blasts, but other member galleries seemed paralyzed with a non-functioning website and no central leader to gather info and coordinate the monthly event.
Enter Anthony Miles and Anna Smith, owners of Studio 180, who re-created the group's website and finished official filing for 501(c)3 non-profit status this Spring.

Gallery Crawl Brought Customers
The couple originally opened a hair salon in 2006 located on High House while they waited for a location in Downtown Cary. Anna liked having art on the walls of her salon and admits the monthly Final Friday Cary Art Loop actually brought her new customers. She was hooked and eager to see the Cary Art Loop work for all member galleries.
Anthony  wanted to see a website that worked for all the members, an accurate map of member locations, and C-Tran stops for gallery patrons.
Founded in 2005
The Cary Art Loop was started in 2005 (by Jason Carenas, Terri Pastrana and Connie Pappalardo) as a way to generate some buzz about the arts in Cary. Founding member galleries included Cary Gallery of Artists, Coffee & Crepes in Crossroads, and Fine Arts League of Cary (FALC), and they were assisted by Denise Dickens, Town of Cary Public Art Coordinator and Lyman Collins, Cultural Arts Manager.
The group received some initial funding from the Town from a Lazy Daze grant which enabled them to form their charter and start the work of filing for official non-profit501(c)3 status. That filing was never completed.
When Jason Cardenas, the group's president, moved to Canada, the group floundered.
Achieved 501 (c)3
Anna and Anthony got more involved in 2011 when they moved Studio 180 Salon to its current location in the Chocolate Smiles Building on West Chatham Street in Downtown Cary. They saw that the group was not unified when they attended Art Loop meetings with the town's cultural arts staff. No one was eager to take on the responsibilities to get events moving forward.
The first item Anthony tackled was printing 5000 copies of an accurate map of vendor locations to be placed around town for patrons to use on Final Fridays. Then he began to work on the group's website, based on an easy to use WordPress format. And most important of all, Anna and Anthony finished the filing of all the paperwork necessary to maintain the group as a 501(c)3 corporation for tax filings and non-profit status.
They began applying for grants to fund  additional printings and recently were awarded their first one.
Cary Art Loop – Over 30 Venues
Now they are working on adding more venues to the impressive 30 venue list. Members include galleries and retail locations that all show art and have receptions during Final Fridays (which are usually held the last Friday of every month). Hours of the events are roughly 6-9:00pm and may include music and refreshments and most certainly art.
It is free to attend the shows and meet the gallery owners and artists. With the help of the Town's C-Tran, who donates the use of one of their trams during the evening, patrons can easily go from one venue to another, and park once downtown.
Eager to make the group a success, Anthony is working on member benefits to include special media opportunities, and coordination with the Heart of Cary, and the Downtown Merchants Association. Businesses can tag onto the events by remaining open on Final Fridays, even if they aren't showing art. These events can be a win-win for all and help to create a lively night scene in Downtown. Members aren't necessarily all art galleries. Like Studio 180, other non- gallery members include Un Vine'd Wine Bar and Stonehaven Jewelry.
Not doing anything this Friday (August 30), give Cary Art Loop's August 2013 Final Friday a try!
This months event:
Cary Art Loop
Friday August 30 2013
6:00 – 9:00pm
Check listing for participating galleries
Come down, hop on the C-Tran and enjoy an evening of art, music and refreshments.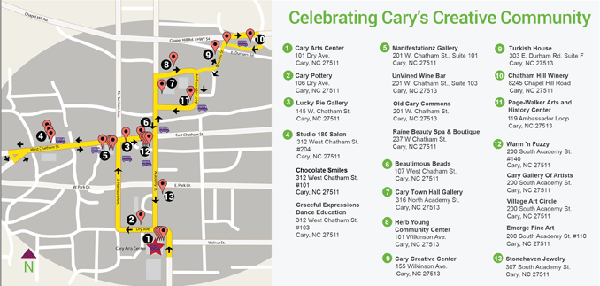 ——————————————————————————————————
Downtown coverage on CaryCitizen is sponsored in part by Heart of Cary Association.
https://carycitizenarchive.com/wp-content/uploads/2013/08/anthony-Anna-2-e1377094815725.jpg
306
600
Lindsey Chester
https://carycitizenarchive.com/wp-content/uploads/2020/03/cc-archive-logo-450-v3.png
Lindsey Chester
2013-08-27 15:55:56
2019-12-08 10:10:29
Cary Art Loop Comes Full Circle