Cary, NC — This is the third installment of our Candidate 2014 series, in which candidates get to respond in their own words to the same three questions.
As usual, we publish the responses in the order we receive them. Next up is Ray Martin, running for the District 11 seat in the NC House.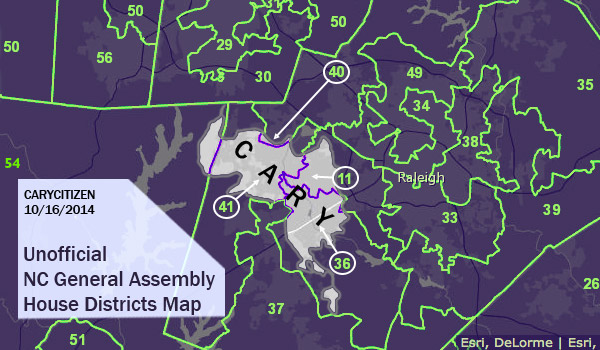 Q: Why are you running?
On Tuesday, November 4th, I am asking for your trust and vote to allow me to serve as your representative. I owe you an explanation of how I will represent you and your family. I need to outline how I will prepare myself to press the voting button – to vote Yea or Ney for you.
As you visit my website or read my various handouts on the issues of this election, you will learn my thoughts on current issues. But, what of those issues that will arise during my time of service – how will I vote?
What will aid me to make the best decision for you and your family?
All of us make decisions every day that we did not know we would be required to make. We base these decisions – large or small – on our values! Therefore, what are my core values? Why do these values lead me to run?
1. Faith in God's Love is my base value.
It provides my strength to face the day knowing that with His help, I will live my life in His service and to His Glory. Thus, it may be selfish of me to wish to be your public servant, but through my faith I know I can be both your representative and His servant. Truly, I wish to be His servant! Through my faith I know I can be His servant, a public statesman, and your representative. So don't be surprised if you observe me praying before I press that voting button. It will happen often!
2. Family built my faith.
Early in my life, a divorce placed my mom, sisters and me in the home of my dad's parents. There on South 2nd street in Richmond, Indiana, I was loved and corrected by my mom and grandparents. I was raised on the beliefs of three parents who survived the Great Depression, who knew the value of a single dollar, and how good work yields a good life. It is there that I learned to value my time and effort – to put my best forward in all that I attempted. Half effort was discouraged. Service to family, friends and community was expected. But, taking the lead was tempered with the compassion to lend a hand to those who needed it.
3. Public Education was my bedrock to success
Though my family helped as much as they could – my paternal grandparents spoke often of their 8th grade education – I had their support when I chose to leave a basic business math course and take geometry. I excelled. This was my first step to independence – discovering the "I in me!" This independence has led me to strive to serve through leadership.
During my life, I have worked hard to grow these three core values. Through my 41 years of service in the US Navy and Naval Reserve as a Chief Petty Officer, five years as a teacher and supervisor in commercial nuclear power generation, and as a computer applications teacher for WTCC classes at night and on weekends while daily serving as a teacher for 25 years in North Carolina public schools – I have held tight to my faith, family and belief in education and service as a community leader.
My mom stated that I was born a Republican. Her father, Grandpa Wehrley ensured that I knew it! He served as a Republican Sheriff in Ohio during the prohibition. But it was not until I registered to vote that I personally declared the Republican Party was my Party. A party based on faith, family, belief in education and service through leadership. I am a Republican because of the last four letters – "I Can".
So, my fellow NC House District #11 District members I ask for your Vote and Support on November 4th to be your public servant.
Q: What are your top 3 priorities and how will you get it done?
Jobs
Reduce Small Business Taxation and Regulations
Returning Respect to ALL State Employees
Plan for success:
Jobs start in school and through teaching that our society placing a very high priority: "What do you do? What is your job? How will that improve our society?" I shall strive to return this training to all 6-12 grade students.
Lower the taxation and regulations will increase the opportunity for small business to increase their profits and HIRE NEW Employees! One method is to streamline the payment of business taxes one day a month, versus every day! Also, professional regulations are the standard in several industries, and should be for all the others. Allowing small business professional associations to license and police their respective professions, would save money for the businesses and for our state!
Enough though money is not always the motivator for doing a good job, it must be perceived by the employees that they are valuable to the organization – so we must review and redistribute how we address the pay, benefits, and timeliness of paying ALL of our state workers, not just educators.
Q: Give us a brief bio and tell us about your relevant experience.
Age: 61
Married: 37 years – Letitia D. "Tish" Marsh Martin
2 children – Jared 32; Natalie 27 – NC Public School Teacher
Residence: Cary – 28 years
Born: Richmond, Indiana
BS Occupational Education, Southern Illinois University
Graduate Studies (MBA) Rutgers University
Institute of Integration of Academic and Vocational Education, NCSU Fellow, North Carolina Institute of Political Leadership
Graduate, Cary School of Government
43+ years in education: public to private, middle school to college, military advance electronics to industrial nuclear electrical power production. Worked 25 years in Wake & Chapel Hill- Carrboro City Schools Districts
US Navy Retired Chief Petty Officer – 41 years NC Public School Teacher, Retired – 25 years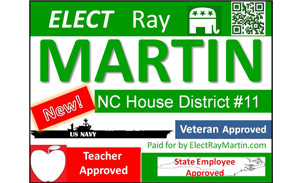 ElectRayMartin.com
https://carycitizenarchive.com/wp-content/uploads/2014/10/ray-martin.jpg
350
600
Community Contributor
https://carycitizenarchive.com/wp-content/uploads/2020/03/cc-archive-logo-450-v3.png
Community Contributor
2014-10-16 15:13:42
2019-12-08 10:14:32
Candidate Questionnaire: Ray Martin