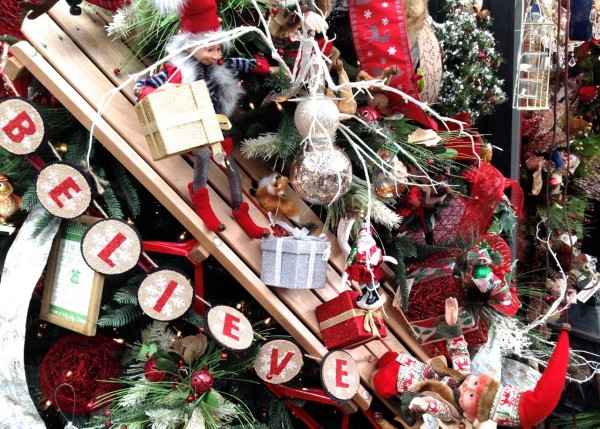 Cary, NC — Garden Supply Company on Old Apex Road in Cary is almost always one of the first retailers to get out their Christmas decor when they install their heavily decorated trees right after Labor Day.
Serious About the Holidays, So You Don't Have to be
Each January, right after their holiday sales, the design team of the Garden Supply Company, Brittany Owens, Kitty Mazza and owner Deborah Ramsey, travel to New York to see what trends they can capitalize on for the following year. Making these predictions more than 9 months before they will sell the merchandise can be a little nerve-racking, but through the years they have come to trust what they feel their customers will respond to.
While at market, they create themes that will guide them when the merchandise arrives and they start to recreate the magic they saw at market with the Garden Supply twist that Cary-ites have come to expect.
As the decorations arrive in late August they hire designer Trevor Bay to install fully decorated trees in the store along with elaborate tablescapes and mantels. This year there are five themed trees including one that hangs upside down!
The Themes
Santa Takes Aspen
This is a twist on their woodlands theme that is always popular with their patrons. Installed beside a fireplace and stuffed deer head, there's no mistaking this hunt and outdoorsy trend. Kitty Mazza said that last year's version of this popular trend was the first area to get completely picked over.
The tree includes life-size sleds, elves, berries, deer and woodland creatures in traditional holiday colors of red and green. There are plaid accents here too.
Burlap Goes Ballroom
This trend expands on the popular trend of burlap that is popping up everywhere, especially on Pinterest. Here the burlap is mixed with sparkle and the message is that it's okay to mix different genres of material like glitter and glass with the burlap which makes it look new and fresh.
Chalk It Up
This trend plays on the popularity of chalkboards in home decor, not just in their own store, but seen in home decorating magazines and on Pinterest. There are ornaments here that evoke the feeling of chalkboards with white writing on black backgrounds. The colors are black and white with pops of red and lime.
Kitty says "Lime is always amazing to me, you don't think of it as a Christmas color, but it really pops against the green of the tree" Snowmen are seen in this trend too, along with black and white checks and red and white stripes.
Pet Tree
People love their pets, and many like to purchase something either for their pet, in memory of a pet, or to celebrate their love of their current pet. The designers decided to include a tree and area themed with ornaments and decorations all about pets. Here you will find ornaments that are cats and dogs along with an area where you can purchase items for your pet. Look for slinky dogs, Santa hat-wearing cats and present-toting poodles.
The Faith Tree
Christmas does celebrate the birth of the baby Jesus after all, and Garden Supply honors that with a tree solely dedicated to creches, angels and other religious related iconography. This beautiful tree has elements that could be used on a mantle or tabletop or hung on the tree in a more traditional decor.
Winter Garden
Kitty mentioned that their suppliers hope for at least a two-year cycle with items they make. For instance, some of the items in this trend may look familiar, such as the stuffed owls that have been popular for a few seasons. There are elements of nature too, such as birds and nests, reindeer and snowflakes which have been popular for a few years, but updated with glitter snow and updated colors like teal.
Christmas Garden
This tree is hung upside down and uses traditional Christmas colors of red, lime green and gold. Its the garden, but with all Christmas colors. There are bird cages, mushrooms, snowmen mixed with traditional glass ornaments and beautiful holiday ribbons.
Whatever your style, its always fun to pick up one or two new items to freshen up your holiday decor. A new bow on a front door wreath, a fun elf or sled on the table, or a new swag for the fireplace mantle can make your holiday season look ready for 2014.
————————————————————————————————————–
Story and photos by Lindsey Chester.
————————————————————————————————————–
Holiday coverage is sponsored in part by Garden Supply Company on Old Apex Road in Cary.
https://carycitizenarchive.com/wp-content/uploads/2014/09/santa-takes-aspen-e1411997913633.jpg
429
600
Lindsey Chester
https://carycitizenarchive.com/wp-content/uploads/2020/03/cc-archive-logo-450-v3.png
Lindsey Chester
2014-10-21 11:48:13
2016-12-08 11:40:04
Christmas Decorating Trends 2014