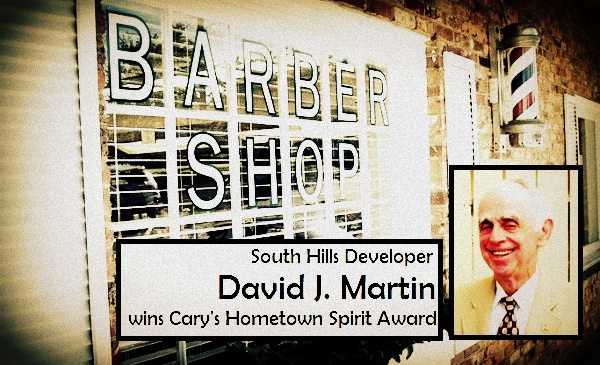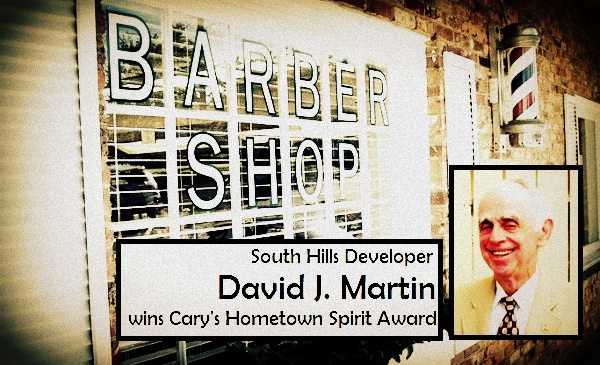 Cary, NC — Cary's Annual Hometown Spirit Award was presented to South Hills developer David J. Martin last week on Thursday, November 20, 2014. 
Cary's Hometown Spirit Award
Each year since 2009, the Town of Cary has given the "Hometown Spirit Award" to a resident who has shown dedication to enhancing the town's quality of life. The annual award is presented to honor an individual who "preserves, promotes, and carries out positive and quantifiable traditional small-town community values and traits."
Some of these characteristics include helping neighbors and fellow Cary residents, preserving traditional American past-times, demonstrating concern for preservation, promoting entrepreneurship by supporting locally-owned businesses, and demonstrating patriotism and support for our country and for those who have served.
Small Town, Big Winner
David J. Martin, Cary resident since 1936, was honored this award at last week's town council meeting.
Through his willingness and dedication to help others, Martin has always demonstrated the small-town spirit that is the hallmark of Cary. Born in Randolph County, he moved to Cary when he was nine years old.
At 13, he built his first house–a chicken house made of scrap lumber and two Tru-Aid signs! As a teenager, he constantly assisted neighbors and community members with their leaky roofs or home repairs. As an adult, he refurbishes houses, provides emergency housing to those in need, and incubates churches with free meeting space.
Martin's hard work and kindness extends beyond his reputation as a handyman. After graduating from Cary High, Martin served in the United States Coast Guard and attended UNC-Chapel Hill before he returned to Cary to pursue his business.
Cary Developments
As founder and president of Martin Properties, Martin opened Southland Center–now known as South Hills–between Buck Jones Road and US Highways 1/64. This establishment is known as Cary's first shopping mall.
In addition to his South Hills project, Martin is well-known for many other construction endeavors that have led to the progression of our area. Martin started University Apartments on Avent Ferry Road in Raleigh in 1954 by moving old houses to the site and refurbishing them. In 1961, he designed and built the first swimming pool at an apartment complex in Raleigh that is still used today.
Today, at age 86, Martin is still an Unlimited Licensed General Contractor.
Chicken Coops to Commercial Centers
Martin and his wife, Marilyn Broadwell Martin, have six children, 21 grandchildren, and three great-grandchildren. Martin still works six days a week and is an active member of First Baptist Church in Cary. He has served as a deacon and on two boards at Southeastern Baptist Theological Seminary.
Town Clerk Administrative Assistant Ginny Johnson summarized Martin's contribution:
Be it chicken coops or commercial centers, David's thumbprint is leaving a lasting impression on Cary, one our community is so grateful to receive. His community involvement is a model for other citizens as we all work together to keep Cary one of the greatest places to live, work and raise a family.
A Community of Role Models
Martin coined the phrase, "The only place you can go that is better than Cary is heaven." Indeed, despite the town's incredible growth and development (Cary is larger than some NC cities), our community is known for a kind of charm and close-knit support between citizens that is traditionally found in small towns.
It is the efforts of hard working and caring people like Martin that have given Cary this reputation. Willingness and desire to help others is an important foundation of "hometown spirit"–the inspiration for this award.
Other nominees for Cary's Hometown Spirit Award include Steve Linton, who works to help recovering alcoholics and victims of abuse, and Barbara Magee, who promotes community service and environmental responsibility.
All three of these individuals, along with other outstanding Cary residents, deserve thanks and recognition for contributing to our community.
———————————————————————————————————–
Story by Jessica Patrick. Photos from South Hills Shopping and Martin Properties.
https://carycitizenarchive.com/wp-content/uploads/2014/11/barber_shop-2.jpg
365
600
Jessica Patrick
https://carycitizenarchive.com/wp-content/uploads/2020/03/cc-archive-logo-450-v3.png
Jessica Patrick
2014-11-25 13:48:14
2014-11-25 12:34:28
David J. Martin Wins Hometown Spirit Award