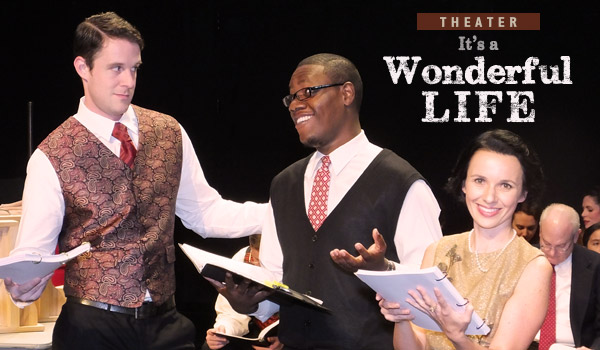 Cary, NC — Each December, the Cary Players perform a holiday-themed production to warm the hearts of Cary audiences. This year, they are enacting a reprise of It's a Wonderful Life, a radio play that they performed in their very first season as residents of the Cary Arts Center in 2011.
It's a Wonderful Life
Before the Cary Players gained residency at the Arts Center, they even performed this play in Cary's own Town Council chambers. They've grown a lot since then, and this production has become a town favorite.
Based on Frank Capra's holiday classic movie and recreated for the stage by Philip Grecian, It's a Wonderful Life will be presented December 4, 2014 to December 8, 2014 at the Cary Arts Center.
Foley Artists Create the Mood
Stacks of paint sticks "snap" to mimic a frozen pond cracking beneath a sled while cheerleader pom poms imitate a rustling hydrangea bush. An antique Ah-Oogh horn tells us a taxi has arrived.
Add these tricks to a collection of hand-crafted wind machines, miniature doors and other old-fashioned "Foley-props," mix in live music and animated voices, and you have the Cary Players' 1940-style radio play. Foley Artists Jon Dietz, Scott Peters and Jeffrey Beekey have their hands full with over 30 noise-making devices.
The Cast
Director Debra Grannan and Music Director Darylene Hecht guide a talented cast, many of which play multiple roles, in this heart-warming story.
Gus Allen performs the lead role of George Bailey, who learns that, "No man is a failure who has friends." By his side is the lovely Maura Wiggs, playing his wife, Mary Hatch Bailey.
Austin Harger steps up to the microphone as a young George Bailey, and Dan Martschenko plays Clarence, the kindly guardian angel on a mission to earn his wings.
Tracy Fulghum is both the maniacal Mr. Potter and the colorful bartender, Nick. Pat Berry is the heavenly voice of "The Boss" in scene one and then dons an Italian accent to play Mr. Martini later on in the play.
Joshua Henderson is the fatherly angel Joseph one moment and then the rough-and-ready Bert the cop the next. Jonathan King is Ernie the cabbie, the fun-loving Harry Bailey and the angry Mr. Welch.
From Director Debra Grannan:
One neat aspect of a radio play is that you don't have to cast by age or appearance. We have teenagers (Charles Robson and Evan Martschenko) using their broad vocal ranges to play older characters, and a young man like Dan can play the role of a 243 year old angel! Of course it's hard to resist putting a seven-year-old in the role of Zuzu Bailey, and Audrey Drabenstott will warm your heart in her scenes!
Jingles Promote Local Business
A trio of radio jingle singers (Julie Weber, Elena Zayes and Meghan Chung) perform original commercials featuring downtown Cary merchants and holiday carols to set the mood pre-show and during intermission for a delightful evening of theater.
In fact, we have a Cary Players radio jingle from 2010 for your entertainment:
Event Details
Cary Players Present It's A Wonderful Life- Radio Play
Cary Arts Center, 101 Dry Avenue, Cary NC
Performances:
Thursday, December 4, 2014 at 7:30 pm
Friday, December 5, 2014 at 7:30 pm
Saturday, December 6, 2014 at 3 pm and 8 pm
Sunday, December 7, 2014 at 3 pm
Monday, December 8, 2014 at 7:30 pm
Tickets are $20.00 adults and $18.00 for students and seniors (plus tax)
Groups of 20+ $17.00 (plus tax)
Get tickets at CaryPlayers.org.
—————————————————————————————————————————-
See CaryCitizen's 2014 Holiday Event Guide for information on more holiday events in Cary.
https://carycitizenarchive.com/wp-content/uploads/2014/12/wonderful-life-theater-cary.jpg
350
600
Staff
https://carycitizenarchive.com/wp-content/uploads/2020/03/cc-archive-logo-450-v3.png
Staff
2014-12-02 13:56:23
2019-12-07 13:05:58
Cary Players Reprise It's a Wonderful Life