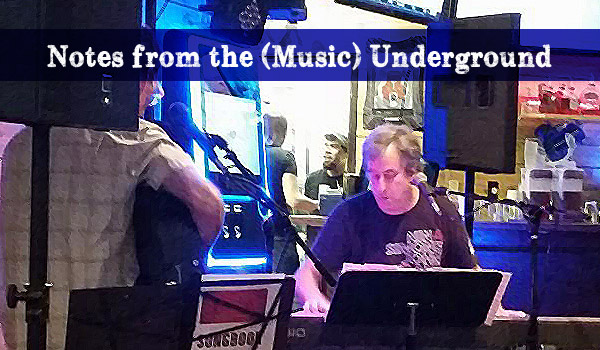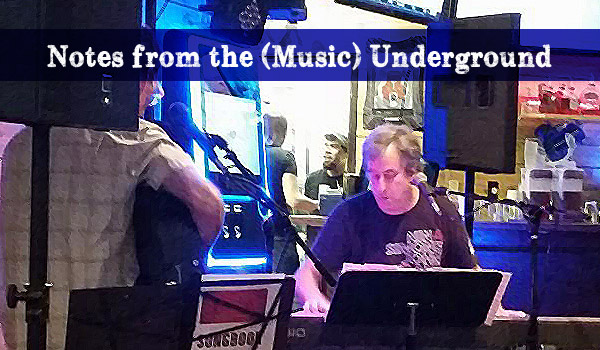 Cary, NC — There is definitely more local music in Cary than there was a decade ago. But that doesn't mean everybody's happy.
Notes from the (Music) Underground in Cary
More Venues = More Gigs
When I started with Bonus Room in 2004, Connolly's Irish Pub and Abbey Road Tavern & Grill were just about the only venues in town for a local band.
Then Rally Point came along and the music scene got a lot bigger – bigger room, outdoor patio, regular bookings.
The Grass Cats have been playing at Mac's Tavern forever. The Corner Tavern books bands. Chef's Palette has music every week. Ruckus has entertainment. UnVined has weekly jazz. Chatham Hill Winery has monthly jazz.
See where I'm going here? A lot more venues. A lot more gigs.
Variety is the Spice 
There are, yes, a lot of Top 40 Classic Rock bands. My own wife has banned me from ever playing Brown-Eyed Girl again.
But there are also people playing prog rock, Celtic, roots, punk, fusion and strange experimental stuff. It's almost an anachronism to go to a big mall and hear a Shag band.
More Open Mics
Open mics are the real edge of the music scene – players that can't (or don't want to) form a band or acts that are just emerging.
Cary now has a collection of open mics every week, including Mac's, Corner Tavern and Upper Deck.
You'll hear an amazing variety of music at Cary's open mics, from sublime to some-other-time (please). A couple of places also include poets and comics.
Too Many Musicians?
Sometimes, it seems like half the guys in Cary have a drum kit or an amp in their house. Lotta talent, no doubt.
But music is a cruel mistress. This post came up on Craigslist last Thursday. We quote it here for the poignant cri du coeur:
Don't do it. Don't make a band. It's pointless. (Triangle)
Sure, you'll get three or four guys with the same dream to spend time and money getting your gear and learning whatever songs you like. That's the easy part. Thing is, there's no place to play. The couple of venues in the area will not book you unless you can bring a room full of people or pre-sell dozens of tickets.
There are already hundreds of bands around here that can't get a gig. People don't go out to see local bands anymore. You'll find yourself a year or two down the road playing open mics or on a bill with four other bands that can only get their girlfriends or wives to come out to Deep South on a Wednesday.
Yeah, we all love to do it, but remember – rock and roll is dead. You might as well lip sync to your iPod on the street. At least someone will see you. Worse yet, you can play Sweet Home Alabama at some redneck sports bar next to a pool table.
Hang in there, youngster! I'd say it gets better, but it doesn't. However, it's always a pleasure to play, even 42 years into my own checkered music career.
Musicians Proverb
A musician is a person who will practice for 5 years, spend $5000, drive 100 miles and play for 5 hours to get $50.
Yep, I've played Sweet Home with a pool table nearby, and I've had paydays that amounted to one U.S. Grant. We all have. So why do we do it?
It just feels good. Even Sweet Home Alabama.
But I draw the line at Brown Eyed Girl.
————————————————————————————————————————————-
Story by Hal Goodtree. Photo by Eli Rodriguez via Lounge Doctors on Facebook.
https://carycitizenarchive.com/wp-content/uploads/2015/01/notes-music-underground.jpg
350
600
Hal Goodtree
https://carycitizenarchive.com/wp-content/uploads/2020/03/cc-archive-logo-450-v3.png
Hal Goodtree
2015-01-23 15:36:15
2016-01-09 11:39:07
Notes from the (Music) Underground