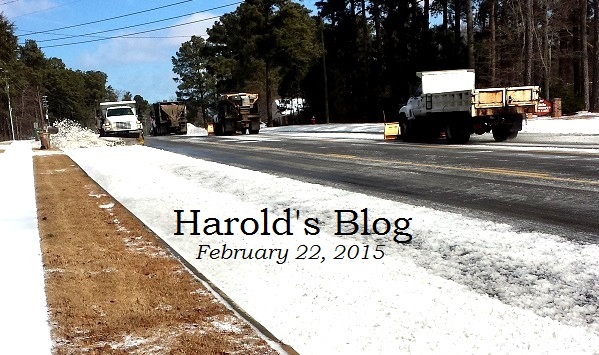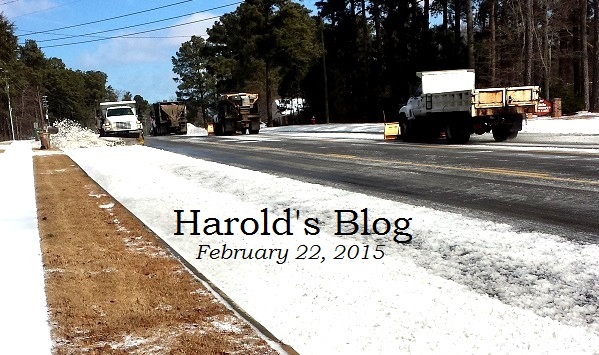 Cary, NC — This week was dominated by snow and ice, resulting in the cancellation or postponement of most of my activities. The good news is that I had more time to spend with my wife. The bad news is that almost all of my meetings, activities, etc., were rescheduled, which will make for much busier days in the future.
Postponements & Canceled Meetings
Monday's postponements included a meeting with the town manager and a banquet for the Parks volunteers. In addition, a meeting of the Mayors Association was cancelled. Tuesday, I had a scheduled dinner that was postponed. On Wednesday the monthly meeting of CAMPO (Capital Area Metropolitan Planning Organization's executive board) was cancelled. Friday the Metropolitan mayors' weekly legislative update was cancelled.
Cary's Snow Team, or "A-Team," in Action
On the morning after all big snow/ice events, I always go for a long walk (about five miles). This winter event was no exception. So, I headed towards the Crossroads shopping center about 11 am. On my walk, I happened to see the town's A-team in action. By the time I saw them they had already been working for hours.
By the afternoon, they had finished all major roads in town and were working on secondary roads and in neighborhoods. By the end of the day, they had completed their mission in a town that has over 660 miles of roads. I actually witnessed five plows completely clear the length of Piney Plains Road in less than fifteen minutes.
Wow! What an impressive performance. A huge thank you to the town staff for the many hours of overtime to make sure Cary roads were the first cleared in the Triangle!
Telephone Meeting
The only meeting I held this week was with the town manager and deputy town manager via phone to discuss several issues. Among the issues discussed were the council's potential participation in the design of the town's skateboard park, proposed options for the noise ordinance as it relates to golf courses, and Google Fiber.
Google Fiber News
Apparently, Google is not happy with last week's journal entry speculating that Morrisville and Cary might be the first places where Google Fiber is installed. My comments were based on staff information that included Google spending more time with Cary and Morrisville staff than with other municipalities.
I apologize for my speculation and will only provide facts about Google in the future. I would recommend that Google's public information start providing more information as soon as possible. That would eliminate all speculation. Just sayin'…
Wake County Mayors Meeting
Friday I did join most of the Mayors in Wake County and their guests at a hockey game. The Wake County mayors were the guests of the Centennial Authority which hosts the mayors twice a year. It was a good time to talk with other mayors in an informal setting to find out what is happening in other parts of Wake County.
Emails from Staff
Emails from staff this week included interesting information about the town's traffic management system which will be the topic of April's Cary Matters. Yes, it is true that I am already working on that. Some of that information includes:
All major corridors throughout Town utilize traffic signal coordination including, but not limited to, North Harrison Avenue, Cary Parkway, Maynard Road, Davis Drive, NC 55, US 64, Walnut Street, and Kildaire Farm Road.
A typical intersection has between four to six timing plans per day. For all locations, there is a peak hour plan for the morning and afternoon.
A typical traffic signal can cost $150,000 to $200,000, depending on the size of the intersection, pole type used, and features required (like pedestrian crossing signals). A typical CCTV camera installation can cost $50,000.
By the end of 2015, the Town will operate over 190 traffic signals and 30 CCTV cameras along over 100 miles of fiber optic cable.
Traffic signals are preempted by emergency vehicles. The system gradually adds/subtracts time to a cycle to get the traffic signal back into sync.
To learn more about the traffic management system check out the town's website or watch the April episode of Cary Matters.
Emails from Citizens
There were very few emails received from citizens this week. Several emails commended the town on the snow/ice removal. Other emails included invitations to various events.
Get in Touch
Next week will be busy for me. Some of the activities and events include the Parks Volunteer banquet, a work session on Imagine Cary, a regularly scheduled council meeting, events, dinners, and speaking engagements.
Well, that is all for this week. My next post will be on Sunday, March 1st. Although I have Facebook and Twitter accounts those are not the best means of communications with me. Please send all Town of Cary questions or comments to Harold.Weinbrecht@townofcary.org and email personal comments to augustanat@mindspring.com.
———————————————————————————————————————————-
From the blog of Cary Mayor Harold Weinbrecht. Photo by Harold Weinbrecht.
https://carycitizenarchive.com/wp-content/uploads/2015/02/SnowFeb2015-1.jpg
355
599
Harold Weinbrecht
https://carycitizenarchive.com/wp-content/uploads/2020/03/cc-archive-logo-450-v3.png
Harold Weinbrecht
2015-02-23 15:47:10
2016-01-09 11:43:31
Harold's Blog: Google Fiber & Snow Team Update