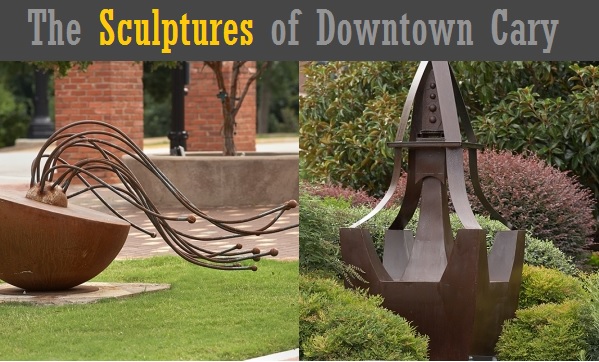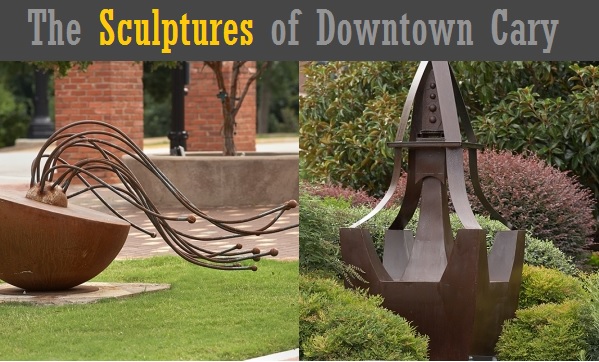 Cary, NC — Last year, on a scorching July day, I spent four hours walking up and down Academy Street in the hot sun–but I didn't mind. I was busy collecting quotes from eleven sculpture artists while they supervised the installation of their structures in Downtown Cary.
The Sculptures of Downtown Cary
Have you seen the sculptures? If you haven't, or if you've only passed by, now is the time to pay them a visit. They'll be taken down on April 17, 2015 but, prior to that, Cary Visual Art–the nonprofit that placed them–will host a special event to promote interaction with the sculptures.
A lot of us in Cary don't realize that these sturdy sculptures are not just decorations–they're meant to be touched, studied, and, most of all, enjoyed. Whether you bundle up and take a self-guided tour with family or friends–or whether you decide to participate in the March sculpture event listed below–don't miss your opportunity to see them before they're gone.
The Outdoor Sculpture Exhibition
Cary Visual Art is proud to commission the placement of these sculptures through their biggest event of the year. The Outdoor Sculpture Exhibition, or OSE, is an annual program that invites artists from all across the nation to submit their sculptures and stories for consideration.
Each year, a specially selected juror is chosen to pick twelve artists and their sculptures from this large pool of applicants. Following many exciting events, the OSE sculptures are installed all along Academy Street. The placement of these sculptures showcases the artists' work while giving the town an enchanting and cultivated feel.
The sculptures you'll see below (and on Academy Street right now) are part of the 2014 show. They're usually taken down in June and replaced with a new show in July, but, due to the upcoming Academy Street construction, they'll be taken down early this year. The good news is that CVA has already planned some great events revolving around the new sculpture installment–coming later in the year. I've listed the March event–along with these–below.
Photos & Quotes from Artists
If you're not familiar with the current sculptures, here's your preview. I collected quotes–listed here–from eleven artists (one submitted two sculptures) both during the installment and after, in the evening, at the OSE reception. You can hear the artists' voices, and find out more about their sculptures, through the CVA website.
Beyond the Sun by Tripp Jarvis
I would like them [the viewers] to get a sense of completeness and wholeness in their spirit and emotions.
Icarus by Bobby Donovan
Trained as a minimalist, I prefer using the inherit qualities of materials to create constructed forms using simple techniques. My sculptures incorporate the traditional materials of wood, steel, and stone. Using recycled materials, nearly all my sculptural expressions are non-representational.
Wind Blown by Eric Troffkin
Wind Blown is a pair of red and white communication towers. Satellite dishes that, if the wind is strong, will blow around in the breeze. I've found that some people notice them as they drive around and some people don't. I see those red and white communications and cell phone towers everywhere that I go–on the tops of buildings, in cities, on highways. And, now, so will you.
Two Witnesses by Shawn Morin
Much of my work incorporates metaphor and/or double meanings. This is one of those pieces where the viewer gets to interpret or contribute to its meaning.
Harlequin by Christian Hansen
I'm hoping people will enjoy the playful nature of the reflective surface, and that it will make people curious and attracted to the Page-Walker garden.
Farmstead by Rudy Rudisill
Farmstead is my take on the farm buildings I saw traveling in the North East. The farms in the North East seem so neat and compact, as if the buildings are stacked up on each other.
Dancer III by Bob Doster
Dancer is abstraction of fluidity experienced when observing dancers' motion. Movements are precision, but appear to be influenced by outside stimuli, much like creations of visual artists. Dancer moves naturally with wind or earth shifts, reflecting our environment.
Core 5 by Adam Walls
There's a Core 1 and a Core 5. I was very much thinking about nature and things in nature. Starting off from the seed form and then germinating and having things grow out of them. I was thinking about the core of most fruits–sort of like the core of a peach–and how if you were to cut it open and see it, the growth will pop out for new life. It also looks like a jellyfish. If you study it long enough you can begin to think of other objects in nature it resembles–both large scale and microscopic.
Azure by Phil Hathcock
I assemble stones that are found, split, and laid out into some type of figure–this one being a butterfly–then we find a way to put it all together in a place that can be seen.
7 Piece Ring by James Burnes
I was in a wood yard, playing with cutting up wood, and I started thinking about the geometric nature of the logs–the even tapers that trees have–so I started cutting and rotating and putting one piece next to the other.
Ark by Charles Pilkey
My work is a reaction to the central issue of our times – our relationship to technology.
Upcoming Sculpture Events
Times and locations for these fun events haven't yet been set, but the dates are on the calendar. Visit CVA on Facebook to stay up-to-date with current news and upcoming events.
March 28, 2015 – Sketching with the Sculptures
August 28, 2015 – Yoga with the Sculptures
September 25, 2015 – Sculpture Scavenger Hunt
October 30, 2015 – Moonlight Sculpture Tour
Selfie with a Sculpture
New to CVA this year is the "Selfie with a Sculpture Project." By following the instructions found online, you can take your own selfie alongside one of the twelve sculptures and see it on the CVA website.
———————————————————————————————————————————–
Story by Jessica Patrick. Photos from Steve Muir and Cary Visual Art.
———————————————————————————————————————————–
Downtown coverage on CaryCitizen is sponsored in part by Heart of Cary Association.
https://carycitizenarchive.com/wp-content/uploads/2015/02/Sculptures.jpg
362
599
Jessica Patrick
https://carycitizenarchive.com/wp-content/uploads/2020/03/cc-archive-logo-450-v3.png
Jessica Patrick
2015-02-26 09:58:31
2019-12-08 10:15:11
The Sculptures of Downtown Cary