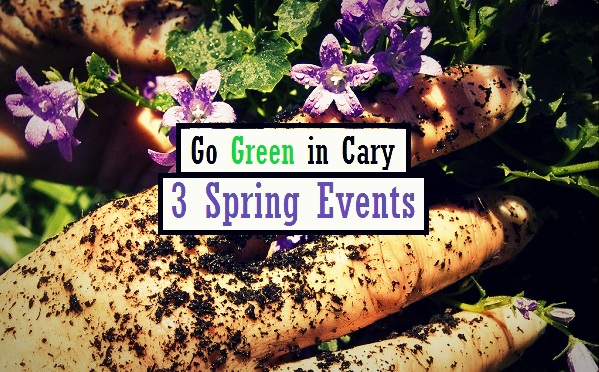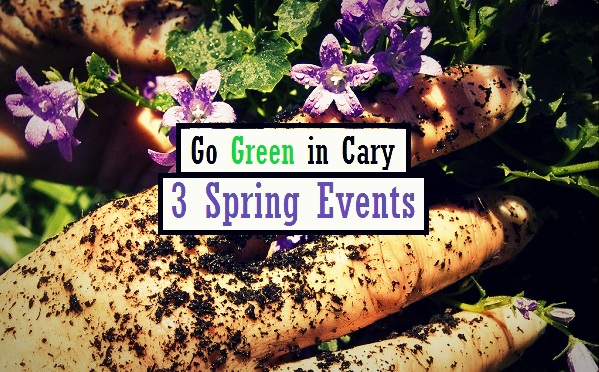 Cary, NC — To address the the growing Green movement, the Town of Cary's Public Works Department has geared up with expanded Spruce events this Spring. Sarah Justice, Environmental Outreach Program Coordinator, was excited to tell CaryCitizen about three upcoming opportunities that help Cary residents "Go Green" with the Town.
Go Green with Spruce Events
The Town of Cary's Spruce series is a volunteer-based program designed to connect citizens to beautification, litter reduction and environmental service projects in our community. As a resident of Cary, you can take advantage of workshops and events that help make Cary the green and beautiful town that it is. Here's how:
Compost Giveaway Workshops
If you're like me, then you are tired of going to the garden center to pick up soil to enhance the poor quality clay dirt we have here in the Piedmont. Composting is a great way to both eliminate waste going to the landfill (or down your disposal) and to take trash and make it treasure!
However, many people get frustrated because they don't know what the proper ingredients are in compost, they lack a place to compost, or they have tried it only to have lots of fruit flies everywhere. Here's your chance to learn how it's done.
Public Works holds composting education classes in the Spring and the Fall after they receive the annual shipment of compost from partners McGill Environmental. From March 5-7, 2015, Cary residents can register and participate in their choice of seven free sessions. There, you'll learn the best practices in how to make and utilize the compost that is created.
Event Details
Compost Giveaway Workshops, March 5-7, 2015
at the Compost Education Center in Bond Park
View time slots and pre-register online
After the 30 minute session, everyone can take home three 1 cubic yard bags (about the size of a bedroom pillow) of compost to enhance their own garden soils. The Town even helps the participants load the bags into their trunks!

Prevent Fruit Flies
Sarah Justice gave CaryCitizen this tip to rid your kitchen (or garden compost area) of these pests. Take a small container (the size of a shot glass). Create a mixture of half liquid dish detergent (like Dawn) and half white vinegar. Pour into the container and place near your pail or in the room with the fruit fly problem. This mixture attracts and traps the fruit flies, then they die and cannot reproduce. Problem solved!
What to Compost
Only use vegetable and fruit scraps, coffee grounds, and egg shells. Do not add bread or meat! These not only attract critters but can add pathogens to your compost which can cause disease.
How to Turn Compost
Sarah shared this simple tip with me. If you have a large bin, sometimes it is hard to turn the compost so that the decayed material on the bottom gets air. You can either add a cylinder standing upright in the bin to help aerate the mixture, or you can lift the bin up off the pile. Place it to the side. Then shovel the top of the mixture back into the bin. This effectively "turns" it as the top is now at the bottom and vice versa.
Here are a few other events that the town sponsors to help educate and involve its citizens in being more environmentally conscious.
Plant Trees For Arbor Day
The Town of Cary, a designated Tree City USA for the past 32 consecutive years, celebrates Arbor Day on March 21. This year the celebration will take place on the grounds of the historic Ivey Ellington Waddell House on West Chatham Street (close to Ashworth's Drugstore).
Every year the town plants a tree to mark the occasion. New to the event last year, they honored Kay Struffalino, a past Home Town Spirit award winner, by planting the tree in her honor. Joy Pike, another past Hometown Spirit award winner, is being honored this year.
Event Details
Cary's Arbor Day Celebration, March 21, 2015, 11 am-2 pm
at 135 West Chatham Street
Find more information online
The Arbor Day fun includes a tree identification scavenger hunt, crafts for the kids, booths for local environmental groups, live entertainment on the porch, and refreshments.
Litter Sweep
As clean as we think Cary is, there are still areas where trash seems to accumulate. To help make Cary a more beautiful place, the Town hosts two annual Litter Sweep events (one in April and the other in October). The Town provides all the supplies including safety vests, gloves, and bags and drops volunteers at locations and picks them up when they are finished.
There are four designated shifts of 2 hours each which start as early as 8 am and end at 6 pm. This is a great project for families, individuals, and groups of all sizes. I have participated in this event, and also take part in the sister program, Adopt-A-Spot. In two hours we pick up lots of trash and also meet other civic-minded friends while doing so.
Event Details
Spring Litter Sweep, April 11, 2015
View time slots online
Volunteers must register in advance by emailing sarah.justice@townofcary.org or calling (919) 469-4301. The town requests that all volunteers be at least 15 years of age or accompanied by an adult.
Help Keep Cary Green
These are just a few ways you can go green and help your yard, your neighborhood and your town become a better place. Here are some Spruce facts:
Since Spruce was founded in 2009, they have hosted over 2,525 projects with the generous support of over 16,000 volunteers.
In 2014, Spruce volunteers collected 27,085 pounds of litter, spread 782 yards of mulch and planted over 1,600 trees, flowers and shrubs.
Last year's Compost Giveaway gave out 80 yards of compost and Arbor Day gave away 200 trees.
Have other ideas that you would like to share? Contact Sarah Justice at the Public Works Department in Cary.
———————————————————————————————————————————
Story by Lindsey Chester. Photos by szczel and Lily of the Valley.
———————————————————————————————————————————
Community coverage is sponsored in part by Waves of Change, offering counseling, hypnosis and wellness services on Maynard Road in Cary.
https://carycitizenarchive.com/wp-content/uploads/2015/02/Go-Green2.jpg
372
599
Lindsey Chester
https://carycitizenarchive.com/wp-content/uploads/2020/03/cc-archive-logo-450-v3.png
Lindsey Chester
2015-02-26 14:34:00
2019-12-08 10:15:03
Go Green in Cary with 3 Spring Events