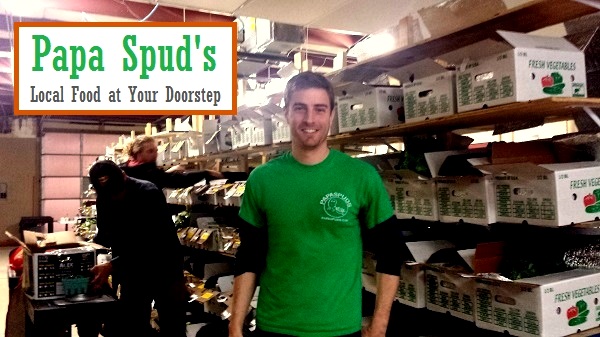 Cary, NC — Eating a variety of healthy foods (and knowing where they come from) is becoming increasingly more important to families and households. That's why Rob Meyer founded Papa Spud's–a farm-to-fork operation that brings locally grown, raised, and made food right to the doorsteps of Triangle residents.
Buy Local Without Leaving Your House
That's right–each week, from the comfort of your home, you can order high quality produce, meats, cheeses, and baked goods all grown and made by local farmers and food producers.
Meyer and his team do all the work for you by working with a variety of farmers and food producers throughout the state to offer local products through home delivery. Food from the Papa Spud's warehouse in Cary is delivered to homes and workplaces all across the Triangle.
Papa Spud's refers to itself as an "online farmer's market." That's because, after you join Papa Spud's, you can log on to their website every week–or less, according to your needs–and customize your own box of local food.
How Does It Work?
Papa Spud's farmers communicate regularly with Meyer and his team to tell them what's in season, what's growing, or what's new in their kitchen. Customers then log on to the Papa Spud's website and pick which products, and how much of each, they'd like that week.
The options change throughout the year, depending on what's in season, but Papa Spud's ensures that here's always a wide range of items. Berries, tomatoes, onions, goat cheese, coffee, baked goods, chicken, and even lamb, are just a few of the goods offered at different times throughout the year.
When I met Meyer and toured the warehouse, I got to try strawberries that were grown under solar tunnels only 50 miles east of the Triangle and muffins made by JP's Pastry, a gluten-free based-out-of-a-home bakery that also offers Papa Spud's customers unique items like baklava.
Farm to Fork in Under 36 Hours
After you place your order, Papa Spud's communicates to the farmers which items they need delivered to the Cary warehouse–and this is one of the neatest parts, since the farmers often pick the items the day they are shipped. Once the products arrive at Papa Spud's, the team separates them in boxes and gets them ready for customers throughout the Triangle.
Most of the produce arrives at Papa Spud's on Tuesday morning and, then, the boxes are delivered to Triangle homes on Tuesday and Wednesday. The turn around from the farm to your doorstep is, literally, 12-36 hours.
The Papa Spud's Story
After graduating from UNC Chapel Hill in 2005, Meyer spent three years in The Peace Corps–and that's where he got the inspiration to start Papa Spud's. He worked in Ecuador for three years with kids and their families and, while he was there, he learned a lot about their food system and about how it works.
The mothers worked in farmer's markets or, essentially, food markets–massive places where everyone bought their food–and no one went to the grocery store. Meyer explained that:
It's a small country, so they're not importing food–it's too expensive to do that, and they're tropical, so they can pretty much grow year-round. Their food system is really complex–and the more [Papa Spud's] evolves, it reminds me of how things are done back in Ecuador. You've got all these different pieces; there's no massive food distributor that's got everything. It's this much more all-over-the-place network that just, somehow, works.
After Meyer got back to the states, he got the idea to start something similar. When Papa Spud's first opened, Meyer had 20 different subscribers ordering food from only six farmers. Now, in 2015, Papa Spud's has over 2,000 customers–and food comes from close to 100 local farmers.
Less Waste, More Goodness
Since customers can pick exactly what they want–and how much of it they plan to use–each week, the Papa Spud's system dramatically reduces food waste when compared to purchasing from a grocery store. Meyer explained that:
The secret sauce to the whole thing is our ordering schedule. Unlike a grocery store, where you're kind of guessing what people will want day-to-day, week-to-week, and season-to-season, you actually order the products while they're still in the fields.
Each week, Papa Spud's donates any leftover food to the Inter-Faith Food Shuttle. "All the products are in good condition–they're just-delivered, top-quality products that just didn't get into our boxes," Meyer said.
Buy Local with Papa Spud's
By working with Papa Spud's, you're not only serving your family locally-grown food–you're also supporting local farmers, many of which run operations so small that, without the Papa Spud's system, wouldn't get to reach so many customers. Papa Spud's delivers to residents and businesses all over the Triangle–Cary, Morrisville, Apex, Raleigh, Holly Springs, Fuquay, Garner, Wake Forest, Durham, and parts of Chapel Hill.
The annual fee to join Papa Spud's is only $10–then, each week, you can log in and pick your items. The smallest box is $20, but you can pick as much or as little food as you'd like per week. If your items don't amount to the price of the box, the money carries over and can be used on future orders. Meyer emphasized that, "You only pay for what we send you."
Get In Touch
In a 30 minute tour, I got to see the goodness of not only the food from Papa Spud's farmers, but also of the close-knit team that works hard each week to deliver fresh, top-quality food to Triangle families. Visit the Papa Spud's website to sign up and start ordering, or stay in touch with what's new by liking them on Facebook.
———————————————————————————————————————————
Story and photos by Jessica Patrick.
https://carycitizenarchive.com/wp-content/uploads/2015/02/20150224_082053.jpg
337
600
Jessica Patrick
https://carycitizenarchive.com/wp-content/uploads/2020/03/cc-archive-logo-450-v3.png
Jessica Patrick
2015-02-27 10:47:50
2015-02-26 15:20:22
Papa Spud's: Local Food at Your Doorstep