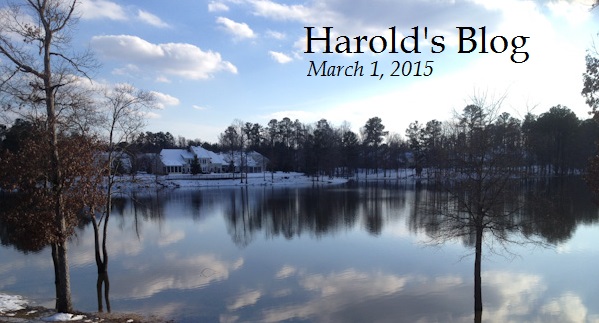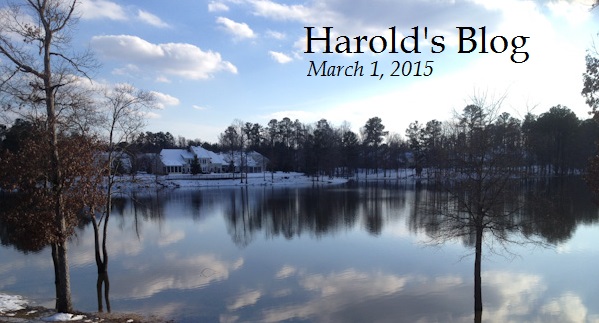 Cary, NC — This week was, once again, dominated by snow and ice, resulting in the cancellation or postponement of several of my activities. Once again, the Cary A-Team (or the snow and ice removal team) did a fantastic job.
Monday
Monday started with calls to council members to get concerns or questions about the agenda for Thursday's regularly scheduled council meeting. I was able to contact all council members but Frantz and Robinson. In my conversations, council members had questions about the staff report for additional funding to handle the installation of Google Fiber and questions about a staff report that was changed by the applicant to be age restricted.
Town Meetings
Later in the day, Mayor Pro-Tem Smith and I met with management, directors, public information, legal, and administration to review the agenda. Our meeting lasted about 15 minutes.
After the agenda meeting, Mayor Pro-Tem Smith and I met with the town manager and deputy town manager to talk about technology. That meeting lasted about 45 minutes.
Parks, Rec, & Cultural Arts Volunteer Banquet
Monday night, I joined all council members but Robinson at the annual Parks, Recreation, and Cultural Resources volunteer banquet. Each year the banquet has a theme. This year's theme was the Wizard of Oz. In keeping with the theme, I gave a welcome modeled after the Munchkin City Mayor from the movie. Though it was a little corny, I believe it went over well.
The remainder of my remarks were in a normal tone and included the following:
There's no place like home. It's one of the Top 100 movie quotations in American cinema, and it couldn't be more applicable to tonight. Because of you—all 900 volunteers who have supported our parks, recreation and cultural arts programming—Cary has, arguably, the highest quality of life in Wake County. From facility volunteers, advocacy groups, advisory boards and committees, athletic coaches, and event logistics, your support to make our recreation and cultural arts programs enjoyable and appealing is critical to our Town's success. A volunteer is a precious resource. The time you spend with staff to ensure our classes and programs go off without a hitch is priceless to those who experience these programs and events both first-hand and to our community as a whole…
Following dinner, I was joined by the council members as we handed out awards. The banquet ended after about two hours.
Tuesday
Tuesday, everyone in the region was surprised by a 3" snow event. Since weather forecasters didn't expect it, very few were prepared. Cary's snow removal team used equipment, salt and sand to clear the roads. By the end of the day most Cary roads were in great shape. However, to be on the safe side, we postponed a work session on Imagine Cary to make sure anyone could attend if they desired. The work session is rescheduled for Tuesday, March 3, 2015.
Wednesday
Wednesday I met with representatives from WakeUP. WakeUP is a nonpartisan citizen group concerned about growth and the future of Wake County. Their vision is a sustainable, healthy, and prosperous region in the long run. In our meeting, we talked about the Jordan Lake rules and future transit. Our meeting lasted about 45 minutes.
Snow Storm
Wednesday night and into Thursday was Cary's second snow storm of the week. This storm had heavy wet snow that damaged a lot of trees. My neighborhood got about four inches, which was enough to uproot several large Leyland Cypresses and put them across the road. Cary's A-Team had the trees off the road and the road plowed by 2 pm. This was another example of a great job by the best snow-removal crew in the state.
Thursday
Thursday, I consulted with staff, and we agreed that the regularly scheduled council meeting should be postponed. We decided to move the public hearings back one week and move all discussion items to the March 12 meeting.
Friday
Friday was a scheduled call of the metro Mayors of North Carolina to discuss legislative action for the week. Since the legislators didn't do anything (because of the snow), it was cancelled.
Friday, a little past midnight, I came down with the flu (kinda fit for the week). After a day of a high fever, sleeping, and not eating, I was much better but did have to cancel all appearances for the weekend. I will also cancel Monday's just to be on the safe side.
Sunday
Sunday, the town experienced its third weather related event of the week with freezing rain. While it didn't have as much impact as the other two storms, it did create dangerous conditions on bridges and harm trees and plants.
Emails from Staff
Emails from staff this week included information about Cary's A-Team. Here is what was at work during Thursday's storm:
15 town spreaders
13 town plows
4 contract tandem spreaders
11 contract tandem plows
21 contract pickups plows
2 contract loaders with 10 foot plows
1 contract grader (to work highway 55)
In addition, Public Works pre-positions backhoes and personnel at Fire Stations 5, 6, and 8. Public Works had two emergency shifts. Personnel included 162 workers for Wednesday night into Thursday and 190 during the following day. Cary budgets for these events to have a very high standard for snow removal.
Emails from Citizens
The town received numerous emails and letters thanking us and congratulating us on snow removal and garbage pickup. Many of the town's employees went above and beyond the call of duty. Here is one letter I received that is a perfect example:
Dear Mr. Mayor,
On Wednesday, Feb. 18, 2015, in the middle of our horrible cold spell, our garbage was picked up a day late because of weather. Our home faces north, so we get no benefit of sun melting on our driveway. I asked the driver (David) to use his ram to push our empty garbage container as far up our driveway as he could, to minimize our having to walk on the thick white ice. David accommodated us, completed his street run, and then returned with a shovel to clear a path. My husband is disabled, and I am in my 70's, and we wanted to express our gratitude.
There is no doubt in my mind that we have the best public works department in the state. God bless them for their service! Other emails from citizens this week included an inquiry about owning a domestic goat, comments about sharing recycle bins, a request to allow dogs on e-collars, and comments about upcoming rezoning cases.
Get in Touch
Next week should be a busy week and a warmer week (I hope). My activities include Read Across America, a rescheduled work session on Imagine Cary, a State of the Town address presentation, a quasi-judicial hearing, and opening remarks at the annual meeting of the NC Train Host Association.
Well, that is all for this week. My next post will be on Sunday, March 8th. Although I have Facebook and Twitter accounts those are not the best means of communications with me. Please send all Town of Cary questions or comments to Harold.Weinbrecht@townofcary.org and email personal comments to augustanat@mindspring.com.
———————————————————————————————————————————
From the blog of Cary Mayor Harold Weinbrecht. Photo by Hal Goodtree.
https://carycitizenarchive.com/wp-content/uploads/2015/03/Harold2.jpg
323
599
Harold Weinbrecht
https://carycitizenarchive.com/wp-content/uploads/2020/03/cc-archive-logo-450-v3.png
Harold Weinbrecht
2015-03-02 15:33:49
2016-01-12 17:33:06
Harold's Blog: Volunteer Banquet & More Snow