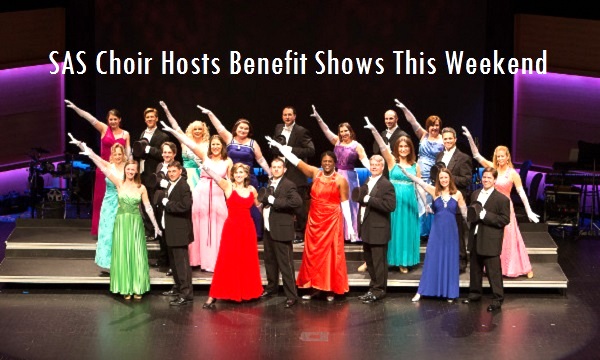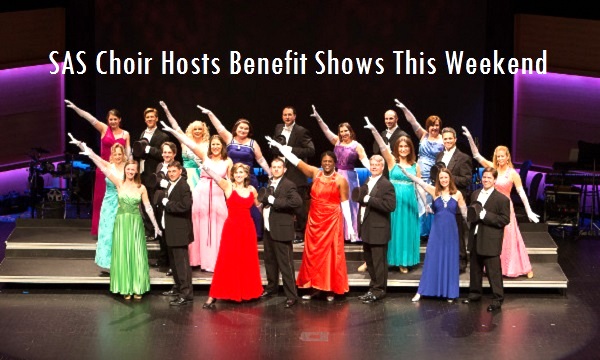 Cary, NC — VocalMotion, an all-volunteer adult show choir sponsored by SAS Institute in Cary, will host exciting performances this week, March 5-8, 2015, to raise money for the Triangle Aphasia Project (TAP), a compassionate program that helps individuals suffering from communication impairments. 
What's VocalMotion?
VocalMotion, an all-volunteer show choir, was founded in 1992. The choir is made up of SAS employees, spouses, and friends that share a love of music and a passion for performance. Since its inception, VocalMotion has become an ambassador for SAS, performing throughout the community at retirement centers, community functions, and charity events, as well as at company‐sponsored events.
Each year, the group performs a Broadway‐style musical revue on the SAS campus, raising thousands of dollars for a designated charity. These family‐friendly performances consistently fill the company's 400‐seat auditorium and receive rave reviews. Due to the generous sponsorship of SAS, VocalMotion gives 100 percent of all donations to charity.
Great Music; Great Cause
Starting this Thursday, in their 23rd year of doing so, VocalMotion will host a series of performances to raise money for TAP Unlimited. This year's show, called "Next Phase, New Wave," will celebrate the excitement and challenges of stage and stardom in a show that takes on everything from jazz and Broadway to pop and rock.
Fans of Broadway and TV songs will enjoy hits like "When I Get My Name in Lights" (from Boy from Oz), "Let Me Be Your Star" (from Smash), and "Fame" (from Fame). Fans of the concert stage, pop, and rock music will appreciate hits from singers like The Doobie Brothers and Billy Joel as well as music from the Zac Brown Band, Jimmy Buffet, Duke Ellington, and BB Mak.
If performances from previous years are any indication, the variety of songs will have audiences on their feet snapping, tapping, and swaying to the music. This year's performance will feature pre-professional dancers from Cary's International Ballet Academy. The performances will be fun, for sure, but the best part is that 100% of VocalMotion's proceeds will go to help TAP.
All Proceeds Donated to TAP
Although admission to VocalMotion's performances is free, audiences are asked to make a donation to TAP Unlimited. TAP Unlimited is a nonprofit organization that was founded in 2003 for individuals suffereing communication impairment (in particular, aphasia, or speech impairment) after stroke, tumor, and other brain injuries.
TAP provides affordable, professionally directed services to help such individuals even after prescribed treatment ends with the ultimate goal of helping individuals return to activities that they enjoyed prior to the onset of aphasia. The organization also provides education and training to help family members, friends, and local communities build communicative bridges "to ease transitions for those dealing with aphasia."
Silverman, the Speech/Language Pathologist who started the program, states that:
TAP Unlimited is so excited to have SAS and VocalMotion select our organization as their 2015 charity. We have a shared belief that music can bridge the gaps of communication and help individuals with aphasia access the ideas and thoughts held hostage by this devastating communication disorder. Programs like TAP allow an individual to continue to receive services for as long as they choose to, and they are set up within a life participation framework. The performances by VocalMotion will increase the awareness of our organization and its mission, giving voice to those who need it most.
Event Details
VocalMotion's Broadway-Style Concert
March 5-8, 2015; Building V Auditorium
SAS Campus, 101 SAS Campus Drive, Cary
Showtimes:
Thursday & Friday, March 5-6, at 7 pm
Saturday, March 7 at 2 pm and 7 pm
Sunday, March 8 at 2 pm
Performances are free and open to the public. For directions or more information about VocalMotion, visit vocalmotion.org or call 919‐677‐8000, ext. 43236.
———————————————————————————————————————————–
Photo from last year's show from VocalMotion.
https://carycitizenarchive.com/wp-content/uploads/2015/03/choir.jpg
360
600
Staff
https://carycitizenarchive.com/wp-content/uploads/2020/03/cc-archive-logo-450-v3.png
Staff
2015-03-03 16:02:06
2015-03-03 16:30:13
SAS Choir Hosts Benefit Shows This Weekend