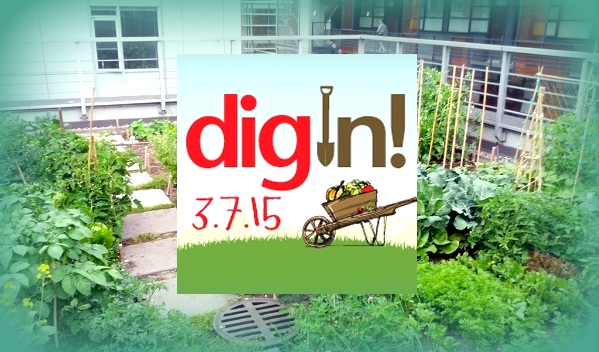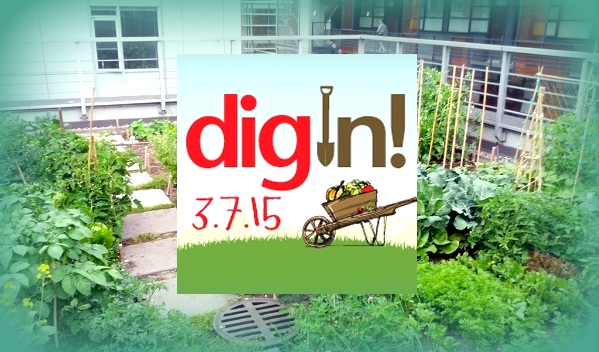 Raleigh, NC — Dig In!, an upcoming gardening conference for all Wake County residents, will take place on Saturday, March 7, 2015 at Marbles Kids Museum in Downtown Raleigh. CaryCitizen did some "digging" to find out more about the educational event and about how we can apply the teachings to both personal and community gardens right here in Cary.  
Dig In! Gardening Conference
Dig In! participants will learn to grow fresh, healthy food right from their Wake County homes. The family-friendly event will incorporate activities for kids, too, including "garden play workshops" and hands-on educational booths. The conference will also feature local urban agriculture and community garden experts to educate attendees who want to start a community or edible garden in a school or childcare setting.
Other educational topics covered at Dig In! include:
Starting edible gardens
Teaching through gardens and outdoor learning
Composting
Strategies for engaging volunteers
Urban gardening and community garden entrepreneurship
The Dig In! courtyard will feature interactive booths where event registrants and museum guests can dig, build, and learn through hands-on activities. Dig In! attendees have the choice to participate in one of four service learning opportunities later in the afternoon.
Speakers & Special Guests
Beth Porter, co-founder of the Apex YMCA community garden, will lead a panel on starting gardens, and Megan Lewis, teacher and founder of the Grow Zone at Willow Springs Elementary, will educate teachers and PTA leaders on how they can incorporate indoor and outdoor gardening into their students' curriculum.
Another Dig In! speaker, Leigh Williams of the Northwoods Elementary School Garden in Cary, will address the unique considerations in starting an edible school garden. Williams told me that:
My talk is titled "How to Start a School Garden" with the underlying theme being if I can do it, you can do it. Prior to the title of founder and coordinator of Northwoods School Garden, I had no experience with gardening, elementary schools or project management. But I was passionate about kids eating real food and knowing where their food comes from. Attending Dig In! and meeting lots of like-minded individuals gave me the confidence to know how to bring folks together to build a garden for the kids at Northwoods Elementary.
Gardening in Cary
Two edible community gardens thrive right here in Cary–an educational garden for children at Northwoods Elementary School and a "pocket community garden" located downtown. I spoke to two Cary gardening connoisseurs–Leigh Williams and Keith Bliss, founder of the pocket community garden–to get some information about what's going on in the Cary gardening world and how we, the community, can get involved with Dig In! practices right here in town.
Northwoods Elementary School Garden
Leigh Williams gave me some great information about Cary's own educational gardening project at Northwoods Elementary. Lettuce, collards, cabbage, cauliflower, kale, garlic, and herbs all grow in the edible garden, the now-thriving result of a several year plan to incorporate gardening with education at the school. Williams states that:
We are thrilled to see the garden come to life after several years of planning. We [the parents and teachers] are so excited about how the garden will help students learn about where food comes from and how to grow it.
Williams, a parent volunteer and PTA committee member at Northwoods, began planning the garden during the 2011-2012 school year–and a lot of her inspiration came from past Dig In! conferences that taught her how to do it. Together, students, parents, and school staff built seven raised garden beds–some which are deep enough to grow root vegetables.
The garden doesn't just teach children about growing their own food–Northwoods donates produce from the school garden to the Inter-Faith Food Shuttle and to volunteer families. The building of the garden was, entirely, a community effort–a local garden company donated the soil for the garden and a contractor who works with reclaimed wood contributed material for the fence and other non-bed structures. Williams explains that:
Except for hiring a contractor to put guttering on the portable classroom that sits next to the garden so we could fill our cistern, all the work has been done by parent and community volunteers. It's a team effort. Plus, we have learned about the skills and knowledge in our community and among our volunteers.
Cary Pocket Community Garden
Cary's Pocket Community Garden is located in Downtown Cary in the backyard within the Cary Downtown Historic District. Founder Keith Bliss and his family, along with many other families and community members, grow food and tend to the entire garden as one team.
With the help of several partners, including Cary Downtown Neighbors, Campbell Road Nursery, and J&D Tree Pros, the community garden grows up to 1,200 vegetable plants during peak seasons. The Pocket Community Garden provides food for both those who garden in it and for those who are hungry–20-50% of the produce is given back to the community through the Interfaith Food Shuttle and The Carying Place.
This year, the garden is forming new partnerships with local restaurants and catering companies to promote locally-grown, healthy food in our community. Bliss shared with me the story of how it all got started:
We donated the land and created the garden in April 2010, when we realized we didn't have a place to grow food and wanted to have the opportunity to create a special place within the Cary Downtown Historic District. Through the help of many local businesses and our amazing real estate agent family at Keller Williams Realty, the garden was born! I'd never grown a vegetable plant to any scale other than a few in pots, and suddenly we had over 1,000 in the ground.
You can get involved in the Pocket Community Garden by liking them on Facebook or by inquiring with them at 919-467-0707.
Personal Gardening Tips
When I asked Bliss if he had any gardening tips or tricks, he replied:
Yes – all you need for gardening is: 1) sunlight, 2) good soil, 3) water, 4) plants, and 5) awesome people. It's really the people that make the difference…they need to want to be part of something greater than they can do on their own…it's hard work!
Advocates for Health in Action
Dig In! is presented by Advocates for Health in Action (AHA), a collaborative of more than 60 organizations and community members who work to encourage healthy eating and physical activity as a way of life in Wake County. By shaping policies, systems, and environments, they help the community achieve this mission.
Event Details
Dig In! Community Gardening Conference
Saturday, March 7, 2015; 8:30 am-2 pm
Marbles Kids Museum in Downtown Raleigh
Register online ($15/person)
———————————————————————————————————————————-
Lead photo by Christopher Porter; additional photo from Cary Pocket Community Garden.
https://carycitizenarchive.com/wp-content/uploads/2015/03/Dig-In-1.jpg
352
599
Jessica Patrick
https://carycitizenarchive.com/wp-content/uploads/2020/03/cc-archive-logo-450-v3.png
Jessica Patrick
2015-03-04 14:28:58
2019-12-08 10:15:14
Dig In! to Urban Community Gardening in Cary